Tips and Tricks for Eye Makeup
ARTICLE TEXT:
From blue to brown or green and hazel, many refer to eyes as the window to ones soul. Exchanged glances reveal ones emotions and personality. Not only can elation and joy be revealed through one's eyes but they show distress, melancholy and sadness. The eyes that reveal ones mysterious or mischievous nature or show ones pensive thoughts give way to small secrets which would otherwise be unseen when talking and sharing with those we love and know.
With an enchanting gaze at someone else the seduction power is at work. A playful wink is a symbol of secrets shared or a reminder of an amusing memory or a practical joke. A good bit of flirtation happens with the eyes as well. Watch any old movie or exaggerated cartoon and see the femme fatales putting their long, dark lashes to work and bat them in the direction of the man.
Regardless of one's motives, she can play up her eyes and give definition that looks natural and highlights her facial features and accentuating the eyes in a distinguishing manner. For a retro look the makeup items needed are eyeliner, eye shadow and Lashes Unlimited mascara. Keep in mind that a light foundation or pressed powder can do miracles with under eye circles.
Eye Shadow
There is a very wide selection available for eye shadow colors to assist one obtaining her desired look. There is no searching and sorting for the perfect color through a myriad of choices. Accessorizing the eyes can be accomplished with an array of color choices in powder, glittery dustings or creams such as Evangeline Lilly. General eye shadow in powder form is simple to use with foam applicators or small brushes for application. To create a look that is multi-dimensional, blend multiple powder colors or a single color over a cream base.
Only a little bit of product is needed when using cream-based eye shadows. Usually cream shadows are sold in little squeeze tubes. A light application sweeping across the lid and sometimes up to the brow gives a lovely and simple enhancement.
Simple, natural color choices such as Uma Thurman wears are a good choice for those who are unsure of what colors to wear. A gentle bronze dusting of something like Bronze ambition or another shimmery color that is transparent gives a slight color hint.
Mascara
There are many options to choose from when shopping for mascara. Of course every brand will make claims that theirs is undoubtedly the best. There are brands available that are waterproof, give a curling effect, lengthen, are a dark black, or lengthen and thicken the lashes. Make the choice according to your own lash needs and the look you are trying to achieve.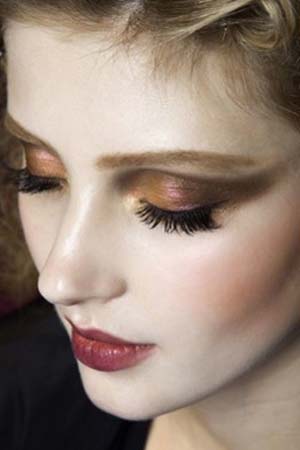 To avoid the intimidating and scary looking lash curler which looks something used to torture people, choose mascara that contains a curling feature. Color options are navy blue, black or brown. A q-tip can be used to remove accidental marks underneath the eye or on the eyelid. The eye shadow may need to be touched up after this.
Eyeliner
Eyeliner can be applied in a thin line of navy, plum, khaki, brown or black to truly define the eyes. For correct application of liquid liner or an eyeliner pencil, the corner of the eye should be pulled outward, creating a line that goes straight across the lash line. Work from the inside corner and move outwards, use the pencil to trace a line in the direction of ones lashes.
Only a little eyeliner is needed for a natural, subtle look. However, a darker, thicker line is appropriate when going for a dramatic look.
Image source – elle.com