Top 10 Best Hats at Royal Ascot 2013
Many dignitaries were spotted at the royal ascot held this year. Most of them wore pretty dresses that made them look gorgeously beautiful. Amongst them some of the top 10 best hats are shown below:
Queen Elizabeth II and Kate Middleton:
Queen Elizabeth arrived by a carriage and bowled over in her pale pink suit and hat at the recently held royal ascots. The Duchess of Cambridge Kate Middleton wore a custom pale pink Alexander mc Queen coat with pearl and crystal buttons. She was seen with a matching pink Jane Corbett hat and rode in an open carriage at the ascot.
Carrie Colbert and Aishwarya Rai Bachchan:
Carrie Colbert was also a guest at the royal ascot. Aishwarya Rai Bachchan led the striking effect with her elegant look as she attended the Royal Ascot. The 39-year old dressed in pretty black and white lace dress with a large ribbon wrapped around her waist. The matching fascinator overshadowed her wavy brunette hair that looked too glamorous.
Danielle Bux and Rosie Calder:
Gary Lineker attended the opening day function of Ascot races with his wife Danielle Bux. Her delicate lace and embroidered frock in subtle pastel pink shade was worth a vision! Rosie Calder arrived at the opening day of Ascot Racecourse held in Berkshire on June 18.
NIchola Moore and Fiona Ridgers:
NIchola Moore looked pretty beautiful and represented the royals with this purple colored hat. Fiona Ridgers was spotted wearing a floral hat.
Ruth Langsford and Jackie St. Clair: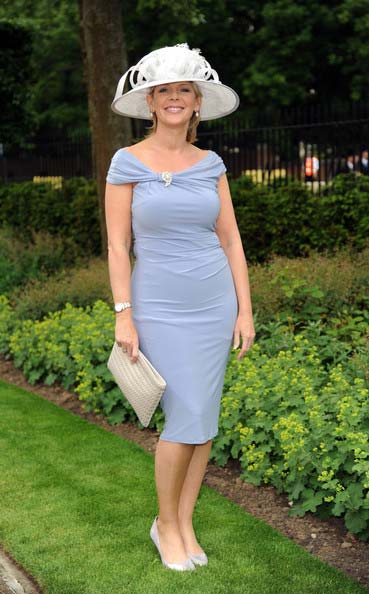 Ruth Langsford was seen with her husband Eamonn Holmes during the race course event here. Jackie St. Clair model was spotted wearing an enormous silk pink rose hat by Bundle MacLaren. She was excited to find the quintessential Englishness of the race course ascot held at Berkshire.
Photos via yimg.com, ukate.net and stylebistro.com