Top 10 Celebrity Beauty Tips For Radiant Skin
You might think celebrities were born unique skin types or body shapes. But certainly, their beauty artists are professionals when it comes to skincare. Like you recently saw in the 2015 Grammy Awards, every celeb has a unique style to give an impressive look. For instance, Taylor Swift had a fair complexion; Arianna Grande's wore a warm tone while Beyonce had an amber glow. According to skin experts each celeb has a unique skincare routine that gives them their individual shine. It all depends on their skin types.
Let's have a look on some top celebrities tips towards a radiant skin:
Tip 1 From Taylor Swift
This 24-year old singer emphasizes on the need to wash your face and moisturize. She struggles to make herself off the makeup unless when going for a photo shoot. In major events, like during stage performances, she has to involve makeup artists.
Tip 2 From Angelina Jolie
The Maleficent actress who recently turned 39 and an Oscar winner has a radiant complexion thanks to dermatologist David Colbert of the New York Dermatologist Group. She regularly goes for facial treatments that last for about 30 minutes. The treatments combine processes like microdermabrasion, laser and glycolic peel. In addition, Jolie uses natural skincare products from reputable manufacturer.
Tip 3 From Kim Kardashian
This attention-loving celebrity is indeed a true beauty girl. Few will miss out on her fuller lips, bronzed skin, contoured cheeks, smoky eyes and bold hilarious eyelashes. She outlines her mouth with a lip liner before she fills it with color. To make her lips appear fuller, Kim always applies a dab of lip-gloss in the center of her bottom lip. Kim is never shy of wearing white regardless of the season. Her bronzed skin never looks pale.
You May Also Like – Easy and All Natural Skin Care for Winter
Tip 4 From Eva Mendes
Eva Mendes knows how to take care of her skin using natural products she can find in her kitchen. The 40-year old celebrity said she uses coconut oil as a moisturizer which she combines with yoghurt and sea salt whenever she wants to exfoliate. To avoid a tired and puffy look, she dips her face into a bucket of ice water.
Tip 5 From Beyonce Knowles
For a clear complexion, Beyonce Knowles recommends that you should keep it simple. She keeps her skincare regimen short and sweet. She never goes to bed without a clean face that is well hydrated. Her skin is slathered on a sunscreen every morning and uses a primer before applying makeup. Finding a beauty product that is really good for your skin type is Beyonce's most important tip.
Tip 6 From Shakira
This sultry singer's radiant look hails from her regular application of a layer of vitamin E on her face. She simply gets a capsule from a pharmacy and squeezes right on her skin. She insists that it is important to remove makeup every night which she does with the help of a cleansing brush or a washcloth to get rid of any impurities. According to Shakira, the less makeup she use, the better she looks.
Tip 7 From Jessica Alba
Jessica Alba, actress and mother of 2 likes natural and healthy living. She goes for natural products that contain nontoxic ingredients that are gentle on her skin as well as the environment. The never-aging celeb uses products that moisturize with strong anti-oxidants properties. For hair care, Alba recommends avoiding irons and copious amounts of products, especially on bad hair days. Invest on some fabulous hats instead, she adds.
You May Also Like – Secrets for Enhancing Beauty
Tip 8 From Megan Fox
Even though Megan fox can have access to some of the best beauty salon all over the world, she prefers to make her own portions and lotions. On top of the list for the 27-year old actress is DIY facial treatment. She makes an extremely hydrating face mask using all-natural ingredients. She doesn't wear a lot of makeup except when she is working, but always wears black mascara to make her eyes pop.
Tip 9 From Adriana Lima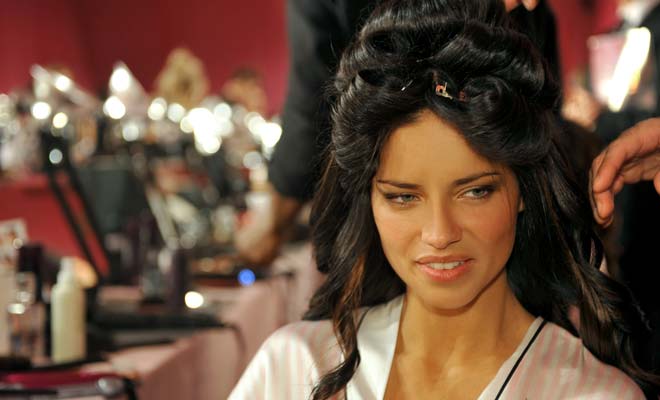 Adriana Lima, famous Victoria's super model has a bewitching fabulous look credit to her tricks up in her sleeves. According to Lima, beauty routine should start at an early age which is the secret to aging beautifully. She consumes coconut water every day to keep her skin healthy and glowing. She says that avocados are very common in Brazil, her motherland, and can be useful in adding shine and moisture to your hair.
Tip 10 From Charlize Theron
According to Ole Henriksen, Los Angeles facialist, who has worked with Charlize Theron, dull skin can occur from excessive alcohol, smoking, too much powder, or a moisturizer that is not hydrating enough. Theron says you can start fresh with an at-home peel once a week, regularly use a rich moisturizer and ensure that you wear sunscreen every morning.