The Top 10 Party Dresses You must try for this Christmas
Are you trying to figure out about the best dress to wear during the Christmas season? It's the right time you should look for the outstanding design and style that will make you look and feel at your best during the party events with your friends and loved ones. Most people find it hard when it comes to selecting cute party dresses for special events. However, with Christmas season around the corner, choosing a cute party dress should be a prerequisite mainly because you don't have to be bothered about what to pair it with. Thus, if you are in a shopping fix, here are the top10 party dresses for the Christmas season:
1. Sequin Dress
If you have been searching for the best Christmas party outfits to stun every person in the room, sequin dress should rank among the top in your list. Majority of sequin dresses are decorated with rhinestones or beads that shimmer when exposed to light. This means that if you want to attain a sparkle effect, a sequin dress should be the best Christmas party dress of your choice.
2. Sweater Dress
Given that it might be a little chilly during the festive season, picking a sweater dress that is warm and soft, is one of the best way to rock your Christmas party. The sweater dress looks like a knit sweater and can be designed with or without sleeves, depending on your preferences. Sweater dresses also come in different designs around the neck. If you are looking for sweater dresses for Christmas party, it is recommendable to pick ones that with a seasonal turtleneck or print out.
3. Lace Dress
If you want to look flirty or delicate, a lace dress should be your best Christmas party outfit to stun your admirers. Commonly made with soft treads or yarns, it won't be hard to find lace dresses that match your favorite designs and colors. To ensure that your Christmas party dress gives you the perfect look, pick a lace dress that comes with white and red accents.
4. Long-Sleeve Dress
Do you want to feel comfortable and cozy during the festive season? A long-sleeve dress is the most suitable Christmas dress to keep you warm during the chilly nights. Long-sleeve dresses come in various colors and fabrics to suits the needs of every lady during the party. Select a long-sleeve dress with seasonal pattern or fur trim to celebrate the birth of Jesus in style without enduring the cold weather.
5. Maxi Dress
If you are looking for a casual and free flowing look, a maxi dress happens to be the best ideal dresses for Christmas party. By extending all the way to the floor, a maxi dress is one of the most suitable Christmas party outfits that give you a stunning look as you move around the party. With a variety of neck shapes and styles, there is a maxi dress for every woman, and comes with or without a slit to warm you up during the cold festive season.
6. Pencil Dress
Being some of the sophisticated and traditional Christmas party outfit designs, pencil dresses come with lifted features that highlight all your body curves from your shoulders to the knees. It is one of the cute party dresses that stylishly emphasize your natural body shape to make you look stunning and noticeable during the most enjoyable moments of the year.
7. Ballerina Dress
Look more feminine and well refined with the playful style choice of ballerina dress when attending the festive Christmas party. Ballerina dresses are usually fitted at the top or bottom portions with a layer of tulle to make them loose and emphasized. Seasonal colors like green and red make ballerina dresses look more stunning and elegant.
8. Backless Dress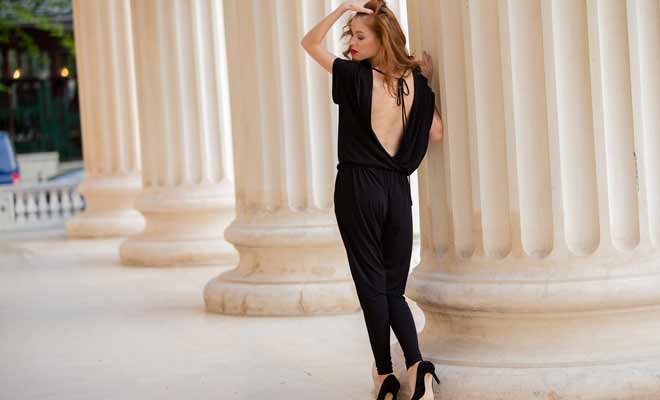 What a great way to look stunning and fashionable in a Christmas party dress that exposes the natural beauty of your back? Backless dresses are designed in a variety of styles, but majority feature a simple front to make the exposed back more noticeable. Backless dresses are capable of turning heads while making a bold statement of your gorgeous spine.
9. Off-The-Shoulder Dress
Off-the-shoulder dress happens to be a traditional design choice for a Christmas party. Main features include an exposed collarbone and shoulder to give a sensual style. Although off-the-shoulder dresses come in a variety of fit options, cute party dresses should include a shimmer detail, seasonal color or festive prints.
10. Sheer Panel Dress
Enjoy the fun of a Christmas party dress by choosing a sheer panel dress that features a see through or open portion to reveal the skin beneath your body. It's a great and creative way to show off your favorite style on the front side with this Christmas party dress that is eye-catching and elegant.
Conclusion
Christmas can never be better without finding a dress that makes you unique at a party or any festive event. With so many trending designs and styles, you shouldn't be left out in showing your passion and love of fashion during the Christmas season. All you should ensure that you pick the best Christmas party outfits ahead of the festivities. Enjoy your Christmas in style!