5 Ways to Treat Damaged Hair in Winter Season For That Extra TLC
The freezing temperature of winter can also leave your hair frizzy, static and dry. While the weather may be the main culprit, it's your daily haircare and the mundane things that you do to it that could be making your damaged hair worse.
You should make improvements in your haircare routine as you also take measures to give your hair and scalp a much needed TLC. Here's how:
1. Rinse with Carbonated Water
Product residues and other impurities lining your hair strands may be causing your hair to become unhealthy. No amount of treatment will ever be sufficient if you don't take action to strip off your hair of these impurities first.
Rinsing your hair with carbonated water removes build up. Simultaneously, it also helps bring back the healthy balance of pH, improves frizziness and improves blood and oxygen circulation in your scalp. Simply get hold of carbonated water and wash your hair with it. Instead of using shampoo, try scrubbing your hair with coarse, natural ingredients, like brown sugar, instead. Rinse well.
2. Honey and Avocado Hair Mask. As often as you can, pamper your hair and scalp with this highly moisturizing treatment. Honey is a powerful humectant that attracts moisture and helps keep your hair moisturized over long periods of time. Avocado, on the other hand, contains fatty acids and is rich in Vitamin E which strengthen your hair strands and nourishes your scalp as well.
Simply mash the avocado. Add an equal part of honey. Stir in for consistency. Apply on hair washed with either carbonated water or apple cider vinegar.
Read Also: Do-it-Yourself Hair Treatments for Damaged Hair
3. Mask and Wash Your Hair with Apple Cider Vinegar
Don't use this ingredient on its own. Instead, dilute with an equal part of lukewarm water. Give the solution a quick stir and then pour on your hair as a wash. Comb your hair to distribute the solution evenly. Leave on up to 15 minutes then rinse off with lukewarm water. No need to shampoo.
4. Get a Haircut. Many times, it's all you really need to get the damage under control.
You May Also Like: Fall Hair Trends: 7 Effortless Cute Hairstyles to Try This Fall Season
5. Use Coconut Oil to Condition Your Hair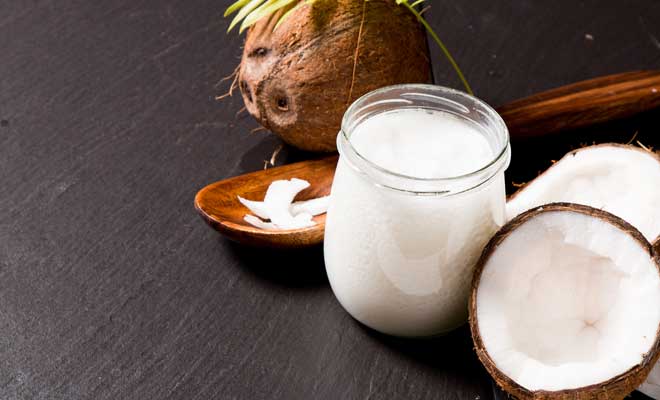 Forget the commercial hair conditioners. Use virgin coconut oil to condition your hair instead. Coconut oil has natural anti-fungal properties that make it a healthier alternative that benefits your scalp as well. It is also capable of deeply penetrating and conditioning your hair strands. Perform either a carbonated water rinse or apple cider vinegar wash first. Follow up with the deep conditioning treatment of coconut oil. Rinse off with lukewarm water. Dry and apply sparingly, particularly at the tips, as a leave-on conditioner.
Conclusion
Heat styling with hot barrels and blow dryers are possibly damaging your hair's outer cuticle. Hot showers and washing your hair everyday are stripping away natural oils from your hair and scalp. When the damage has been done, turn to your kitchen for some of the highly reliable ways to treat winter damaged hair.
Like this post? There's more. Get tons of beauty tips, tutorials, and news on the thebeautyinsiders Facebook & Twitter page. Like us on Facebook – we'll see you there!