Tree To Tub Soapberry For Face Sensitive Skin Facial Cleanser Review: Ingredients, Side Effects, Detailed Reviews And More.
By
tree to tub soapberry for face review
Tree To Tub Soapberry For Face Sensitive Skin Facial Cleanser : Does this product really work? Is this Top Cleansers safe & effective? Check detailed review, benefits, side-effects and more.
Advertising Disclosure

?
What is Tree To Tub Soapberry For Face?
As per the manufacturer,Tree to Tub Soapberry for Face Sensitive Skin Facial Cleanser is appropriate for men and women. This cleanser is infused with their one of a kind botanical propriety blend that leaves a fresh scent. However, no substantial evidence is available to prove it is effective.
The inception of this company was seeded in the young mind of Michael Koh when he was a schoolboy and had no soap that worked for him. Thanks to the soapberry her grandma gave him, he started enjoying showers. The ingredients they use are ethically sourced harvested from the wild in Taiwan Eco-reserves. Tree to Tub was born in Kickstarter and now manufactures mild, natural and organic skin care products safe for sensitive skin.
Tree To Tub Soapberry For Face – Does it really work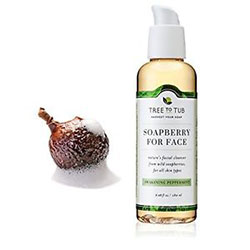 This cleanser removes oil, dirt, and impurities from the face without the harsh drying and stripping chemicals. It gently moisturizes the skin with organic plant-derived oils and leaves the skin feeling fresh with a mild aromatic minty lavender scent.
According to the manufacturer, this product will give you the following benefits:
Gives gentle cleansing to sensitive skin and will not aggravate allergic conditions and other skin anomalies like eczema, dermatitis, rosacea, acne, and psoriasis.
Provides protection from bacterial and fungal infections by balancing the skin's normal flora.
Awaken your senses with a unique aromatic scent that will boost your mood.
What are the Ingredients in Tree To Tub Soapberry For Face?
Organic Soapberry Juice: Cleanses the skin without stripping it dry while providing it mild hydration.
Organic Shea Butter: This butter acts similarly to chemical humectants and gives the skin lasting hydration by trapping moisture to the skin cells.
Aloe Vera Extract: Soothes the skin and relieves redness, itch, inflammation, and smoothens the skin. Though it may also cause rashes on the skin & itchy skin.
Organic Acai Extract: This berry extract is rich in vitamin A, C, and E. These vitamins are known powerful antioxidants that shield the skin from environmental and oxidative damage.
Benefits of Tree To Tub Soapberry For Face
The manufacturer guarantees the safety of this product for sensitive skin. However, according to customer reviews, it isn't very effective.
This product is organic, cruelty-free, and vegan-friendly.
Disadvantages of Tree To Tub Soapberry For Face
Tree to tub soapberry for face review are rare and hard to find.
The consistency of this cleanser is runny and may need a few pumps to get a satisfying lather.
The cost of this cleanser is above the average price of products with a similar formulation in the market.
Does Tree To Tub Soapberry For Face have any Side Effects
Based on the formulation of the product, be observant of the following side effects:
Allergy and skin irritation may arise from the plant ingredients listed on the label. Sensitive skin with known allergies may be especially susceptible to this.
How to apply Tree To Tub Soapberry For Face
To enjoy the benefits of this cleanser, the manufacturer suggests to wet the face with warm water.
Lather a few one to two pumps of this facial cleanser on the palms and gently massage in circular motions on the face.
Cover the face from the forehead to the jaw. Rinse thoroughly and use a clean towel to dry the face.
The manufacturer advises using this product twice daily for optimal results.
Final Verdict : Tree To Tub Soapberry For Face Sensitive Skin Facial Cleanser
Tree to Tub Soapberry for Face Sensitive Skin Facial Cleanser is mildly formulated to cater the sensitive skin needs. It is vegan-friendly and has mild oils and extracts organically obtained from plants. It leaves a fresh scent on the skin. However, the formulation does not give lasting oil regulation and does not have enough claim in deep cleansing to prevent acne from breaking out. Also, this product do not offers money back guarantee.
Below you'll find some of the most effective Facial Cleansers formulations on the market in our opinion:
Our Top Facial Cleansers
**This is a subjective assessment based on the strength of the available information and our estimation of efficacy.
*Results may vary. The information contained in this website is provided for general informational purposes only. No medical claims are implied in this content, and the information herein is not intended be used for self diagnosis or self trealment of any condition.
Disclosure of Material Connection: Some of the links in the post above are "associate sales links." This means if you click on the link and purchase an item, we will receive a commission Regardless, we only recommend products or services which we use personally and/or believe will add value to our readers. We are disclosing this in accordance with the Federal Trade Commission's 16 CFR, Part 255: "Guides Concerning the Use of Endorsements and Testimonials."