5 Unique Ways to Style Your Look With Trench Coats This Fall Season
Trench coats which are back in fashion, get the best styles here:
Timeless chic – That's what trench coats are. If there was one classic piece in your outfit you should be spending on it's a trench coat that's because you'll probably be wearing the same piece this cold fall and winter seasons, and next year, and the year after that, and you won't ever have to worry they'll ever lose their stylishness.
How versatile is it? Oh, very! Get it in black and nude, Burberry style, an inch above your knees, and you can wear it with anything. Here are 5 cool ways to warm up your outfits this season:
Style Tip No. 1: Wear it like a Dress
Cover up a tailored or casual dress. You can even wear your camisole underneath if you like. Button up and belt it. Well, if you don't already know how to tie up your trench coat, the really classic ones come with buckles but, they're tied into a knot over to the opposite side of your buttons. Put on a printed or darker shade of shawl if you're wearing the nude one or a lighter shade if you have black on. Put on your strappy wedged with socks complementing the color of your trench coat.
Style Tip No. 2: Top Over a Dress: Wrap it around a luxuriously sheer and silky dress from your daily wardrobe, prints will add some flair and feminine to your outfit. Wear it on top of a floral dress which is in fashion this season too.
Read Also: 10 Best Ways to Wear Ballet Flats This Fall Season For a Stylish Look
Style Tip No.3: Layer With Your Inner Shirt and Sweater
Like Karlie Kloss? Try putting on your trench coat the way she loves to. Put on a collared shirt. Top with a sweater. Let the collars and hems of your inner shirt show through. Pair with your denims. Top off your outfit with an unbuttoned trench coat. Wear with your pumps and off you go!
Style Tip No. 4: Style With Your Wide Bottomed Pants: Put on a plain top and a wide leg pants in a shade that complements your trench coat. To be safe black pants will work well with either your nude or black trench coat. Wear your trench coat open or closed. Put on your loafers, trainers or wedge shoes.
You May Also Like: Fall Hair Trends: 7 Effortless Cute Hairstyles to Try This Fall Season
Style Tip No.5: Use as a Shawl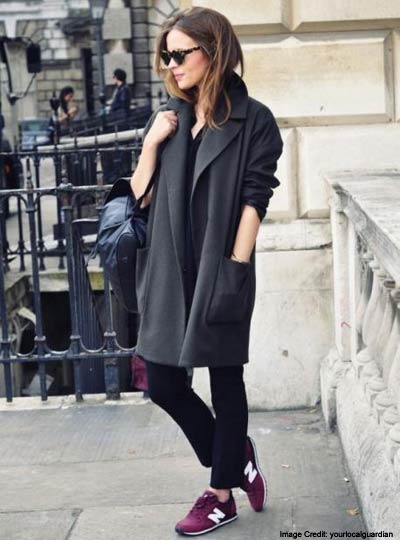 Layer your outfits underneath. Wear a mini dress or skirt on top of leggings or, wear your flared denims and plain tops. Put your trench coat over your shoulders. Cool up the look with clean tailored collared shirt or, wear with a soft, silky shawl for a more feminine appeal. Put on your pumps and sashay the streets in full Fall style.
Conclusion
Love the trench coat in many ways. Love it over and over again through the years. When you don't already have one yet, Fall is a great season to go shop and own one. Keep in mind how versatile this piece is so get only a quality piece in a cut that suits you best.
Like this post? There's more. Get tons of beauty tips, tutorials, and news on the thebeautyinsiders Facebook & Twitter page. Like us on Facebook – we'll see you there!