Trendy Christmas Outfits to Make You the Most Fashionable in the Bunch
There are times when what's trending on the runways or displayed in boutiques are simply not enough to cut it. There are moments when you just got to take a shot at taking the trends a notch higher by wearing the theme of the season.What better way to showcase your good taste than around this holiday season?
Get excited to wear those cute Christmas symbols again, and no we don't mean having to brave those reindeer knitted sweaters too. Keep reading below to find out 6 Christmas outfit options you've never thought about before.
Style No. 1: Plaid Skirt Layered Over Black Tights
Plaid and the snowy weather – these two quite simply just go together. Layer your top with a knit sweater worn over a collared polo shirt. Or, keep it plain with a plain off-white, black, dark red or gray top. Put on your all-weather boots to match.
Style No. 2: Christmas Inspired Jeans worn with White or Red knitted Sweater
So, here's an easy way to evade those knitted reindeers and yet still find a way to incorporate these cute Christmas symbols on your bottoms. Cozy up with a matching knitted shawl.
You May Also Like To Read: Latest Christmas Fashion: By River Island
Style No. 3: Embroidered Dark Burgundy Dress
Wear the excessive designing that's so trending this season by subscribing to this outfit. Modernize the Santa Baby by getting a Betty Boop-inspired embroidered dress. Wear with your black or red pumps and a Santa hat.
Style No. 4: Denim Pants with Subtle Christmas Colors
If you'd rather go easy on the Christmas prints then, just go for the season's most defining shades: red and green. Wear a plaid sweater, poncho or shawl over a green or red turtle neck sweater. Complete the look by putting on your pair of thigh high boots.
Style No. 5: Metallics and Sequins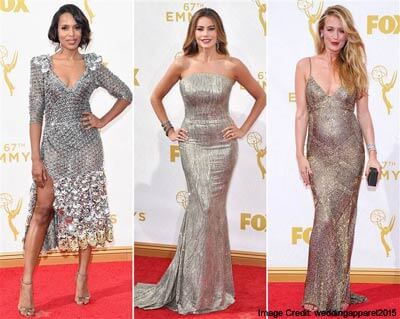 This indeed the season you shouldn't be afraid to be sparkly. Catch a mega amount of attention by putting on all the sparkles you can get on you. Shine brighter than the Christmas lights and be happy to wear the cheerful holiday spirit in your outfit.
Style No. 6: Red Trench Coat
It's the favorite cold weather staple of all season so how can you not love this piece? This time, get it in peplum cut and in a deep red shade. Top any of your regular clothes in it and you will instantly transform each piece into a cheerful holiday outfit.
Also Read: Six Beauty Tips to Look Gorgeous this Christmas
Conclusion
If just wearing the trend does not seem to be enough, turn to the colors of the season to bail you out of the usual and take your fashion statement to a whole different level. There's no room to be afraid to try these trends, after all, they can be hip and fab.
Like this post? There's more. Get tons of beauty tips, tutorials, and news on the thebeautyinsiders Facebook & Twitter page. Like us on Facebook – we'll see you there!