True Natural Sunscreen Review: Is it for My Skin Type?
By
True Natural Sunscreen
True Natural Sunscreen is specially made for protecting sensitive skin from sun. To know more read the complete review on True Natural Sunscreen here.
Advertising Disclosure

?
Love the sun? Who doesn't? But love it while you love your skin and your health as well. The sun is the primary cause of premature aging and other signs of skin damage, including wrinkles, fine lines and age spots.
Excessive sun exposure when public awareness about the detrimental and long-term effects of unprotected sun time was still low, even in the 80s and 90s, are now yielding as much as 15 times more cases of skin cancer being recorded in the US alone. In fact, skin cancer is the most common type of cancer plaguing the US, that is, according to the Center for Disease Control and Prevention.
Product Description, Manufacturer's Information and Price Details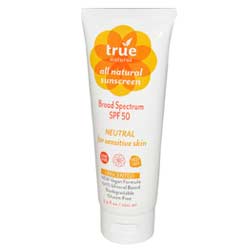 When consumers did start protecting their skin with sunscreen, the toxicity of the harsh ingredients used both to people's health and to the health of the environment made people skeptical about sunscreens, and those who refused to wear sun protection had reasons. Reasons that have been found by recent studies to hold ground, and which responsible companies such as True Natural have picked up and are doing something about.
What companies like True Natural have been doing really is provide consumers with more choices. With the release of alternative sunscreen products such as the True Natural Sunscreen Broad Spectrum 50 for Sensitive Skin, consumers and other manufacturers are only just beginning to see that there can be better alternatives. This product protects against both UVA and UVB radiation using mineral sunscreen actives, Zinc Oxide and Titanium Dioxide, without the toxicity associated with chemical sunscreens — true to the promise of True Natural to bring you "Performance without compromise".
True Natural is dedicated to design products that do not contain synthetics.
Get the best sunscreen on the Environmental Working Group (EWG) list since 2011, True Natural Sunscreen Broad Spectrum 50 for Sensitive Skin, for US$23.99 per 100 ml bottle.
Ingredients
This product is made with sunscreen actives:Titanium Dioxide (6.0%) and Zinc Oxide (22.5%)
It is also made with the following ingredients: Aqua (Deionized Water), ButyrospermumParkii (Shea) Butter, Camellia Sinensis Leaf (Green Tea) Extract, Cocos Nucifera (Coconut) Oil, Eucalyptus Globulus (Eucalyptus) Oil, Glycerin, Helianthus Annuus (Sunflower) Seed Oil, Sunflower Lecithin, SimmondsiaChinensis (Jojoba) Oil, Tocopherol (Vitamin-E), Xanthan Gum
Directions
Apply product generously on all exposed areas of the skin at least 15 minutes before going out into the open. Reapply every 2 hours or, after performing water activities, sweating, or towel drying.
Pros
This product holds the top spot in EWG's ranking of best sunscreens since 2011.
This product is not formulated with hormone disrupting parabens, and poisonous formaldehyde, mercury, cadmium and other heavy metals. It also does not contain skin irritating synthetic fragrances and colorants, and is made without the possibly carcinogenic dimethicones and polymers.
Cons
No product drawbacks noted.
Conclusion
When it comes to your health, it's absurd to address one area that adversely affects another. Protect your health absolutely, and the same must strategy must apply to your skin.
Below you'll find some of the most effective Sunscreens formulations on the market in our opinion:
Our Top Sunscreens