Ultra Correction Lift Total Eye Review: What Makes It So Special?
By
Advertising Disclosure

?
PRODUCT DESCRIPTION
Tired of your tired-looking eyes? Then, don't keep your eye area looking like you just spent a night without sleep or crying. From one of the world's most recognizable brands in fashion comes the Chanel Ultra Correction Lift Total Eye Lift, US $100.
This product is part of Chanel's skincare Ultra Correction Lift range. Everything in this collection is made with Elemi essential oil derived from its tree which is native to the rainforests of the Philippines. This essential oil works wonders to the skin. With its therapeutic properties come this oil's ability to delivery wonderful benefits to aging skin:
Soothes skin from inflammation and therefore helps prevent damage and aging
Restores skin's natural, healthy structure
Promotes the production of higher amounts of collagen which plumps, firms up and strengthens skin
Stimulates the production of tensin, a protein necessary for skin to bind and synthesize just as collagen and elastin fibers are a requirement to the formation of new skin
Improves the appearance of tired eyes and eye puffiness
This product relies on the anti-aging skin benefits that can be derived from elemi essential oils, Vitamin E and sodium hyaluronate.
INGREDIENTS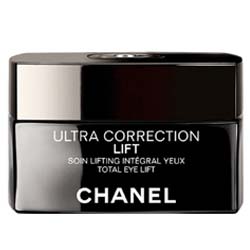 Elemi Essential Oils: Stimulates the skin cells to cause it to releases more tensin necessary to correct skin imperfections caused by aging
Vitamin E: Deep moisturizes skin while also providing effective antioxidant protection against more skin damage, most especially the ones caused by free radicals, including UV
Sodium Hyaluronate: Replaces the dwindling volume of hyaluronic acid naturally produced by the body but the production of which gradually winds down with age
DIRECTIONS
Remove any makeup or other pigmented products from you eye area. Cleanse thoroughly with lukewarm water and a soap-free facial cleanser only. Clean and clear skin around your eyes. If you have time, exfoliate lightly. Follow up with a cleanse with toner.
Rub fingers together. Then get a tiny amount of product. Rub between your fingers to activate the beneficial ingredients in the formula. Dot around your eyes. Pat lightly onto skin to pack in the moisture. Spread gently on skin around your eyes in an upwards motion. Give it a little massage to help better blend in Chanel Ultra Correction Lift Total Eye Lift with your skin.
ADVANTAGES
Contains essential oils and hyaluronic acid which deeply moisturizes skin
Contains Vitamin E, a powerful antioxidant
DISADVANTAGES
Very limited active ingredients to deliver any long-term benefits to your skin
Product contains parabens which can disrupt the normal functioning of hormones in your body and the organs that these hormones regulate
Product contains phenoxyethanol which can accumulate in your system and can be toxic to your health
CONCLUSION
When you are choosing a product, there are a host of considerations you should reflect upon before you dig into your pocket and cash it in. These include discerning how it will fit and possibly react to other products in your routine, and what your expectations are. Keep reading and keep it real.
Ultra Correction Lift Total Eye
The most common eye area issues are puffiness, dark circles, wrinkles and crow's feet, and loss of hydration. There are countless eye creams available on the market today, making it seem nearly impossible to find the "right one" that meets our specific under eye needs. It is imperative to find a product that has been formulated to address a variety of complex eye area problems.
Below you'll find some of the most effective eye cream formulations on the market today, in our opinion.
Our Top Eye Creams
Also Remember These Dermatologist Recommended Important Tips:
Age has nothing to do with the lines that appear on the corners of your eyes... it's a combination of heredity and careless abuse of the area.
Skin is skin... it all needs to be cared for in one way or another. For my younger readers, this means not pulling on the skin when removing eye makeup.
The eye area is prone to fine lines and wrinkles, so it is really important not over-work the area, squint, and stay away from smokey rooms. Your eyes won't like that either.
One of the best ways to protect this area of your face is to put on a pair of sunglasses every single time you go outside spring, summer, fall and winter.
There are very few oil glands in the eye area, so it can dry out very quickly, especially if you spend a great deal of time out of doors.
When you chose an eye cream, be sure to choose one that is especially formulated for this delicate skin. Don't use a day cream that could be full of ingredients that will irritate this area. Too rich a cream can cause as many problems as ignoring the area.
**This is a subjective assessment based on the strength of the available information and our estimation of efficacy.
*Results may vary. The information contained in this website is provided for general informational purposes only. No medical claims are implied in this content, and the information herein is not intended be used for self diagnosis or self trealment of any condition.
Disclosure of Material Connection: Some of the links in the post above are "associate sales links." This means if you click on the link and purchase an item, we will receive a commission Regardless, we only recommend products or services which we use personally and/or believe will add value to our readers. We are disclosing this in accordance with the Federal Trade Commission's 16 CFR, Part 255: "Guides Concerning the Use of Endorsements and Testimonials."