Victoria Secret Summer Dress Days
Summer is almost here and it's that time again, the time that a lot of us dread, not shopping for a swimsuit, although that can be almost frightening, but finding the perfect summer dress. With today's economy it's important to find something that is versatile and can be worn for many different occasions. Comfort and a flattering fit are two of the things that we gals look for in a summer dress. Whether you like a halter style, spaghetti strap, strapless or a sassy little baby doll dress you're sure to find something that suits your personal style.
Beach dresses are a whole different story. First off you need to decide what it is that you want the beach dress to do. Is it going to be used as a cover up over your swimsuit or is it for a hot date on a warm summer evening. Perhaps it's for a BBQ or party on the beach. Once you've narrowed that down you have to consider what type of fabric you want. Cotton is always a popular choice as it breathes and keeps you really cool during the hot summer days and nights. There is also the color to consider. Lighter colors will definitely keep you cooler, but you just can't go past black or navy if you want to look slim.
In today's fashion climate the length of your dress is totally up to you. Maxi, mini, knee length or anything in between is fashionable these days.
White Sundress
Nothing shows off a tan better than a white dress and white never goes out of fashion. Forget what they say about no white after Labor Day! Whether you choose a white lace or gauze fabric you'll be sure to get heads turning. Grab a pair of gladiator sandals or a cute stacked wedgie and you're ready to go.
Flirty Mini Dresses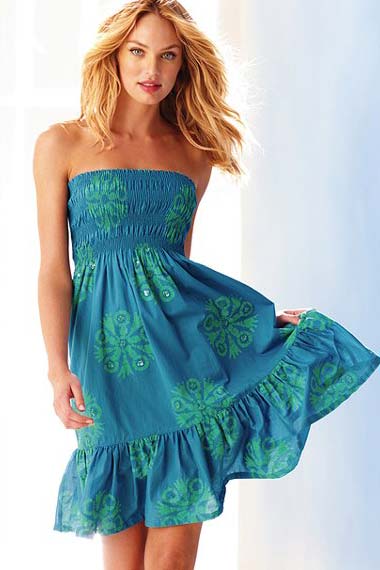 If you've got the legs why not show them off? Mini dresses are perfect for summer and with all of the different styles you're bound to find the one that you can't say no to. Soft floral prints or big bold spots and stripes the choice is up to you. You can create quite a few different outfits by changing your shoes, adding a hat or throwing on a cardigan in the evening.
Maxi Dresses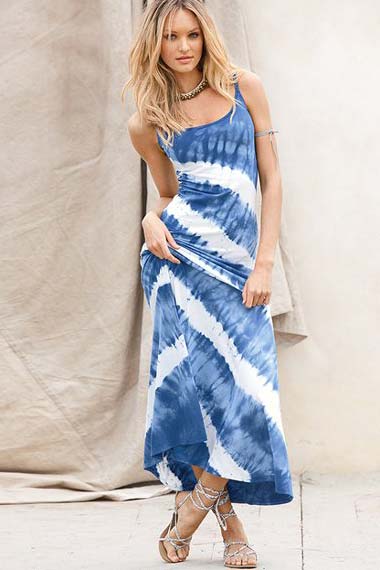 Back in the 60's and 70's Maxi dresses were all the rage, but it wasn't until after the year 2000 that they would become popular again. The Maxi dresses of today are not that different from the Maxi dresses of yesterday. Halters, spaghetti strap, short sleeve and strapless are just a few of the choices that one can find when looking for a Maxi Dress. As with any summer dress, pastels are always the best choice when finding a maxi dress. You can really make your outfit pop if you pair your dress with a pair of brightly colored shoes. Throw on some interesting jewelry and you've got a great look.
Regardless of your body shape you'll be sure to find a summer dress that is perfect for you!
Photos via Victoriasecret.com