Vine Vera Cabernet Review 2018: Ingredients, Side Effects, Detailed Review And More.
Advertising Disclosure

?
What is Vine Vera Cabernet?
Vine Vera Cabernet is an eye serum formulated with moisture replenishing and skin smoothening ingredients that help give troubled and aging eye skin a noticeable lift and stretch to show a more youthful skin. In addition, this product also delivers key nutrients and peptides your skin requires to become revitalized. This eye serum is from Vine Vera, a beauty brand that boasts of a growing collection of skincare products, including the Vine Vera body cream.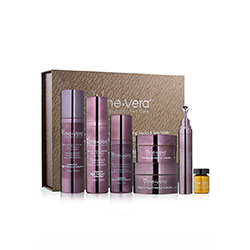 Vine Vera Cabernet – Does it Really Work?
Vine Vera Cabernet is formulated with a modest lineup of ingredients that deliver protection, rejuvenation and repair functions that help make your skin's youthful appearance happen once again. Limited reviews about this product make it impossible to gauge how satisfied or not it leaves users. Although, product performance also depends a lot on how well it complements the needs of your skin.
What Are The Ingredients In Vine Vera Cabernet
Vine Vera Cabernet has the following ingredients:
Resveratrol Ferment Extract: It provides antioxidants that help your skin neutralize free radical attacks.
Hydrolyzed Wheat Protein: This supports the restoration of your skin's ideal moisture content. It also has a calming effect on your skin which improves redness, swelling and itchiness caused by skin inflammation.
Sodium Hyaluronate: It resembles the hyaluronic acid that is naturally produced by your skin to help fill your skin with moisture, keep it plump and dewy over longer periods of time.
Peptides: This skin precursors consists of short chains of amino acids that help control and regulate key mechanisms of your skin that are involved in skin repair and rejuvenation.
Goldenseal (Hydrastis Canadensis Seal) Root Extract: This ingredient has natural antibacterial properties that help disinfect skin, and keep it blemish-free.
Schinacea Purpurea Extract: This ingredient replenishes your skin's lost moisture while also simultaneously aiding your skin to stay protected by helping neutralize stress and free radicals that can age your skin
How to apply Vine Vera Cabernet
To use this product, apply only on freshly cleansed and toned skin. Make sure that you eye area is free from excess oils, product residues and other impurities before using this product. Apply with upwards and outwards motion to spread evenly on skin. Pamper the rest of your body with Vine Vera body cream.
Benefits of Vine Vera Cabernet
This product contains antioxidants that helps stop skin damage and aging even before these start.
Positive reviews indicate that this product may be able to deliver smooth, wrinkle-free skin.
Vine Vera reviews do not highlight any potential harm that may arise from product use.
This product may be purchased from major online reseller sites.
This product comes in an opaque, airtight bottle that helps keep and maintain the integrity of ingredients in the formula.
Disadvantages of Vine Vera Caberet
This product is out of stock on major reseller websites as of time of writing.
Reviews are severely limited and do not provide a reliable picture of how well or how poorly this product performs based on client satisfaction.
The manufacturer does not provide any explanation about how this product works.
The formula is infused with several ingredients that have been cited to cause skin irritations and other allergic reactions.
This product appears to have a limited distribution network and may not be available for all locations worldwide.
Does Vine Vera Cabernet Have Any Side-Effects?
Vine Vera Cabernet has the following Side effects:
Vine Vera reviews indicate how some users have experienced allergic reactions.
The addition of EDTA increases risks for developing various forms of cancers.
There is an increased risk for skin weakening and damage over long-term product use and exposure.
Is it worth buying Vine Vera Cabernet?
Reviews about this product are extremely rare. Value for money cannot be easily established. As for ingredients, there are many ingredients listed that are well-known for their ability to enhance the quality, health and appearance of skin. On the downside, these benefits come at the price of potentially harmful ingredients. See also Vine Vera eye serum syringe if you're considering to buy Vine Vera Cabernet.
Frequently Asked Questions About Vine Vera Cabernet:
l. Where to buy Vine Vera Cabernet?
This cream is available for purchase via online reseller sites.
2. Who Should Use Vine Vera Cabernet?
Vine Vera Cabernet and Vine Vera eye serum syringe are for ladies and gents anywhere from 20 to older than 60 who want to keep the youthfulness of thier skin and prevent premature aging as well.
3. How long will results last?
Products like this take about 90 days of regular product application to show any degree of noticeable improvement.
As we age the composition, texture and appearance of our skin changes. Signs of skin aging include wrinkles, fine lines, loss of moisture, uneven tone, and dull, tired-looking skin. There are countless anti-wrinkle creams on the market promising to make skin look and feel younger. Many anti-wrinkle creams promise everything short of a facelift or to provide the much sought after "fountain of youth". In reality most are just moisturizers marketed as anti-aging products.
Below you'll find some of the most effective wrinkle cream formulations on the market today, in our opinion.
Our Top Wrinkle Creams
Dermatologist Recommendations for Maintaining Younger, Healthier, Vibrant Looking Skin:
Be certain to consistently apply the product(s) you choose in accordance with its directions for use;
Pay special attention to your neck and hands while applying the product(s) you choose, as these areas reflect your age;
Always use sunscreen with a Sun Protection Factor (SPF) of at least 15;
Drink at least eight glasses of water a day to stay well hydrated;
Avoid excessive intake of caffeinated and alcoholic beverages, as they may contribute to dehydration and exacerbate the appearance of fine lines and wrinkles; and
Be sure to get adequate rest every day.
**This is a subjective assessment based on the strength of the available information and our estimation of efficacy.
*Results may vary. The information contained in this website is provided for general informational purposes only. No medical claims are implied in this content, and the information herein is not intended be used for self diagnosis or self trealment of any condition.
Disclosure of Material Connection: Some of the links in the post above are "associate sales links." This means if you click on the link and purchase an item, we will receive a commission Regardless, we only recommend products or services which we use personally and/or believe will add value to our readers. We are disclosing this in accordance with the Federal Trade Commission's 16 CFR, Part 255: "Guides Concerning the Use of Endorsements and Testimonials."