Visage Renew Review: Does This Product Really Vanish Wrinkles?
By
Advertising Disclosure

?
Visage Renew Description
Visage Renew is an anti-aging eye cream that may only be accessed via a free trial offer made exclusively available for online customers only. This product has been claimed to deliver for your the following beauty benefits:
Facilitate faster skin turnover and regeneration, and the resurfacing of a newer, lesser damaged skin layer
Lighten the skin around your eyes and make it appear brighter and younger
Correct dark under eyes and circles to even out your skin tone
Relieve eye puffiness to soothe tired looking eyes and restore the vitality of skin around your eyes
Soothe and calm skin irritations and other signs of inflammation
With regular use, expect to see younger looking skin like you've never experienced before
There is no information available about the manufacturer behind this anti-aging eye cream.
Visage Renew Ingredients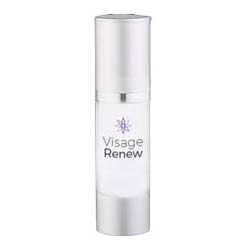 There is no information available about this product's full ingredients list, neither is there any available information about this product's active ingredients.
Directions
Visage Renew must only be applied after skin around your eyes has been thoroughly cleansed and cleared of product residues, excess oils, and other impurities. Always layer this product under your thicker skin creams, and perform a patch test to check for allergies before using this cream.
Visage Renew Advantages
This product is available via a 14-day free trial offer that allows you to try this product risk-free initially.
Based on claims made about this product, this product gives you multiple benefits, and practically heals and corrects all of your eye skin issues in a single swipe.
Visage Renew reviews attest to this product's excellent mechanism and composition in correcting multiple signs of skin aging that show up around your eye area, although these positive reviews are more commonly posted on affiliate marketing websites that clearly have a stake in selling this product.
Visage Renew Disadvantages
14 days is insufficient to make a realistic assessment as to have badly or well this product complements your skin and your skin needs, most especially when your countdown begins on the day that you place your order and not when you actually receive the product.
There is very little information available about this product which makes it impossible to determine how potent and safe this product is.
The lack of information about the company behind this product raises red flags when it comes to establishing the credibility of the company and its accountability for product safety and security of transactions
Visage Renew reviews have highlighted the difficulty of transacting with the company where users have experienced delays in product subscription cancellations and extraordinary credit card charges.
Conclusion
Visage Renew offers an extraordinary deal where you practically try the product now then, pay later. Anybody would be happy signing up for that kind of deal but, would you still do when you only have 14 days to try it for free? When you're not keen, you're probably better off trusting another product that is upfront about what it can and cannot do.
The most common eye area issues are puffiness, dark circles, wrinkles and crow's feet, and loss of hydration. There are countless eye creams available on the market today, making it seem nearly impossible to find the "right one" that meets our specific under eye needs. It is imperative to find a product that has been formulated to address a variety of complex eye area problems.
Below you'll find some of the most effective eye cream formulations on the market today, in our opinion.
Our Top Eye Creams
Also Remember These Dermatologist Recommended Important Tips:
Age has nothing to do with the lines that appear on the corners of your eyes... it's a combination of heredity and careless abuse of the area.
Skin is skin... it all needs to be cared for in one way or another. For my younger readers, this means not pulling on the skin when removing eye makeup.
The eye area is prone to fine lines and wrinkles, so it is really important not over-work the area, squint, and stay away from smokey rooms. Your eyes won't like that either.
One of the best ways to protect this area of your face is to put on a pair of sunglasses every single time you go outside spring, summer, fall and winter.
There are very few oil glands in the eye area, so it can dry out very quickly, especially if you spend a great deal of time out of doors.
When you chose an eye cream, be sure to choose one that is especially formulated for this delicate skin. Don't use a day cream that could be full of ingredients that will irritate this area. Too rich a cream can cause as many problems as ignoring the area.
**This is a subjective assessment based on the strength of the available information and our estimation of efficacy.
*Results may vary. The information contained in this website is provided for general informational purposes only. No medical claims are implied in this content, and the information herein is not intended be used for self diagnosis or self trealment of any condition.
Disclosure of Material Connection: Some of the links in the post above are "associate sales links." This means if you click on the link and purchase an item, we will receive a commission Regardless, we only recommend products or services which we use personally and/or believe will add value to our readers. We are disclosing this in accordance with the Federal Trade Commission's 16 CFR, Part 255: "Guides Concerning the Use of Endorsements and Testimonials."