7 Effective Ways to Remove Wrinkles without Using Cosmetics
A wrinkled skin is a dislike for every person regardless of where they occur. They are unsightly and may give you nightmares if left unattended. Wrinkles commonly appear on the face, neck, hands or other areas once your skin loses its elasticity and moisture. Wrinkles are usually triggered by many reasons, including sun exposure, aging, certain medications, sudden weight loss, malnutrition or smoking. Lifestyle and dietary changes can go a long way in diminishing the appearance of wrinkles and other aging symptoms.
Here are seven effective means to remove wrinkles without using cosmetic products:
1. Drink Water in Plenty
Drinking water in plenty everyday is one of the simplest and most effective natural remedies for wrinkles. Water is a basic necessity in the body that most people tend to overlook. Apart from diminishing wrinkles, taking adequate water on a daily basis is also good for your health. It keeps your body and skin hydrated. Dehydration is on top list of major causes of wrinkles. Take a minimum of 8 glasses of water but go for more if you engage in activities that make you sweat a lot. Apart from water, take fruit and vegetable juices to stay hydrated.
2. Eat Foods with Anti-wrinkle Elements
Other than ensuring that you are eating healthy foods, look for elements that fight wrinkles and other skin issues in your meals. They include omega-3 fatty acids, trace minerals like copper and selenium, plant compounds like retinol and isoflavones, and monounsaturated fat among others. Foods rich in vitamins A, C, and E have been shown to be effective in fighting wrinkle formation. Some of the foods from which you can get these anti-wrinkle elements include:
Dark colored fruits and vegetables
Dairy products, eggs, liver
Nuts like almonds, walnuts, Brazil nuts
Shellfish and seafood
Green tea
Soy foods
Whole grains
Vegetable oils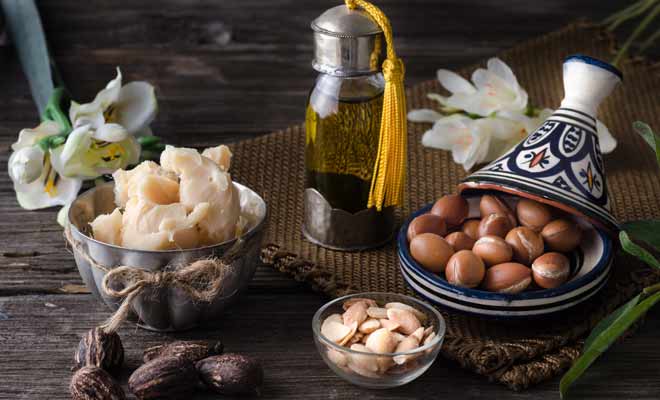 3. Get Adequate Sleep
High quality restful sleep is necessary for a wrinkle-free skin. It is during sleep that your body produces the human growth hormone (HGH) which regulates the growth of body tissues including your skin. Sleep deprivation triggers the release of cortisol, the stress hormone that slows down growth while causing tissue damage. Apart from sleeping adequately, ensure that you sleep in the right posture. This is mainly because poor sleeping postures makes your skin prone to wrinkles called sleep lines. Although these lines form at the surface of your skin, they hardly disappear even after you wake up. Sleeping on your back can help in preventing wrinkle formation.
4. Protect Against Sun Damage
UVA and UVB rays from the sun can alter your skin's ability to produce collagen leading to wrinkle formation. You should avoid the sun when it is glaring hot. Other choices in protecting your skin against sun damage include:
Wear a sunscreen: Ensure that your sunscreen has an SPF of at least 20. Ensure it is broad-spectrum and contains vitamin E to offer protection against radiations from sun.
Cover your skin: Make use of an umbrella, hat or scarf when you are staying outside for longer. Wear long dresses to cover most parts of your skin.
Wear sunglasses: These will be helpful in preventing wrinkle formation around your eyes. This is mainly the skin around your eyes tend to be more sensitive than the rest of your body.
5. Use Natural Masks
You can try natural masks that are effective in diminishing wrinkles instead of using cosmetic products. While there plenty of natural masks you can make to fight wrinkles, using an avocado fruit will supply your skin with vital anti-aging elements such as vitamin E and monounsaturated fat.
Requirements
½ medium-sized avocado
1 tablespoon of honey
2 teaspoons of flax seed
2 tablespoons of fresh cream
Procedure
Ground flaxseeds into powder.
Mix all the four ingredients to form a thick paste.
Generously massage the paste on skin surfaces with wrinkles.
Leave it to dry for an hour before rinsing with lukewarm water.

This mask should leave you skin moisturized and smooth after regular use.
6. Stop Smoking
Smoking is dangerous for your health and that of your skin too. Cigarettes are loaded with toxic compounds that produce free radicals, which lead to molecular instability. This often leads to weakened body cells, which affects the production of collagen. When collagen production becomes compromised, the elasticity of your skin becomes affected leading to wrinkle formation. Quitting the habit or avoiding smokers can help in preventing and reversing wrinkles.
7. Manage Stress
While getting rid of wrinkles is not a walk in the park, learning better means to handle stressful moments can help in averting their formation. When you are stressed, your skin becomes thinner and weaker. It is also not capable of fighting with compounds that trigger wrinkle formation. Many people tend to frown when stressed, and the facial lines eventually become permanent wrinkles. You can manage your stress through yoga, meditation, exercises, meeting friends, or befriend pets among many more.
Conclusion
You can effectively diminish the appearance of wrinkles without necessarily reaching out for cosmetic products.like Saranghae Firm and Lift Regeneration Cream Although fighting wrinkles can be quite challenging, you are capable of achieving a youthful look by following these effective and less invasive remedies. Fight wrinkles for a healthier and younger look!
The cosmetic industry currently offers a variety of wrinkle creams from a number of brands. To make the process of selecting a wrinkle cream as simple as possible, we've evaluated each cream on its ability to fulfill our requirements for a quality wrinkle cream. To be specific, we believe that a wrinkle cream should include ingredients that offer antioxidant protection for skin, in order to delay the onset of noticeable aging. At the same time, wrinkle creams should be able to renew skin, typically by containing compounds with collagen-stimulating properties. Additionally, such a cream should improve both the texture and appearance of skin by offering both long term anti-wrinkle benefits and hydrating agents to create smooth, firm skin. Listed below are the top wrinkle creams, according to these important characteristics.
DERMATOLOGIST RECOMMENDATIONS FOR MAINTAINING YOUNGER, HEALTHIER, VIBRANT LOOKING SKIN:
Be certain to consistently apply the product(s) you choose in accordance with its directions for use;
Pay special attention to your neck and hands while applying the product(s) you choose, as these areas reflect your age;
Always use sunscreen with a Sun Protection Factor (SPF) of at least 15;
Drink at least eight glasses of water a day to stay well hydrated;
Avoid excessive intake of caffeinated and alcoholic beverages, as they may contribute to dehydration and exacerbate the appearance of fine lines and wrinkles; and
Be sure to get adequate rest every day.