10 Best Ways to Wear Ballet Flats This Fall Season For a Stylish Look
Miu Miu breathed a new life to the classic ballet shoes in its Summer / Spring 2016 collection while Valentino had ballet flat shoes strut his Fall 2016 runways. You know what this signals? These ballerina must-haves will continue to be trendy as the season begins to feel colder.
Unlike the old ballet flats that have become one of the ladies' best foot styling staples, the current trend on laced up, bow tied flats are such an attention grabber that it's almost impossible to wear these in the wrong way. Plus, these are so comfortable you can practically wear them anywhere!
Here are 10 ways to pull off this ballerina trend this Fall:
1. Easy Casual Ensemble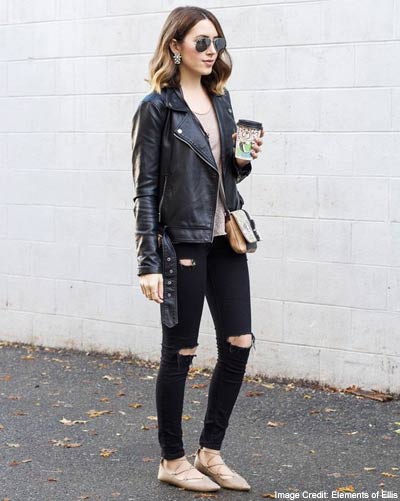 Wear your laced up ballet flats with another season favorite — the cropped pants. It goes well whether your pants are tight or loose and square. For your cropped tight fitting jeans, pair it with a basic top and a leather jacket for cover up.
2. Calf-length Dresses: Style up even your calf-length silhouette dresses with it. It can be worn even with your layered formals. Simply make sure there's enough room on your legs to show off the lacey bows. Tie up your laces up to a point just below the hem of your dress to pull off the trend
3. Lazy Lacey
Put on your lace or lace lined shirt, blouse or full dresses. Use this laced up ballerinas to give yourself a dainty, chic and ladylike look.
4. Knit Sweaters and Cropped Slacks: Wear this pair whether you're shopping or on casual wear Fridays at the office. Kick off your pumps and replace with ballet flats for your own comfort and better ability to move around.
5. Maxidress
Go all girl power. Wear your full, ankle length dress and walk the streets in style with ultimate comfort wearing your eye catching pair of ballet flats.
6. Checks and Ginghams
Miu Miu's checked, laced up flats are a perfect pairing to serve up the checks and ginghams classic prints.
Read Also: Fall Hair Trends: 7 Effortless Cute Hairstyles to Try This Fall Season
7. Slip Dresses and Long Overcoats: Silhouette dresses work well with your ballet flats. Choose dresses lined with lace for added femininity. Top with a plain nude or black overcoat to keep you warm.
8. Denims and Sweaters
Wear your denims loose and your sweaters cropped, just as how Valentino showed possible – with laced up ballet flats.
You May Also Like: 5 Must Have Shoes to Complete your Wardrobe
9. Brocades: Who would have thought these street casual ballet flats will look good on elaborately designed brocade dresses? Oh, but well, they do look great!
10. Florals
Fall, florals and ballet flats. It is an unusual trio, and never before seen. Be the first to wear the trend. These pieces are all in fashion this season.
Conclusion
Lace up those ballet flats, Ladies, because you're bound to see more of these uber comfy shoes this Fall.
Like this post? There's more. Get tons of beauty tips, tutorials, and news on the thebeautyinsiders Facebook & Twitter page. Like us on Facebook – we'll see you there!