What Are You Going To Do About Your Cellulite?
Do you know that your keen tussle with your cellulite is not over even after the costliest procedure? The ugly dimpling is certain to return if you fail to follow the post your procedure.
No Permanent Cure for Your Cellulite?
That is what many experts say. Some of them even go to the extent of calling the statement 'cellulite is curable' a myth.
So what? As long as you take your Cellulite Treatment seriously and follow it up with occasional maintenance sessions as well as keep a strict regimen with regard to what you eat and of your exercise schedules, there is nothing to fear.
What Do You Do about Cellulite?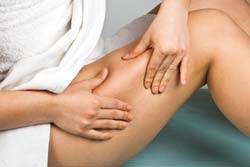 You can encounter a horde of advertisements in various media – especially in the Internet, posted along any type of content pertaining to cellulite eulogizing the merits of specific method or the brand of anti-cellulite treatments. Whether what they claim is right or not, you will only know at the end of your treatment. By that time you must have already dished out a lot of your time and money – not to mention of those moments of hope, despair and agony that you may have subjected to.
It will therefore be a right idea to first convince yourself that the ugly dimpling showing off on your skin is indeed cellulite. What you should do now are the following:
Try to understand the underlying causes and check which of them are pertinent to your cellulite condition.
Think whether you can do something through your own efforts to control the menace – such as staying away from those junk foods that you are so very fond of, or the sedentary lifestyle you have so far got used to, etcetera. In case you can, then go ahead and make a start.
In case you find you ought to take an Ant-Cellulite Treatment to supplement your own efforts (or vice versa), then make sure to chose the right method of treatment that can best suit your cellulite and your budget as well. Remember this decision is a vital to your plans for getting rid of your cellulite problem. As such, talk to your doctor, read reviews, and listen to what other people say about the brand or the method.
While we are on the subject of selecting the right method to treat your cellulite, give a thought or two to your individual inclinations – whether to go for surgery, a non-surgery and/or noninvasive method, fat/cellulite injections, creams, lotions or gel, or some natural method, or a combination of two or more of them.
Once you have decided on the method (or still at it), ask yourself as to where do you want to treat yourself – at a dermatologist's clinic, a spa or within the comfort of your own home.
Now that you have gone through the basics, go ahead and get rid of your cellulite. You must, however, remember that the quantum of reduction of your cellulite that you achieve, and its maintenance, depends on scores of variables.
Then What?
Now it is time to test your perseverance. Do not be in any doubt about the experts' assertion that 'cellulite does not have a permanent cure', even for a second. As such, dedicate yourself to the cause keep your cellulite away through a healthy diet, regular workouts and the once-in-a-while maintenance sessions.
And be rest assured that the cellulite dimpling will never be able to raise its ugly head ever again. It is as simple as that!
Cellulite can affect people of all ages and body types and can be notoriously difficult to get rid of. While there are certainly no miracle cures, using specially formulated creams and treatments along with a healthy diet and exercise plan can reduce the appearance of the dimpled skin affected by cellulite. Creams and lotions that contain stimulating ingredients such as caffeine are particularly beneficial as they help move toxins out the body while other natural ingredients are used to condition the skin, giving it a firmer, tighter appearance which further reduces the look of the affected area.
Top Cellulite Creams Product