Why it is Important to add Facial Oils to Your Skincare Regimen?
Creams, serums? As more and more people are rediscovering the benefits of going back to the raw, the basics – the natural – are rapidly being revived, whether be it in our food, the materials we use day by day, and yes, even in our skincare regimen. Thus, the growing popularity of facial oils.
Truth is, the best facial oils you'll find are pure essential oils. If you haven't used pure essential oil or don't have any knowledge about these then, don't even think about using the raw varieties because pure essential oils can cause adverse health effects, most especially if they're not cosmetic grade. Well then, it's high time you started exploring the shelves in your beauty bar that hold bottles after bottles of facial oils. Of course, like everything else in beauty and skincare, these bottles are not all created equal. The responsibility to find out what works and what does not therefore falls upon your shoulders.
Top reasons why facial oils are an essential beauty must
Essential oils are derived from the extracts of different parts of the plants, seeds, flowers, leaves, etc. The fact that these beauty oils are derived from living tissues already says a lot but, below are top 5 reasons why you should start adding in facial oils to your daily skincare routine.
Facial oils have very tiny molecules, the structure and composition of which closely matches those of your skin matrix. These properties allow facial oils to deeply penetrate skin in just a matter of 15 minutes. Faster absorption means faster treatment, healing, and visible skin improvements.
Facial oils are packed with living matter which makes the oil very rich in fats, amino acids, carbohydrates and other nutrients your skin cells need to get the wheels of skin renewal and rejuvenation turning.
Facial oils contain very high levels of antioxidants. Owing to the rich load of organic materials they contain, facial oils are packed with powerful antioxidants which are essential for skin repair and protection.
Facial oils have very strong natural anti-inflammatory and antiseptic properties that help skin fight aging and infection.
Facial oils stimulate your senses, which gives you the added benefit of relaxation which is good for your mind, body, and spirit. It helps relax your muscles and clear your skin of facial expressions. That is, if the manufacturer has been able to make optimal the benefits of your facial oil.
A specific oil for your skin issues
It's not very easy to get into the habit of applying facial oils daily, more so to understand better the rigors behind the wide variety of essential oils being used in commercial facial oils these days. So, here's a quick and basic run through of the best essential oils to look for in your facial oil products depending on your skincare needs or issues: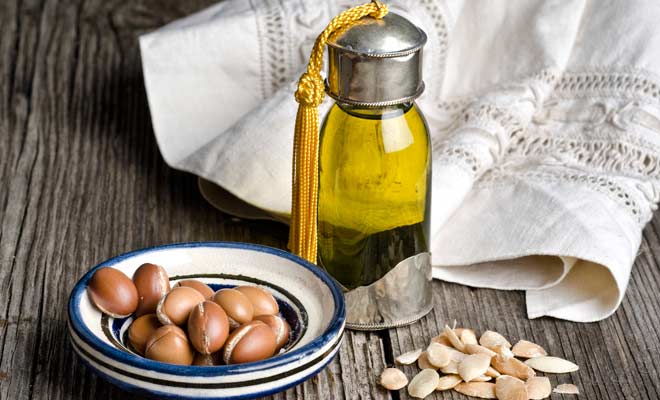 Daily moisturizer. The high level of fats and Vitamin E in argan oil makes it your perfect choice for your daily skin moisturizing needs.
Dry skin. If you have dry skin, you will benefit from the extra moisturizing effect of rose oil or clary sage. Both of which provides dry skin with the intense hydration it requires. In addition, both rose oil and clary sage are also very effective at supporting skin in retaining and locking in moisture.
Wrinkles. Sandalwood is a great facial oil ingredient to look for if you have mature skin and aged 30 or up. This herb contains high levels of sesquiterpene compounds which stimulates the production of Human Growth Hormone. HGH causes skin to become more elastic, thicker and less prone to wrinkling.
Large pores. If your toner simply isn't getting the job done, you can count on Hazelnut Oil to finish the mission. Hazelnut has natural astringent properties which helps unclog pores of dirt and excess oils, while simultaneously calming and tightening your pores.
Acne. Hazelnut Oil also works natural wonders in keeping acne at bay but so too does Cedarwood Oil. It draws out the dust, dirt and excess oil from your pores, has natural antibacterial properties, and shields pores from becoming filled with impurities.
Conclusion
While they are beneficial, facial oils can only deliver their full potential in keeping your skin flawless, youthful and naturally glowing if the product formulation is made from well processed, high grade essentials oils. For you to fully unlock the skin benefits you can derive from facial oils, you may have to do a more in depth research about how a bottled facial oil has been extracted, prepared and bottled, and may even have to dig dip into the reputation of the company behind the product. Find out how the company is ensuring the quality of the essential oils that eventually find their way into the facial oils they sell.
Most skincare products are infused with the much quoted natural moisturizing goodness of a broad variety of botanicals anyways so, why shouldn't you just go ahead and try the real thing? You get to enjoy the benefits of essential oil without the potentially risky and harmful side effects you can get from a long list of preservatives and additives most heavily processed commercial skincare products are made from.