Zara Fall 2011 Collection of Denims, Sweaters and Cardigans
Are you ready for days of fall to face rain and cold? Consider the latest Zara Fall collection of denims and sweaters featuring Hailey Cluason the popular American model. You can get styles which will heighten your femininity. This Spanish brand offers a collection which can meet all tastes from the uber-fashionable to the off-casual for fall season.
The Zara 2011 fall collection has fashionable pieces of cardigans, denims, knit sweaters and pea and trench coats. Get to see the hottest styles which will come online or into stores for the fall season. There is special good news for people in US who love Zara. This September Zara is launching its first online retail site especially for US.
Imagine feminine silhouettes with cat eyes and messy tresses dressed in relaxing styles of oversized stylish coats having a manly flair. You could now be the cool gal in your area by dressing in these classic pieces which have a modern-interpreted style of this popular Spanish label. In the coming season all fans of Zara are going to have a treat. There are soft cozy styles for facing the chill of fall days and hot skinny trousers and fashionable trench coats and even miniskirts with cute spots of colors and eccentric layering. Be Warned! A red coat from this collection is going to dramatically change your wardrobe this fall.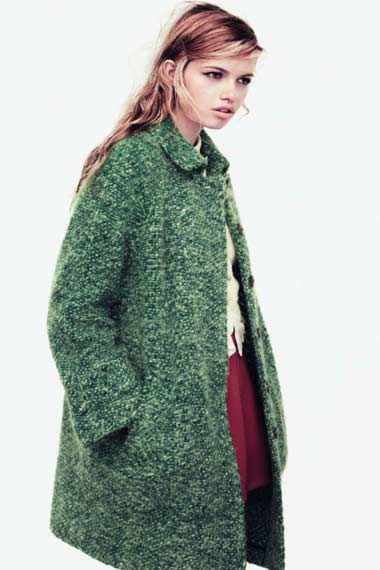 We are coming to the point where the leaves are going to turn gold, and it is going to be cold, requiring comfy and warm fall wear. You could add a stylish modern touch with layered looks and contrasting texture, as seen from Zara's latest campaign. Give full freedom to your creativity and mix different colors and fabrics and come up with outstanding combinations. Layering is anyway the most practical approach during chilly days. For instance you could cover your cardigan with a blazer or cover your denim shirt with a comfy sweater to give an edge to your style.
Slouchy coats exude a masculine sophistication and can be combined with large shirts and foot-friendly loafers by Zara. But do not forget in providing a twist of femininity with pieces fit for a lady. Also you can invest in skinny jeans, smart blazer and comfortable flats.
Photos via becomegorgeous.com