Embryolisse Lait Creme Concentre Nourishing Moisturiser Review: Ingredients, Side Effects, Customer Reviews And More.
By
Embryolisse Lait Creme Concentre Nourishing Moisturiser
Embryolisse Lait Creme Concentre Nourishing Moisturiser: Is this Moisturiser safe & effective? Check Customer Reviews, ingredients, side-effects and more.
Advertising Disclosure

?
Embryolisse Lait Creme Moisturiser Overview:
Embryolisse Lait Creme Concentre Nourishing Moisturiser cheapest at US $16 per 1.0 oz. tube, is an instantly hydrating occlusive moisturizer that works by helping skin trap moisture in while simultaneously leaving a thin film that protects your skin.
About Embryolisse Lait Creme Moisturiser — Does It Really Work?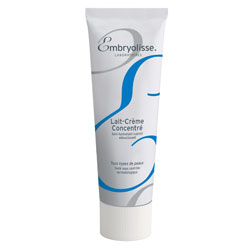 This product is brought to you by Embryolisse, a French skin care company. In the US, the company holds office in Tampa, Florida. The brand manufactures many other products that include both skin care and fragrances.
Based on claims made by the manufacturer, this product has been formulated to deliver for you the following benefits:
Instantly and deeply restore your skin's moisture levels.
Prime your skin to improve how makeup blends in with your skin.
Help remove makeup and other product residues.
Provide quick and fast relief from notoriously dried out skin.
What Are The Ingredients In Embryolisse Lait Creme Moisturiser?
Shea Butter: It soothes and calms your skin, relieving it of chronic dryness and various forms of inflammation, while seriously boosting your skin's moisture levels as it delivers anti-aging Vitamin A as well.
Hydrolyzed Soy Protein: It relieves your skin from inflammation, eventually promoting a more even skin tone.
Aloe Vera: Enhances your skin's natural mechanisms for repair and renewal to speed up the rate of turnover while also fortifying your skin's protective barrier.
Directions To Use:
Embryolisse Lait Creme Moisturiser may be used liberally over dry skin or, as a spot treatment over areas that exhibit dryness. Use day, night, and anytime your skin feels like it needs a serious moisture boost.
Benefits:
Embryolisse Lait Creme Moisturiser is a simply-formulated moisturizer specially formulated for people with many possible uses concerning skin conditioning that makes it great to pack for travels.
This product has been tried, tested and loved by many since it was formulated and introduced in the market in the 1950s.
Its occlusive properties can be very helpful in protecting your skin from drying out under extremely hot and humid conditions, as well as serve as your skin's shield against harsh environmental conditions.
This product is not formulated without parabens, and was never developed nor tested on animals.
Disadvantages:
This product hardly renders any benefit other than to make your skin feel well-conditioned.
Embryolisse Lait Creme Moisturiser reviews are severely mixed, with about half of users loving it while the other, although not completely disliking this product, do not think it is the best moisturizer you can give your skin.
This product is cheap only in France but, is made available with a seriously expensive price tag elsewhere in the world.
This product is occlusive or, leaves a film over the surface of your skin, and therefore may not be suitable for many people, most especially those with oily, acne-prone, and sensitive skin.
Does Embryolisse Lait Creme Moisturiser Have Any Side Effects?
Based on the ingredients and reviews, the following side effects may be experienced when using Embryolisse Lait Creme Concentre Nourishing Moisturiser:
Skin irritation and allergic reactions due to several ingredients, including fragrance ingredients and glycols.
Increased risk for developing permanent skin damage due to triethanolamine.
Final Verdict:
Embryolisse Lait Creme Moisturiser is an old world wonder that you can easily find to be easy-to-use and easy-to-love for its seriously hydrating feel on your skin. But, that's practically all there is to it. If you're looking for more benefits to derive from your skin cream, it will be best to compare and contrast before you click "Order".
Facial moisturizing products are in no short supply today, and this large selection might make the process of choosing the best moisturizer for your personal needs to seem a bit overwhelming. Fortunately, we've taken the time to research each of the top facial moisturizers on how they rate in several different key categories. More specifically, we believe that every quality moisturizer should provide the basic benefit of improving overall facial skin appearance, including both skin tone and skin texture. Additionally, a quality moisturizer should contain compounds that are capable of binding to collagen fibres in order to provide the most long term results. Finally, facial moisturizers should ideally be able to deeply cleanse skin at the same time that they moisturize it. Below is a summary of our findings regarding the top facial moisturizers and these key considerations.
Below you'll find some of the most effective Moisturizers formulations on the market in our opinion:
Our Top Moisturizers Products