Reading Time:
7
minutes
In This Article
What Cellulite Means
To many people cellulite is a sign of age, to others, it's an indication of being overweight. Cellulite is those pockets areas of dimply skin that can develop on your thighs and buttocks, or even in other areas like the lower abdomen or cellulite on arms. It can mar the smoothness of your skin, and many women hate the way it looks. However, cellulite is normal.
Fortunately, there are a number of cellulite remedies available. You can have surgery, laser skin tightening, or you can use a cream. This is the least invasive approach, and there are some luscious products which feel wonderful when they absorb into your skin. These creams contain rich organic ingredients which soothe and treat the skin.
What Ingredients help with cellulite?
The ingredients included in cellulite cream are substances which make the skin firm and elastic, tightening up sagging skin and cellulite. They also have substances which hydrate the skin, making it soft and smooth.
These products usually contain antioxidants and anti-inflammatory agents which heal skin damage and lessen swelling.
Here are some of the primary active ingredients you may find in a cellulite lotion:
Aloe Vera – This is a plant with medicinal oil in its leaves. It provides a lot of moisture to the skin, making it smooth and getting rid of lines and bumps. It's also high in antioxidants which repair the skin barrier. A review article published in Plant Foods for Human Nutrition examined aloe vera as a source of natural antioxidants. They said that it improves blood flow and can prevent the formation of cellulite.
Peptides – These are chains of amino acids which help detoxify and repair the skin, eliminating fat cells. Peptides also cause the production of additional collagen, which firms the skin and makes it more elastic. This can smooth out cellulite. A study published in the Journal of Medicinal Food found that peptides help with cellulite reduction and improve skin health.
White Camphor – This is a white substance which penetrates deeply into the skin. It improves blood flow in the muscles and skin. It can also produce a warm feeling on the skin, according to Biological and Pharmaceutical Bulletin. Camphor has antibacterial, antifungal, and anti-inflammatory properties.
What Cellulite Creams Actually Work?
What Does it Do? This cellulite treatment helps to break down the fat molecules which lead to cellulite. It also firms the skin, smoothing out dimples, and leaves it smooth and soft. This product is high in antioxidants, which repair skin damage. Additionally, it's very hydrating.
What's Unique About It? It can protect your skin from UV rays due to its potent seaweed extract. In addition, this product is high in vitamins and minerals. It comes with a cellulite dry brush for application that many women love.
Ingredients: Nelumbo Nucifera Leaf Extract, Chondrus Chrispus Extract, Coconut, Lemon
2. TransForm Body Treatment
What Does It Do? This cellulite removal cream can increase the amount of collagen and elastin in the skin, which makes it firmer and helps with cellulite reduction and crepey skin. It contains ingredients which break down the fat cells that can lead to cellulite. In addition, it improves skin texture.
What's Unique About It? This product is especially for women to use after a body sculpting procedure. It enhances and accelerates the sculpting results. However, it's also for women who haven't had the procedure but want to eliminate cellulite and crepey skin.
Ingredients: Peptides, Linseed Extract, Plantain Leaf, Silver Mushroom
3. Shape Shifter Cellulite
What Does It Do? This is a cellulite product which detoxifies the body and helps to smooth out the lumps and dimples in your skin. In addition, it can contour your body. This cellulite cream also enhances blood circulation, toning and uplifting the skin. You'll be amazed by the cellulite before and after.
What's Unique About It? This product works with hot and cold. It includes ingredients like menthol and camphor which increase the heat in the skin but also cool its surface. This process helps in cellulite reduction.
Ingredients: Menthol, Camphor, Niacinamide, Caffeine
4. Maple Holistics Hot Cream Cellulite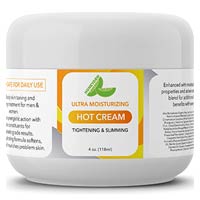 What Does it Do? This hot cellulite cream tightens and firms the skin, helping to eliminate cellulite dimples. The product burns fat cells, which also eliminates cellulite. It moisturizes the skin because it contains a lot of hydration. In addition, it can help you lose weight. With its mix of scented oils, it has a lovely odor.
What's Unique About It? This cellulite removal cream heats up as you rub it into your body, which also makes it ideal as a muscle relaxer and massage cream. In addition to cellulite, it removes scars.
Ingredients: Aloe, Rosemary Oil, Capsicum, Mango, Ginger Lily, Witch Hazel, Apple, Grapefruit, Rubra Flower
What Does It Do? This cellulite lotion firms and tightens the skin, smoothing out cellulite. It provides the skin with an abundance of moisture, which prevents dryness. It also gives the skin volume, smoothing out dimples and lines. The product is rich in caffeine, which improves circulation and provides anti-inflammatory benefits.
What's Unique About It? It has the delicious scent of salted caramel and pistachio, called 'warm and sweet gourmands.' This cellulite cream gives your skin a shimmering look which is very appealing to the eye.
Ingredients: Caffeine, Coconut Oil, Acai, Cupuaçu Butter, Guarana, Sodium Hyaluronate
6. Reaffirming Treatment Body Shaping Anacis
What Does It Do? This cellulite product is meant to firm and tone the body, getting rid of cellulite and improving your overall contour. It also provides hydration to the skin, getting rid of dryness and helping to smooth out bumps and dimples. It's very soothing and can diminish redness.
What's Unique About It? In addition to eliminating cellulite, this product can help you with weight loss by burning fat anywhere on your body. This cream is not only for your hips and thighs, you can use it anywhere you have fat.
Ingredients: 9 Peptides, Caffeine, Carnitine, Deoxycholate, Hydrating Ingredients, Antioxidants
7. Vegan Collagen Body Cream
What Does It Do? This product is full of collagen, with a very effective anti-aging ingredient. It makes the skin firmer and more elastic, smoothing out lines and dimples. It also provides a lot of moisture, getting rid of dryness and helping to plump the skin. This cream is high in antioxidants, which can repair skin damage.
What's Unique About It? This cellulite lotion is suitable for vegans. The collagen in the product comes solely from vegetable sources, rather than from chicken.
Ingredients: Vegetable Collagen, Organic Coconut, Retinol, Vitamin C
8. Luxe Spa
What Does It Do? This cream tightens the skin, which helps to smooth out cellulite on the body. It's high in antioxidants which repair damage to the skin barrier. It contains caffeine, which improves circulation and provides anti-inflammatory benefits. In addition, it hydrates the skin and leaves it smooth.
What's Unique About It? Besides cellulite reduction, this product is for both men and women to remove scars or stretch marks. In addition, it's considered to be a very effective massage oil.
Ingredients: Aloe Vera, Vitamins A, C, and E, Carotene, Essential Fatty Acids
Who Gets Cellulite?
Cellulite is most common in women. It can occur at any age, and often appears in prepubescent girls. However, it most often happens starting in the 30s. You're more likely to get cellulite dimples if you're overweight, because of the accumulation of fat cells.
Will Cellulite Go Away with Exercise?
Cellulite will not disappear with exercise, but it may tighten up your body and make the dimpled skin less obvious. Cellulite removal exercises will firm your butt and smoothen your thighs.
Can Cellulite be Painful?
There is one form called edematous cellulite which can be painful. It usually occurs on the lower legs, because of fluid retention and poor circulation. As such, it often hurts to the touch.
Will Cellulite Go Away When You Lose Weight?
There's a chance some of it might, but for the most part, there's no evidence to indicate that losing weight diminishes cellulite. If you exercise and tone your body, your cellulite may appear less visible.
Will Cellulite Go Away After Pregnancy?
There's a good chance that your cellulite will go away after pregnancy. This is especially true if you lose the weight you gained which eliminates fat cells. If you want your cellulite to disappear, work back to your pre-pregnancy body.
Conclusion
If you find your cellulite distressing, you no longer have to worry. We've given you a list of the 8 best creams on the market for eliminating this problem. These cellulite remedies will firm your skin, smoothing out dimples. They will moisturize and soften, leaving it smooth.
There are other cellulite reduction treatments available like lasers, but they are more invasive. Cellulite lotion can transform your body and give it a younger appearance. Use these products every day and you'll see a huge difference in a few weeks.
X
Advertising Disclosure
As the owner/sponsor of this website, we have the full intention to be compliant with the Federal Trade Commission (FTC) rules about the use of testimonials, endorsements, and overall content in advertising and marketing. Accordingly, we want you as a visitor to understand the instances we get paid to sell all products or services on this site.
The content that appears on this page is presented as a nominative use product overview. The provided information includes product information, overviews, buying guides, and product specifications. All trademarks, registered trademarks and service-marks mentioned on this site are the property of their respective owners. If you feel that any of our content is inaccurate, out-of-date, or otherwise questionable, please leave a comment or contact us. By contributing your product facts helps to better serve our readers and the accuracy of the content. With strict editorial sourcing guidelines, we only link to academic research institutions, reputable media sites and, when research is available, medically peer-reviewed studies. We are dedicated to providing the most scientifically valid, unbiased, and comprehensive information on any given topic. Note that the numbers in parentheses (1, 2, etc.) are clickable links to these studies.
The table below identified "Our Top Products" does not include all companies or all available products in the market but those that we promote as the owner of and/or resellers of all products listed within it. In full compliance with the FTC guidelines, please assume that any and all links on the table are sales links, and we receive compensation if you click one of these and make a purchase through our website. We are independently owned and the opinions expressed here are our own. All editorial content is written without prejudice or bias, regardless of product sponsor associations.