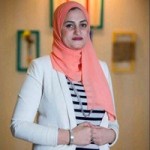 Amira Nouh, MD

Board-Certified Dermatologist
Highlights
Dr. Amira Nouh is a Dermatologist in Cairo Hospital of Dermatology. She is a board certified by the Egyptian Board of Dermatology.
Dr. Amira Nouh has practiced Dermatology for 10 years.
Dr. Amira Nouh specializes in general and cosmetic dermatology
Experience
Dr. Amira Nouh has been practicing Dermatology in the public and private health sectors in Egypt through out her 10 years as a dermatologist. She graduated from Medical School of Cairo University Egypt. She was awarded a Master's degree in Dermatology from Cairo University.
She has a strong background in cosmetic dermatology including and not limited to Botox, Fillers, Facial threads and laser treatment.
She was the head of the dermatology department in a private clinic in Saudi Arabia.
Publications
Azzam, Omar Ahmad, Marwa Salah El-Mesidy, Moataz Maher Kamel, and Amira Basyouny Nouh. "Evaluation of the Role of High-mobility Group Box 1 Protein in Patients With Keloids: A Case Control Study." Wounds: a Compendium of Clinical Research and Practice 31, no. 7 (2019): 179-183.