EstroG 100 Reviews – Should You Trust This Product?
Advertising Disclosure

?
What Is EstroG 100?
Menopause is that stage in a woman's life whereby she does not experience any menstrual cycles. It is mostly associated with women from the age of fifty or the late 40s in others. It comes along with some symptoms such as sleep disturbance, hot flashes, low energy or even at times mood swings. EstroG 100 is a supplement made from herbal extracts and is aimed at reducing those symptoms that come with menopause. EstroG 100 is used by women undergoing menopause only.
The manufacturer of this supplement has not been mentioned however most information about it can be obtained from its official website. It is claimed that EstroG 100 is a herbal supplement made from natural ingredients and is used to help relieve an individual of the symptoms associated with menopause. The manufacturers who have not been mentioned boast of this supplement as the best supplement in the market to help with menopause related symptoms.
This supplement is available from its official website at $15.99 for a container of thirty capsules
EstroG 100: Does it really work?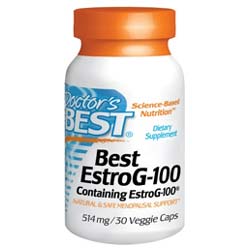 EstroG 100 is made purely herbal components that have been tested to be effective in their course. These all natural 100% plant extracts have been tested and proven to offer estrogen regulating activity. During menopause, the hormone estrogen in women tends to fluctuate thereby resulting to such symptoms as hot flashes. These herbal extracts work by promoting the circulatory health in women and the same time improve their cardiovascular health. As they support the immune system of the individual, these ingredients contain active bioactive compounds which have been claimed to relieve symptoms associated with menopause.
What Are The Ingredients In EstroG 100?
Angelica gigasNakai
In Korea this herb is commonly known as the female ginseng. It is a natural herb which is widely known for its effectiveness in promoting circulatory health. It is claimed to provide benefits that help to reduce those symptoms associated with menopause.
Cynancumwilfordii
This herb is mostly found in Korea and is commonly referred to as Backhasuo. Traditionally, it has always been used in improving cardiovascular health and is claimed to enhance vitality as it supports the immune system too. It is said to contain cinnamic acid, cynandione A and pregnane glycosides which are active bioactive compounds that help in relieving menopausal symptoms.
Phlomisumbrosa
In China, this has been greatly used over the years in detoxification of the body and improving the general health of an individual. The research carried on this herb shows that it helps to get rid of those harmful substances in the body that contribute to the symptoms of menopause.
Benefits of EstroG 100
Each of the ingredients have been tested to be effective and have been traditionally used over a long period.
The use of this supplement does not interfere with the users weight.
It does not cause any side effects as the ingredients are all natural.
Disadvantages of EstroG 100
The manufacturing company is not specified.
It does not guarantee the user money back if the product is found unsuitable.
Some customer reviews complain of the ineffectiveness of this supplement to work as mentioned.
Ingredients present may not be suitable for all skin types.
Does EstroG 100 Have Any Side Effects?
There is no mention of any side effects associated with EstroG 100 as it is made from purely natural herbal components. It is however advisable to consult a professional medical practitioner in case of any unusual effects or signs after use.
Final Verdict- EstroG 100
Menopause is a stage that most women have to pass when they attain the ages of fifty or in their late forties. Most women complain of eye dryness and sleeplessness when they are undergoing menopause. EstroG 100 is a herbal supplement meant to help diminish such symptoms associated with menopause. As discussed above, this supplement is safe to use as it has been clinically and scientifically tested plus it is made from natural ingredients which have been traditionally used in the past. For a stress free menopause period, you should go for EstroG 100.
Fortunately, natural therapies for menopausal symptoms such as weight gain, hot flashes, night sweats, decreased libido, and mood swings are available. Since many women experience weight gain during menopause, many natural menopause supplements contain herbs and botanicals that support a healthy metabolism. Menopause supplements should be evaluated on proven ingredients, ability to reduce hot flashes and night sweats, ability to provide hormonal balance and boost libido and its overall value.
Below you'll find some of the most effective menopause supplements on the market today, in our opinion.
Our Top Menopause Relief Choices
**This is a subjective assessment based on the strength of the available information and our estimation of efficacy.
*Results may vary. The information contained in this website is provided for general informational purposes only. No medical claims are implied in this content, and the information herein is not intended be used for self diagnosis or self trealment of any condition.
Disclosure of Material Connection: Some of the links in the post above are "associate sales links." This means if you click on the link and purchase an item, we will receive a commission Regardless, we only recommend products or services which we use personally and/or believe will add value to our readers. We are disclosing this in accordance with the Federal Trade Commission's 16 CFR, Part 255: "Guides Concerning the Use of Endorsements and Testimonials."