Fruit of the Earth Aloe Vera 100% Gel Reviews
Advertising Disclosure

?
What is Fruit of the Earth Aloe Vera?
For many centuries, people have found many uses for the earth's natural harvests. More than just sources of food, plants provide treatment and relief from many illnesses whether ingested or topically applied. However, since people learned to manufacture medicines and other daily products, many of these age old uses of herbs and botanicals became lost and forgotten.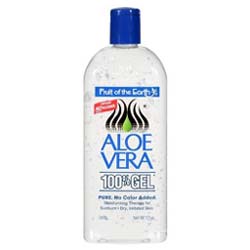 Fruit of the Earth is the manufacturer behind this product. Founded in 1980, Fruit of the Earth prides itself for effectively harnessing the beneficial effects of aloe vera to the skin.Made in USA, you can be certain that all processes involved in manufacturing Fruit of the Earth products are always meticulously executed to live up to the highest standards, ensuring that the best nature has to offer reaches you in tip-top shape so that you too can take full advantage of the goodness in aloe vera.
From nature we came, to nature we will return. No modern day company in the US probably understands the healing and caring power of nature more than the Fruit of the Earth. Among its many prides is the Fruit of the Earth Aloe Vera 100% Gel, indicated to calm, soothe, and moisturize irritated, swollen, dry, and sunburned skin. However it may cause rash on skin or itchy skin.
What makes it so special? Believe it or not, it's nowhere near any synthetically put together ingredient. The secret in this product is nothing more than 100 per cent aloe vera. What makes this even more extra special and uniquely different from most other manufactured skin creams and gels is that it is made without alcohol, without colorants, and without fragrances which can all end up drying skin even more leave skin irritated.
Fruit of the Earth Aloe Vera – Does it Really work?
Fruit of the Earth Aloe Vera 100% Gel is made from the naturally skin soothing substances which can only be found in Aloe Vera.
Many studies have shown how Aloe Vera is closely structured similarly, and is similar in composition as well, to your skin's outer matrix. As such, Aloe Vera is effortlessly absorbed by your skin. Your skin uses the externally introduced compounds in aloe vera almost instantly so you get results you can see, touch and feel on your skin. In fact, many burn units in hospitals now utilize aloe vera to promote faster skin healing among their burn patients.
Apart from the moisturizing and ultra hydrating effects of aloe vera, it rivals other botanicals in being the best natural ingredient that helps skin rebuild its natural protective barriers. As a result, it also helps your skin lock in moisture to keep it from drying through skin surface moisture loss
What are the Ingredients in Fruit of the Earth Aloe Vera?
Vitamin E: It works to block free radicals from the body, which play a large part in the aging process. If we can fight off free radicals, then we can reduce wrinkles and keep the skin youthful-looking[1].
Aloe Vera: It reduce skin inflammation[2]. Additionally, in Ayurvedic medicine, Aloe is used to effectively heal chronic skin problems, such as psoriasis, acne and eczema. Though it may also cause rashes on the skin & itchy skin.
Triethanolamine: Triethanolamine is a foaming agent and adds fragrance to products
Benefits of Fruit of the Earth Aloe Vera
Highly moisturizing without the greasy feel but cause itchy skin.
Easily absorbable

Disadvantages of Fruit of the Earth Aloe Vera

It contains Vitamin E which causes rash on skin or itchy skin.
It also contains aloe vera which may leads to skin dryness or itchy skin.
The combination of active ingredients is weak.

How To Apply Fruit of the Earth Aloe Vera

Apply product liberally on clean skin.

Does Fruit of the Earth Aloe Vera Have any Side Effects?

This product contains Triethanolamine, the toxicity and carcinogenic effects of which have been pointed out in several studies.

Final Verdict : Fruit of the Earth Aloe Vera 100% Gel

Fruit of the Earth Aloe Vera 100% Gel, indicated to calm, soothe, and moisturize irritated, swollen, dry, and sunburned skin. However it may cause rash on skin or itchy skin.Natural products are good because they take your health and well-being to the core. Since these products are formulated differently, you will still need to carry out your own research to be able to weed out the good ones from the bad.
Below you'll find some of the most effective Sunscreens formulations on the market in our opinion:
Our Top Sunscreens
**This is a subjective assessment based on the strength of the available information and our estimation of efficacy.
*Results may vary. The information contained in this website is provided for general informational purposes only. No medical claims are implied in this content, and the information herein is not intended be used for self diagnosis or self trealment of any condition.
Disclosure of Material Connection: Some of the links in the post above are "associate sales links." This means if you click on the link and purchase an item, we will receive a commission Regardless, we only recommend products or services which we use personally and/or believe will add value to our readers. We are disclosing this in accordance with the Federal Trade Commission's 16 CFR, Part 255: "Guides Concerning the Use of Endorsements and Testimonials."