Reading Time:
3
minutes
Glisodin Skin Nutrients Overview:
Glisodin Skin Nutrients, USD 85 for 90 capsules that can be taken for a month, is marketed as a beauty supplement that can improve the clarity and tone and support the photo-protection of the skin. This anti-aging product can also regulate the sebum production of the skin to reduce the chances of blemishes in the future. If you are considering buying these supplements so you can further support your skincare routine, you need to read this Glisodin Skin Nutrients review so you can find out more!
About Glisodin Skin Nutrients – Does It Really Work?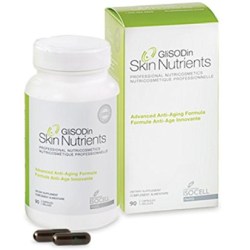 Glisodin Skin Nutrients that was founded in 2008 and is considered to be a leader in nutricosmetics. For over 9 years, they have been providing people skincare products and supplements with clinically proven results. Until now, they are continuing their promise to boost the health and beauty of the skin from the inside out.
According to them, they have formulated their Glisodin Skin Nutrients supplements to deliver the following benefits:
Reduce the oxidative stress on the skin.
Inhibit the enzymatic process that causes brown spots.
Promote a clearer and brighter complexion.
Reduce the damage caused by environmental stressors.
Even out the skin tone.
Soothe tired and irritated skin.
Minimize blemishes.
Leave the skin glowing and smooth.
In this review, you will get to discover more information about these supplements, and you can definitely discover if this is the supplement for you or not.
What Are The Ingredients In Glisodin Skin Nutrients?
One of the best ways to see how effective a supplement can be is to check out its ingredients. With that in mind, here are some of the Glisodin Skin Nutrients ingredients:
Hesperidin: According to many studies, hesperidin can help to boost the health of the skin. It has been shown to keep the skin barrier in its proper place and can help boost the production of skin cells. Lastly, it can protect the skin from oxidative damage and can also lighten the tone of the skin.
Lemon Balm: This is commonly used in creams to address cold sores. But its skin benefits go beyond than that as it also possesses excellent anti-inflammatory and antibacterial functions. It can also stimulate the circulation of blood on the skin which can help keep it tight. It also offers to tighten, calming, healing and soothing properties.
CoQ10: The best benefits of CoQ10 is it energizes the skin. It provides the skin the energy needed to repair skin damage and maintain the health of the skin.
Lycopene: This has strong antioxidant properties that can protect the skin from free radical damage.
Directions To Use:
For best results, take one capsule of Glisodin Skin Nutrients three times a day. Make sure to take this with a meal to prevent stomach upset.
Benefits:
The supplements contain naturally extracted ingredients.
The supplement is formulated for hyperpigmentation, acne, sun damage and free radical damage.
It can also help minimize blemishes.
Disadvantages:
The product is expensive.
You have to take this supplement many times daily so there's a chance that you may forget it.
The claims of the supplements are not backed up by claims.
Does Glisodin Skin Nutrients Have Any Side-effects?
Since there are clinical studies, there are no documented Glisodin Skin Nutrients side-effects. And since there are no user reviews too, it will be more difficult for us to make sure that the supplement will not cause any unwanted effects. It would be best that you consult a medical expert before taking these supplements to make sure that it does not contain any ingredient that may interfere with the current medications that you are taking. If you have experienced any unwanted side effects, stop taking the supplements and seek medical attention right away.
Final Verdict:
The idea of developing beauty and skincare supplements have become quite common nowadays. Glisodin Skin Nutrients is one of these emerging supplements which aim to support the performance and effects of the current skincare routine that you have. However, the information about this product is lacking which makes difficult for many to determine if it is safe to use or not.