What is Lancome Miel-En-Mousse?
LANCOME Miel-En-Mousse Foaming Face Cleanser & Makeup Remover is a 2-in-1 makeup remover and skin cleanser.
Founded more than 80 years ago, Lancome is branded by the L'Oreal Group as the luxury skincare brand segment catering to the demands and requirements of Class A clients.
Pros and Cons of Lancome Miel-En-Mousse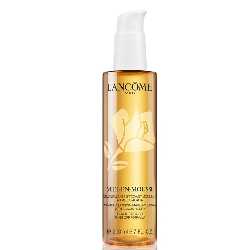 Form:Cleanser
Skin Type:All Skin Type
Benefit:Transformative Honey Like Texture, Removes Makeup
Ingredients:Sodium Laurate Sulfate, Coco-Betaine, Honey, Salicylic Acid
Brand:Lancome Paris
Weight:6.7 Fl. Oz.
Pros
This product is formulated to deliver 2 skin necessities in 1 bottle.
The formula hydrates your skin as you cleanse.
According to some customer review this product is works as a good makeup remover.However rest of customers are not impressed with this product.
Cons
This product is significantly more expensive than its counterparts, including micellar products that deliver the same dual functionality.
The formula is laden with strong perfumes.
It contains Glycerin which may causes serious allergic reaction, including rash,itching/swelling.
It also contains Salicylic acid which causes dryness and peeling of skin.
Lancome Miel-En-Mousse – Does It Really Work?
This product works by covering your skin in a foamy solution that delivers multiple functions, primarily as a cleanser and makeup remover, but also rehydrating and softening your skin as you clean.
According to the manufacturer's claims, this product claims to bring you and your skin these skin-enhancing advantages:
Thoroughly remove your makeup by softening the products to eliminate these off of your face completely
Cleanse your skin of dirt and other impurities to let your skin breathe
Restore your skin's healthy moisture levels but may cause dryness on skin.
Soften your skin as you rinse off the day's impurities
What are the Ingredients in Lancome Miel-En-Mousse?
Sodium Laurate Sulfate: Acts as a surfactant, it softens the impurities on your skin [1].
Coco-Betaine: Derived from coconut oil, this ingredient helps gently lift and eliminate impurities from your skin while it leaves the surface better moisturized [2]..
Honey: Delivers anti-microbial functions while also improving your skin's hydration system by drawing in more moisture to your skin and keeping it well hydrated for hours [2].
Salicylic Acid: Gently exfoliates your skin and delivers grease-regulating properties to help keep your skin brilliant but not shiny. However, it may cause dryness and peeling of the skin [3].
How To Apply Lancome Miel-En-Mousse?
To use LANCOME Miel-En-Mousse Foaming Face Cleanser & Makeup Remover
Apply 2 to 3 pumps to dry skin with your makeup on.
Keep massaging to your entire face for a few seconds to soften tough and stubborn cosmetics.
Wet hands in lukewarm water then, continue massaging to transform the solution to a foamy wash.
Rinse off with lukewarm water only and watch the impurities slide off of your skin.
FAQ's:
Que: Where To Buy Lancome Miel En Mousse?
Ans: You can buy the product from its official website and online retailers.
Que: Does Lancome Miel-En-Mousse Have any Side Effects?
Ans: Skin irritation and allergic reactions due to several ingredients, including fragrance ingredients.
Que: Is Lancome Miel-En-Mousse good?
Ans: Yes, it is good for makeup remover.
Final Verdict: Lancome Miel En Mousse
LANCOME Miel-En-Mousse Foaming Face Cleanser & Makeup Remover is twice worth the convenience in a bottle. It also, however, comes at twice the price of other products that deliver the same benefits. Rice of other products that deliver the same benefits.
Below you'll find some of the most effective Facial Cleansers formulations on the market in our opinion: