Sunday Riley C.E.O. C + E Antioxidant Protect + Repair Moisturizer Review: Ingredients, Side Effects, Customer Reviews And More
By
Sunday Riley C.E.O. C + E Antioxidant Protect + Repair Moisturizer
Sunday Riley C.E.O. C + E Antioxidant Protect + Repair Moisturizer: Is this Moisturizer safe & effective? Check Customer Reviews, side-effects and more.
Advertising Disclosure

?
Sunday Riley C.E.O. Moisturizer Overview:
Sunday Riley C.E.O. Moisturizer is a rich hydrating cream that effectively gets rid of dry skin. This product leaves lasting hydration and protection of the skin. This moisturizer is formulated to reach and nourish the deepest dermal layer. This improves the skin's ability to repair and grow healthier skin. With its protective ingredients, the skin stays healthy and resilient from environmental stressors.
This cream is available in 15-gram and 50-gram jars at their authorized retailers and third-party suppliers. A 15g jar costs about $22, and the 50g jar can be availed for $65. If you are looking for a product that provides a solution for early signs of aging, continue reading this Sunday Riley C.E.O. Moisturizer review.
About Sunday Riley C.E.O. Moisturizer – Does It Really Work?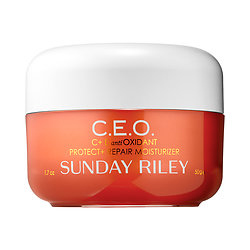 Sunday Riley is a high performing skin care brand that is focused on giving their patrons fast and lasting results. To make sure that everything they manufacture will end up with top-notch quality, they only source the purest ingredients they could find globally. By employing technologically advanced methods, they combine these ingredients to come up with age-defying skincare products.
According to the company, using Sunday Riley C.E.O. C + E Antioxidant Protect + Repair Moisturizer promises the following results:
Get rid of the dull and dry skin.
Leaves the skin feeling smooth, silky, and younger looking.
It protects the skin from oxidative damage and preserves your skin's youth.
What Are The Ingredients In Sunday Riley C.E.O. Moisturizer?
To make sure that this product is effective, the key Sunday Riley C.E.O. Moisturizer ingredients are as follows:
THD Ascorbate: This is the most potent form of Vitamin C that carries high amounts of antioxidants that penetrates the skin and give it protection from oxidation.
Lime Pearl Extract: This is a natural source of Alpha Hydroxy Acid that improves and gives the skin a firmer texture.
Directions To Use:
To enjoy the benefits of Sunday Riley C.E.O. C + E Antioxidant Protect + Repair Moisturizer, apply on cleansed skin day and night. Spread evenly on the face, neck, and décolleté area to moisturize and give the skin protection from environmental aggressors.
Benefits:
Get firmer skin with just a few uses.
Helps reverse the early signs of skin aging.
Protects the skin from environmental aggressors and oxidative damage.
Disadvantages:
This cream comes with a hefty price.
The texture of this products is a little thick and heavy on the skin.
This moisturizing cream does not go well with makeup according to some reviews.
Does Sunday Riley C.E.O. Moisturizer Have Any Side-Effects?
There are currently no alarming Sunday Riley C.E.O. Moisturizer side-effects that have been reported. However, looking at the ingredients list, it can cause the following to your skin:
This cream contains alcohol and fragrance. Alcohol can dehydrate the skin while fragrant ingredients can potentially cause allergy. It is advised to discontinue using this cream at first sign of a rash.
Sunday Riley C.E.O. Moisturizer Customer Reviews:
Here are some Sunday Riley C.E.O. Moisturizer reviews. Take a look at how other users have perceived this moisturizing cream:
"I have a mix reaction with this one. I like its smell and how my face brightens up. But my problem is, its too thick! It doesnt moisturize enough for my skin (winter) or it stay on my face for too long (summer). I can only recommend it at night, put a little and top it up with a moisturizer. For someone like me who has 7steps skincare routine, i usually skip this one, my moisturizer dry faster than this one so i would need to wait for this product to dry then my moisturizer. Too much effort, ill find something similar to this one and try to use this sometimes just for my money's worth" ShroomMush – Makeupalley
"I have been using an inexpensive Aveno moisturizer for the past year that I've actually really been happy with. But, then I tried a sample of this and was won over in a week. The smell is fantastic (as long as you like orange/citrus). The quality of the ingredients is apparent. Very expensive for the amount, but it truly goes a long way. It's very thick, so I only use it at night. I, personally, would never put it under makeup bc it does appear a bit oily before it soaks in. I've continued to use my other moisturizer about 3 days a week to make this last even longer. I'm so happy with it that my next purchase will be the Sunday School set to get more moisturizer and be able to try other Sunday Riley products!" 36yearoldface – Sephora
Final Verdict:
Sunday Riley C.E.O. Moisturizer is rising to popularity with the many benefits it claims. However, the price of this cream is way above similarly formulated products in the market that can give the same benefits.
Facial moisturizing products are in no short supply today, and this large selection might make the process of choosing the best moisturizer for your personal needs to seem a bit overwhelming. Fortunately, we've taken the time to research each of the top facial moisturizers on how they rate in several different key categories. More specifically, we believe that every quality moisturizer should provide the basic benefit of improving overall facial skin appearance, including both skin tone and skin texture. Additionally, a quality moisturizer should contain compounds that are capable of binding to collagen fibres in order to provide the most long term results. Finally, facial moisturizers should ideally be able to deeply cleanse skin at the same time that they moisturize it. Below is a summary of our findings regarding the top facial moisturizers and these key considerations.
Below you'll find some of the most effective Moisturizers formulations on the market in our opinion:
Our Top Moisturizers Products