What Is Dermelect Empower MP6 Anti-Wrinkle Treatment?
Dermelect Empower MP6 Anti-Wrinkle Treatment, US $99 for 1.0 oz., is an anti-wrinkle treatment that promises to correct and prevent signs of skin aging like wrinkles and fine lines. In addition, it can calm and soothe skin irritation and promote a better-toned, brighter, complexion.
Dermelect wrinkle cream can also improve collagen synthesis and generally enhance resilience against infections and damage caused by environmental factors, including UV rays and pollution. Developed by top dermatologists and recommended by many others, on my option this is one of the best anti-wrinkle creams on the market.
Overview – Dermelect Wrinkle Cream
Form:Cream
Type:All Skin Type
Benefit:Reducing The Appearance Of Wrinkles
Ingredients:Argireline, Matrixyl 3000, Hyaluronic Acid
Brand:Dermelect
Weight:1 fl oz (30 g)
Brand Highlights
The brand is 100% cruelty-free.
It's suitable for all skin types.
The ingredients are 100% organic with no harmful additives or fillers.
The product is suitable for vegetarians and vegans.
Key Ingredients
Argireline
Hyaluronic Acid
Matrixyl 3000
Collagen
Green Tea Extract
Grape Seed Extract
Pros
This formula can smooth wrinkles and fine lines.
It's a hydrating moisturizer that eliminates dry, flaky skin.
It could slow the development of aging.
The cream can improve overall skin tone and give your complexion a radiant glow.
It protects from UV rays and other environmental agents.
Cons
It has a scent, which some users may not like.
The results will vary for different individuals.
This is a popular cream that may sometimes go low stock.
About the Brand – Dermelect Cosmeceuticals
The manufacturer of this anti-aging cream is a company called Dermelect Cosmeceuticals, which has their headquarters in Great Neck, New York. Founded in 2006, this is a top skin and nail care company which has a collection of organic products.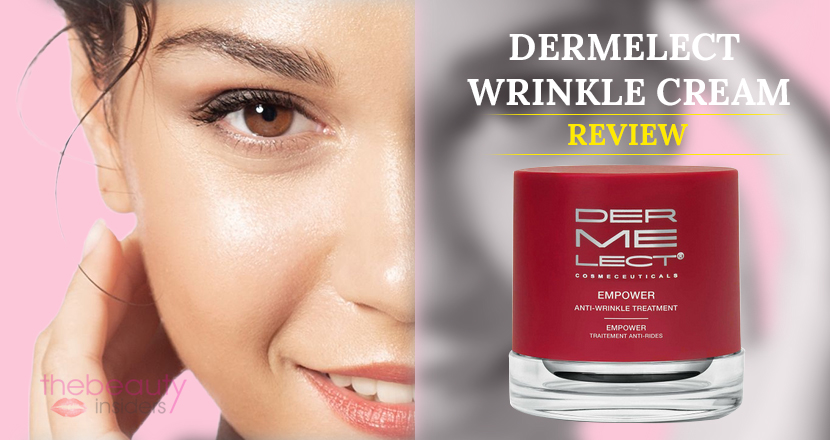 How Does Dermelect Wrinkle Cream Work?
This wrinkle cream from Dermelect Cosmeceuticals contains collagen and peptide-stimulating peptides, which replaces some of the amount that depletes with age. This makes the skin tighter, more elastic, and smooths wrinkles and fine lines.
A review in Cosmetics explored the potent anti-aging effects of topical peptide treatments for the complexion [1].
It also contains ingredients that can slow the movement of the muscles in the face, making it appear as if you have less wrinkles. This is a deeply hydrating formula, which moisturizes and gets rid of dull, dry, flaky skin.
The liquid also plumps the skin, which smooths the surface and can further smooth lines. This cream also improves circulation, which boosts overall health and gives the complexion a rosy glow.
The wrinkle cream has anti-inflammatory agents, which can decrease swelling and redness and possibly heal skin conditions. It's also high in antioxidants which destroy free radicals, decrease oxidative stress, repair skin damage, and protect from UV rays and pollution.
A review in the Journal of Dermatological Science discussed the powerful anti-aging properties of antioxidants for the skin [2].
What Are The Ingredients in Dermelect Wrinkle Treatment?
These are some of the primary active ingredients in Dermelect:
Hyaluronic Acid:  This substance exists naturally in the skin, eyes, and connective tissue. In the skin, it acts as a moisture magnet that attracts hydration from the surroundings, locks it in, and keeps your skin comfortably moisturized longer.
A study in the Journal of Clinical and Aesthetic Dermatology concluded that a nano-hyaluronic acid had significant anti-wrinkle potential [3].
Argireline: This is a peptide which can that slow the movement of the muscles underneath your skin which, in turn, causes it to stretch back and smooth wrinkles and fine lines. In addition, it stimulates higher levels of collagen production at faster rates to renew and restore your skin's healthy and youthful condition.
A study in the American Journal of Clinical Dermatology showed the powerful anti-wrinkle efficacy of argireline [4].
Matrixyl 3000: These peptides help speed up your skin's recovery from damage and restore elasticity, firmness, and youthful volume. They increase collagen synthesis by a huge amount, tightening and firming the skin, improving elasticity, and getting rid of fine lines and wrinkles. They may also provide hydration, and repair damage to the skin barrier.
An article in the International Journal of Cosmetic Science discussed the benefits of peptides like Matrixyl 3000 in treating wrinkles and other signs of age [5].
How Do the Products Rate?
| | |
| --- | --- |
| Dermelect Rapid Repair Moisturizer | 4.4/5 |
| Dermelect Retinol Serum | 4.9/5 |
| Dermelect XL Lash Volumizer | 4.6/5 |
| Dermelect Timeless Anti-Aging Daily Hand Treatment | 4.5/5 |
| Dermelect Makeover Ridge Filler Base Coat | 4.2/5 |
Dermelect Empower MP6 Anti-Wrinkle Treatment
Frequently Asked Questions (FAQs)
Que: How To Apply Dermelect Wrinkle Cream?
Ans: You should apply this formula twice a day, in the morning and in the evening. Begin by cleansing your face and patting dry, then take some of the cream onto your fingers and spread it over your face and neck. You may add other products including makeup on top.
Que: Where To Buy Dermelect Wrinkle Cream?
Ans: You can buy this cream from the manufacturer's official website and from a number of other online and offline retailers. On the official site, you can make a one-time purchase for $75 or subscribe to the auto-delivery service and pay $63.75 per bottle.
You also have the option of making 4 interest-free payments of $18.75. If you join the rewards program, you get points toward future savings.
Que: What is the Return Policy?
Ans: The manufacturer has a 30-day return policy which applies to orders which are below $250. If you are not happy with the cream, return it to the company within 30 days of the purchase along with the receipt. You should get a full refund, minus the shipping costs.
Que: Are There Any Side Effects to This Wrinkle Cream?
Ans: This formula contains 100% organic ingredients, with no parabens, sulfates, gluten, or other harmful additives or fillers. Unless you have a specific ingredient allergy, it should not cause a skin reaction. I did not notice any comments in the reviews for this Dermelect Wrinkle Cream regarding unpleasant symptoms or redness.
Que: How Dermelect is Unique From the Competition?
Ans: This brand offers a wider range of products than many skin care brands, and they are quite unique items that you can't find from every retailer. As a skin care brand, they offer products for the face, neck, body, and hands rather than simply for the face and neck. The range of nail care products is also unique.
Other than this, it includes very high level, scientifically-backed ingredients and top dermatologists developed it. In our opinion, this cream is superior to many other brands on the market.
Que: What Do the Dermelect Reviews Say?
Ans: Among the total number of reviews, mostly says inUsers raved about the amazing anti-wrinkle benefits, as well as the improvements in skin tone and texture, and deep hydration. I chose some of the top feedback so you can see what customers are saying.
Super!!
It's absorbs quickly and is hydrating! I feel my skin is looking and feeling healthier! I highly recommend this amazing cream, especially if you need serious moisture!! Wonderful product.
– Judy R.
Hydrating, Lifting, Good For Sensitive Skin

I'm in my forties and while I've taken good care of my face, I've neglected my neck and décolletage. I've got some major catch up to do and this product is a great start. Totally appropriate for sensitive skin which I have.

Very hydrating without being greasy. I can already see that the skin is more supple. Great ingredients. Read more from other reviews about hydrating, lifting, good for sensitive skin.
– Jenny K.
Love This

I love the Confidence Crease Concentrate!!! My skin has shown noticeable improvements in elasticity AND thinning of fine lines and WRINKLES! Like WHAT!!! – Jenny L.
Final Verdict – Dermelect Wrinkle Cream
Dermelect infuses three of the most well-recognized peptides in its topical anti-wrinkle technology, firming the complexion, improving elasticity, and smoothing wrinkles and lines. It also slows the muscles movements in the face, making it appear as if you have fewer fine lines. The formula is also hydrating and can boost dry, dull skin. It's dermatologist-developed, and our team gives it 5 stars.
The reviews from customers of this wrinkle cream from Dermelect were highly positive. Many women said it successfully removed fine lines and wrinkles, and was also an excellent moisturizer. Having used it myself, I can attest to these great benefits, and I find this cream to be worth every cent.
This formula contains 100% organically-sourced ingredients and is free of gluten, parabens, and sulfates. There are no serious side effects associated with this product. As both a reviewer and a customer, I only have good things to say about this enhancing wrinkle cream.