Medik8 Retinol 1 TR Vitamin A Renewal Cream Reviews – Should You Trust This Product?
Advertising Disclosure

?
Medik8 Retinol 1TR Cream Overview:
Medik8 Retinol 1TR Cream is an intimately moisturizing cream that renews and rejuvenates the skin while you sleep. This retinol cream is formulated to help combat and reverse the early signs of skin aging even before it becomes noticeable. Medik8 specially designed this product to suit people with very sensitive skin who cannot tolerate retinol.
This cream is posted for sale on their official website and can be bought for around $40 for every 50ml jar. It can also be found at numerous retailer website and other third-party resellers. If you have a sensitive skin and you are looking for a retinol cream, continue reading this Medik8 Retinol 1TR Cream review to know more information about it and find out if it's the right one for your skin type.
About Medik8 Retinol 1TR Cream – Does It Really Work?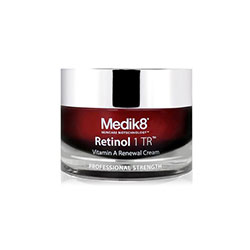 Medik8 makes sure that every product the manufacturer has proven results by subjecting them to clinical trials and testing. They do not use parabens and other harsh chemicals that pose a risk in the long run. They do not manufacture in large scale basis and program their logistics to produce in small batches that ensure product freshness.
Medik8 Retinol 1TR Cream promises to give you a glowing skin in no time! Here are some of the results you may expect:
Improve your skin suppleness and elasticity in just a few weeks.
This product promises to give your skin a younger look free from wrinkles and fine lines.
Using this gives you a moisturized and revitalized skin.
What Are The Ingredients In Medik8 Retinol 1TR Cream?
Medik8 Retinol 1TR Cream ingredients are sourced ethically across the globe. Here are some of the ingredients included in this cream:
Retinol: This form of Vitamin A stimulates the collagen production of the skin to promote healthy cell growth and improve the skin's elasticity.
Hyaluronic Acid: This humectant is a known and proven effective moisturizer that seeps deep into the dermal layer and locks hydration inside skin cells.
Directions To Use:
To enjoy the benefits of Medik8 Retinol 1TR Cream, you may need to start using it with a lower frequency to accustom the skin. After cleansing and toning the skin, apply a thin layer of this product on the face, neck, and décolleté using gentle circular motions. The manufacturer advises using it twice every week for the first two weeks and gradually increase the frequency every week.
Benefits:
This cream improves the texture of the skin and get rid of fine lines, expression lines, and prevent deep-set wrinkles.
Gives the skin intensive moisture to keep the skin supple.
Some user reviews report that it gave them a healthier and glowing skin.
Disadvantages:
The price point of this crema is high.
Little information and reviews can be found online about this cream.
A full ingredient list cannot be found online.
Does Medik8 Retinol 1TR Cream Have Any Side-Effects?
Little is known about Medik8 Retinol 1TR Cream side-effects because there are no reports and not many people have already used it. However, since it's a retinol based product, symptoms of side effects may range from sensitivity to the sun that may result to skin blemishes after sun exposure.
Final Verdict:
Medik8 Retinol 1TR Cream is a promising retinol cream that is intended for people with overly sensitive skin. It gives them the opportunity to take advantage of the benefits of retinol. However, the price of this product is quite high. Lastly, there is no full list of ingredient available online to confirm if it contains other ingredients that users may be sensitive to.
Facial moisturizing products are in no short supply today, and this large selection might make the process of choosing the best moisturizer for your personal needs to seem a bit overwhelming. Fortunately, we've taken the time to research each of the top facial moisturizers on how they rate in several different key categories. More specifically, we believe that every quality moisturizer should provide the basic benefit of improving overall facial skin appearance, including both skin tone and skin texture. Additionally, a quality moisturizer should contain compounds that are capable of binding to collagen fibres in order to provide the most long term results. Finally, facial moisturizers should ideally be able to deeply cleanse skin at the same time that they moisturize it. Below is a summary of our findings regarding the top facial moisturizers and these key considerations.
Below you'll find some of the most effective Moisturizers formulations on the market in our opinion:
Our Top Moisturizers Products
**This is a subjective assessment based on the strength of the available information and our estimation of efficacy.
*Results may vary. The information contained in this website is provided for general informational purposes only. No medical claims are implied in this content, and the information herein is not intended be used for self diagnosis or self trealment of any condition.
Disclosure of Material Connection: Some of the links in the post above are "associate sales links." This means if you click on the link and purchase an item, we will receive a commission Regardless, we only recommend products or services which we use personally and/or believe will add value to our readers. We are disclosing this in accordance with the Federal Trade Commission's 16 CFR, Part 255: "Guides Concerning the Use of Endorsements and Testimonials."