Reading Time:
3
minutes
Grin Tales in Teeth Whitening
In today's world, where physical perfection is the dream of many, teeth whitening is the dental industry's offer to help you attain this perfection.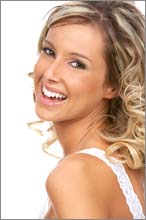 The appearance of a person's teeth makes a considerable impression since a beautiful smile suggests greater overall health, youth, and success.
The tooth's translucent outer layer, enamel, absorbs colors from the things we eat and tobacco, while dentin, the tooth's inner layer, naturally gets darker as we age.
It can be both baffling and expensive to try to navigate all of the teeth whitening options available, from special toothpaste up to laser procedures.
It may cost up to $1000 for a dental laser treatment, or $500 for custom-fitted trays and whitening solution, so a number of under-$50 options have flooded the market to appeal to the more thrifty.
Mark Wilhelm DMD, MSD
, a dental specialist, of Imagine Your Smile in Woodbury, Minnesota says, "Teeth whitening is easy, comfortable and a lot of bang for the buck." When speaking about the comparisons between at-home and in-office whitening options, Dr. Wilhelm adds, "there is a lot of hype and marketing in the various methods, but the results end up the same."
A regular user of store-bought whitening strips and whitening toothpaste, Sheri Rice Bentley of Madison, Wisconsin agrees: "When I asked the dentist about office whitening they said they probably couldn't do any better than what I was seeing already at home…"
Nonetheless, do-it-yourself options aren't universally lauded. We are reminded by Michael Barr D.D.S of Palm Beach Smiles in Boynton Beach, Florida that not everyone will be provided with ideal results from teeth whitening procedures. In a blog on PalmBeachSmiles.blogspot.com, he wrote, "Undiagnosed gum problems and cavities, for example, can become very sensitive or 'flare-up' with bleaching gel application. Existing crowns and fillings won't change color. Teeth with thin or worn enamel won't change color either."
Boston University's clinical associate professor and director of Advanced Education in General Dental program,
Dr. John Cassis
, recommends that nursing mothers and expectant mothers not bleach their teeth. He also says, "Roughly six percent of the population is resistant to bleaching and will see only a small difference in tooth color." Amie Garcia, previously a stay at home mom in California said, "I did get my front tooth whitened in [the dental] office and I was so grateful. I tried in-home whitening prior to getting married and it didn't work."
It doesn't matter if you use a teeth whitening product in a dentist's office or in your house, just remember that:
The potency in teeth whitening depends on the amount of carbamide or hydrogen peroxide, the amount of time involved and how well whatever is applied fits the teeth.
Whitening trays can still be used. While many people choose to use whitening strips or quick light-enhanced in-office procedures instead of wearing uncomfortable trays, most dentists agree that custom-fit trays are key to the overall success of teeth whitening.
Don't be fooled by laser light treatments that are currently being offered in some in-office teeth whitening procedures. This procedure, usually unnecessarily expensive, doesn't do anything except give a false impression of scientific advancement while it dehydrates teeth to bring out the effects of the hydrogen peroxide treatment for a short while. These quick office procedures are most appropriate as an initial treatment prior to beginning a more long-term teeth whitening regimen.
Besides taking care of your hair and skin properly, whitening your teeth provides one of the quickest, most cost-effective ways to recapture a youthful look.
Now that teeth whitening products have become affordable, white smiles are not limited to shining youths, celebrities, and those with new dentures.