Reading Time:
3
minutes
What is Wellsprings Serenity Cream?
As per the manufacturer, Wellsprings Serenity Natural Progesterone Cream, £19.99 for a jar that lasts up to 3 months, is a product that has been committed to help ease women's menopausal symptoms since 1997.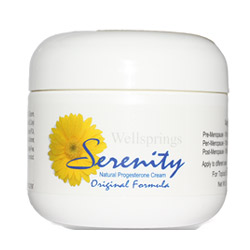 Its long history of safety and efficacy has earned this product a loyal following for being effective at delivering the following benefits:
Restore hormone balance to reduce the intensity and lessen the frequency of your menopausal episodes which includes hot flashes, night sweats, loss of sex drive, anxiety, mood swings[1], and migraine, among others but may cause swelling on skin.
Topically deliver an ideal amount and concentration of plant-based progesterone to help relieve you of your symptoms. However according to reviews results are temporary.
Help you avoid contracting more serious diseases associated with menopause, including osteoporosis, hypertension, heart diseases, cancers, and other degenerative diseases[2]
.
Wellsprings is a company that is dedicated to "producing the highest quality, most effective natural progesterone cream available" and it has done so with this cream since 1997.
What are the Ingredients in Wellsprings Serenity Cream?
Natural Progesterone (2.34%): Derived from plant saponins, this ingredient helps restore hormone balance which should relieve you from your menopausal symptoms, making your episodes less frequent and less intense.
Sodium Hyaluronate: This is salt that is potent in boosting skin moisture level while sealing the existing moisture, thus keeping the skin dewy, tight and flexible. It also helps to smooth skin inflammations. However it cause skin infection such as redness or swelling.
Stearic Acid: It has cleansing properties so that it is used remove dirt, sweat and excess sebum from the skin.
Scorbic Acid:This form of vitamin C gives antioxidative protection to the skin while helping you achieve a brighter and radiant skin complexion.
How To Apply Wellsprings Serenity Cream?
For best results, the manufacturer suggests to-
Apply 1/4 teaspoon of Wellsprings Serenity Natural Progesterone Cream over varying areas of your skin on the first month of product use.
Apply just 1/8 of a teaspoon and keep massaging in the product to your skin until your first jar is finished before you can have a good basis of whether or not you are responding well to this product.
Benefits of Wellsprings Serenity Cream
This product is made from all naturally derived ingredients and does not contain allergens.
The formula has not been tested on animals.
The progesterone in this cream is delivered topically where a potent amount of the product successfully enters your body and gets transported through your bloodstream, as compared to when progesterone is taken orally where most of it will have been broken down by your liver, significantly reducing product potency but may cause redness or swelling on skin.
Wellsprings serenity cream reviews indicate that users have experienced improvements in the quality of their lives. However results are temporary.
Disadvantages of Wellsprings Serenity Cream
This product is infused with plant-derived hormone, progesterone.
Different women will experience different responses to this product.
The manufacturer has not made available any proof of product efficacy in the form of clinical trials.
It contains alcohol which cause skin dryness.
Wellsprings serenity cream reviews may not provide a good reference for when you are trying to make a decision about how this product might affect you, given that most user testimonials are available only on the product website.
Final Verdict : Wellsprings Serenity Natural Progesterone Cream
Wellsprings Serenity Natural Progesterone Cream has made plenty of claims about this product but, in general, has provided little to no evidence of product efficacy nor proof of science behind the mechanism and formulation being proposed by the manufacturer. Even the Harvard Medical School has concluded that more evidence is needed to establish the effectiveness of bio-identical hormones, such as the plant-derived progesterone in this cream, in relieving menopausal symptoms. Also. It does not offer any sort of money back guarantee.