Reading Time:
3
minutes
Dermalogica Eye Serum Overview:
Dermalogica UltraSmoothing Eye Serum is a skin formula, designed for use on the skin around the eye to help fight various visible aging signs and leave you looking smooth and flawless. It is a firming eye serum which lifts the skin and smoothens out fine lines.
This product is not limited for use on the eye area only, but it can also be used on the entire face and deliver similar benefits. It is gentle on skin, making it suitable for use on all skin types even the most sensitive ones. Dermalogica Eye Serum contains peptides, which encourages production of collagen that fights various aging signs like wrinkles.
It is suitable for use on the delicate area, and it will sooth the skin and leaves you feeling younger and rejuvenated. This formula will improve the appearance of the eye area, by reducing eye puffiness and other aging signs that affects the skin area around the eye.
It enhances deep hydration, leaving the skin with a healthy glow. Embracing this product and making it part of your routine will restore your skin youthfulness and make it look health. Those interested in this formula can visit the brands website and make orders from there.
About Dermalogica Eye Serum- Does It Really Work?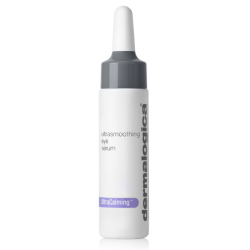 Dermalogica Eye Serum is manufactured using quality ingredients, making it to deliver the promised results. It is available in serum form, which is suitable for use on all skin types. This serum is sold online via the brands website.
Using Dermalogica Eye Serum claims to boost production of collagen, which firms the skin and help to eliminate the most visible aging signs like wrinkles, sagging skin and fine lines. It also claims to smoothen the skin, reduce eye puffiness, lift, firm, and hydrate and maintain a healthy glow.
What Are The Ingredients In Dermalogica Eye Serum?
Dermalogica Eye Serum ingredients are gentle and they work on all the skin types. They are safe for use even on sensitive skin. Ingredients in the Dermalogica Eye Serum are:
Hyaluronic acid – It increases the skin hydration, and leaves you with a healthy and vibrant glow.
Oat kernel extract – It aids in soothing the delicate skin.
Red and brown algae – It reduces the appearance of eye puffiness.
Golden chamomile – It reduces the visibility of aging signs.
Peptides – It encourages production of collagen.
Directions To Use:
This formula is applied on the eye area. Apply before make up. From the customer reviews, this formula will deliver similar results when applied on the entire face.
Benefits:
It works on all skin types.
It is backed up by positive customer reviews.
It boosts collagen production.
Increases the skin firmness.
Lifts the skin .
Gets rid of the visible aging signs.
Increases the skin hydration.
Reduces eye puffiness.
Improves the skin appearance.
Disadvantages:
It is pricey compared to other serums in the market.
It can only be bought online.
There is no money back guarantee.
Does Dermalogica Eye Serum Have Any Side-Effects?
Side effects of Dermalogica Eye Serum are not provided by the manufacturer. Dermalogica Eye Serum Side-Effects are rare, as it is gentle on skin and does not cause harm.
Final verdict:
Dermalogica UltraSmoothing Eye Serum is designed for delicate skin around the eyes. It is gentle the skin, and it works on all skin types. This serum is sold online through various distributors.
From the reviews available online, Dermalogica Eye Serum might boost collagen production, hydrate the skin, fight the visible aging signs and restore the skin radiance. It may also leave you looking healthy and attractive.
However, some of the reviews are negative and it may be hard to ascertain the effectiveness of this formula. This serum is pricey compared to other skin care formula that claims to work the same. You should research more and look for an affordable formula, which will give you similar results.