What is Gluta C Intense Whitening Cream?
As per the manufacturer, Gluta C Intense Whitening Cream is a skin whitening cream that also delivers anti-aging treatment and comes with a broad spectrum SPF 25 sun protection. However, according to reviews results are temporary.
Gluta C is a product line developed, formulated, and managed by Ardent World Inc (AWI). Since 2002, the company has launched products competing in the Personal Care Service and Retail Vanity Products categories.
The company is strongly committed to promoting safe skin whitening through its products which are founded on the skin lightening and revitalizing properties of Glutathione and Vitamin C[1].
Pros and Cons of Gluta C Intense Whitening Cream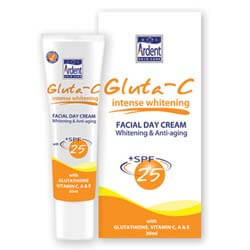 Form:Cream
Skin Type:All Skin Type
Benefit:Reduces Skin Dullness and Dryness, Reduce The Appearance Of Dark Spots and Blemishes
Ingredients:Glutathione, Vitamin C, Vitamin E, Shea Butter
Brand:Gluta-C
Weight:1 Fl. Oz.
Pros
This product is formulated with safe skin lightening agents that won't compromise your skin health and wellness.
The formula is non-greasy and lightweight with a consistency that is easily absorbent.
The product uses Glycostech, a revolutionary French technology that quickly delivers this product's formula deep within your skin.
Cons
This product is relatively more expensive than most other skin lightening creams.
Gluta C Intense Whitening Cream reviews are practically absent which makes it impractical to use these as references for finding out more about other people's experiences about product use and results.
The manufacturer does not provide a full product ingredients list.
The manufacturer does not provide any proof of efficacy or consumer survey results to attest to truthfulness of claims made about this product.
Gluta C Intense Whitening Cream – Does It Really Work?
Based on claims made by the manufacturer, this product has been specially formulated to deliver the following benefits to improve your skin's health and enhance its appearance:
Promote fairer overall complexion and lighten dark spots
Revitalize your skin cells to restore the energy and life of your skin
Deeply nourish your skin to help soothe dryness and associated inflammation
Restore your skin's natural protective barrier function to lock in moisture and better resist damage caused by environmental factors
Protect your skin from UV and cell-damaging free radicals
This product works by delivering a complex combination of antioxidants, Glutathione, and Vitamin C, along with other highly potent skin-lightening ingredients to improve your skin's natural radiance and glow.
What are the Ingredients in Gluta C Intense Whitening Cream?
Glutathione: A strong antioxidant that protects your skin and which has natural properties that help inhibit the production of melanin, the substance that causes your skin to darken or, that show dark spots [3].
Vitamin C: Has strong antioxidant qualities, it also re-energizes your skin cells to relieve you of a tired and haggard look [4].
Vitamin E: Boosts the benefits delivered by Vitamin C, it also helps rebuild and strengthen the protective barrier to improve your skin's resilience against environmental factors that cause skin damage and aging [5].
Shea Butter: Deep nourishes and conditions your skin, it is also rich in Vitamin A and fatty acids which supports the delivery of multiple claims made about this product [6].
Does Gluta C Intense Whitening Cream Have Any Side Effects?
In the absence of a full product ingredients list, it is advisable that you err on the side of caution and assume that one or more components of this product might cause you anywhere from mild to severe irritations or allergic reactions. Vitamin C is also known to cause hypersensitivity in some people[2].
How To Apply Gluta C Intense Whitening Cream?
For best results, the manufacturer suggests that Gluta C Intense Whitening Cream must be used during the day, following a thorough cleansing routine, and reapplied frequently to maintain the potency of the SPF.
FAQ's:
Que: Where To Buy Gluta C Intense Whitening Cream?
Ans: You can buy the product from its official website and online retailers.
Que: Is Gluta-C effective for whitening?
Ans: Yes, it is effective for whitening and it also remarkable and it evens out the blemishes.
Que: Is Gluta-C safe?
Ans: Yes, it is safe and effective on the skin.
You May Also Like: Bare Republic Tinted Sunscreen Reviews
Final Verdict: Gluta C Intense Whitening Cream
Gluta C Intense Whitening Cream makes multiple claims about what this product can do.
Unfortunately, despite its wonderful promises, the manufacturer isn't providing sufficient information about how it intends to deliver on its promises. Also, there is no return policy available on this product.
At this price point, you should be able to determine what it is that you are getting for your skin even before you do.