What Is La Roche-Posay Cleanser Gel?
La Roche-Posay Effaclar Purifying Gel Cleanser is a cleanser made especially for people with oily skin. However, it may not be suitable for combination skin.
According to the manufacturer, this product is formulated and distributed by La Roche-Posay, one of the many brands that are being managed by the L'Oreal Group, one of the biggest players in the skincare, personal care, hair care, and cosmetics industries. The brand was set up by the Group in 1995 to become its response to the growing demand for professionally formulated products that are available over-the-counter, later to be termed as "cosmeceuticals".
La Roche-Posay Cleanser Gel Pros and Cons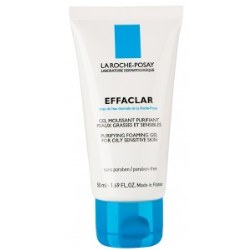 Form:Gel
Skin Type:Oily, Acne Prone
Benefit:Helps Clear Acne Breakouts, Blackheads And Whiteheads, Gently Exfoliates Oily Skin To Smooth Skin Texture
Ingredients:Zinc PCA, Coco-Betaine, Sodium Laureth Sulfate, Citric acid
Brand:La Roche-Posay
Weight:6.76 fl oz (200 ml)
Pros
This product is alcohol—free and soap-free.
This product has been guaranteed by the manufacturer to be non-comedogenic, which won't clog your pores and worsen acne conditions.
This product may be suitable for all skin types. Although many user reviews say it isn't very effective.
Cons
This product may not be potent enough to remove tough, waterproof makeup, for which you may have to take an additional step to use a makeup remover to wipe off your makeup prior to cleansing.
La Roche-Posay Effaclar Purifying Gel Cleanser reviews by users have reported, this product can irritate the skin of some users and cause them to breakout.
This product may cause skin dryness.
This product may not be suitable for combination skin.
La Roche-Posay Cleanser Gel – Does It Really Work?
The manufacturer claims that this product has been designed and formulated to deliver the following benefits:
Loosen up tough dirt, grime, and other impurities to reveal your healthier skin.
Help regulate oil production and prevent your skin from greasing.
Purify your skin to help treat acne and prevent breakouts.
This product has a fairly straightforward approach to cleansing your skin. Its cleansing mechanism involves softening the debris on your skin, breaking these down then, eliminating them from your skin to reveal a cleaner, clearer, and brighter complexion.
What Are The Ingredients In La Roche-Posay Cleanser Gel?
Zinc PCA: Clears and purifies your skin and pores, helps regulate oil production and surface greasing, while also supporting the solution to penetrate your pores deeply and draw out impurities [1].
Coco-Betaine: Attracts impurities, dissolves these then, eliminates these from your skin when you rinse off this product.
Sodium Laureth Sulfate: Gives this product a foamy texture when lathered, it supports coco-betaine in loosening up tough dirt and grime to clear your skin and rid it of these impurities [2].
Citric acid: This is a wonderful ingredient for treating several skin problems like mild acne, pigmentation, clogged pores, sun tanning, wrinkles, and dark spots. However, it may cause irritation or a rash to form [3].
Does La Roche-Posay Cleanser Gel Have Any Side Effects?
Based on this product's composition, the following side effects may be experienced:
Skin irritations and allergic reactions due to several ingredients, including fragrances and menthol.
Increased risk for cancers due to PEGs, chemicals that can easily become contaminated with 1,4 dioxane, a carcinogen, which PEGs deliver into your body by penetrating your skin, and sodium benzoate which can quickly combine with Vitamin C to form Benzene, yet another carcinogen.
Increased risk for brain damage and neurological dysfunctions due to phenoxyethanol, used here as a preservative but which is considered to be highly toxic.
How To Apply La Roche-Posay Cleanser Gel?
Use La Roche-Posay Effaclar Purifying Gel Cleanser once up to twice daily, day and night as your regular cleanser.
Always use lukewarm water when cleansing to prevent from drying out and damaging your skin unnecessarily with water that is either too hot or too cold.
FAQ's:
Que: Does La Roche Posay cleanser have salicylic acid?
Ans: Yes, It is formulated with Salicylic Acid Acne Medication.
Que: Is La Roche Posay good?
Ans: Yes, La Roche Posay is one of the most beloved french pharmacy brands.
Que: Where can I buy this product?
Ans: Visit the company's website and place your order.
You May Also Like – Cerave Foaming Facial Cleanser Reviews
Final Verdict: La Roche-Posay Effaclar Purifying Gel Cleanser
La Roche-Posay Effaclar Purifying Gel Cleanser will give you what every other well-formulated cleanser can, that is, to rid your skin of dirt and other impurities. Plus, it gives you added benefits like getting your greasy surface under control Unfortunately, this product's formula may not be able to make it function optimally as a one-step cleanser. If you're not too keen, that truth may be easily ignored but, at this price point, you can easily get a similar product that can dissolve tough grime better.
Below you'll find some of the most effective Facial Cleansers formulations on the market in our opinion: