Reading Time:
3
minutes
What is Nia Gold Night Cream?
As state by manufacturer, Nia Gold Retinol Night Cream, US $60 for a jar, is an overnight anti-aging treatment night cream formulation that gives your skin nightly corrective and rejuvenating functions that help restore lost moisture and nutrients as well as support the maintenance of healthy, young-looking skin.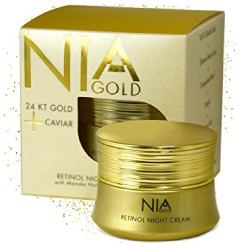 This product is brought to you by Chicago, USA-based company, Nia.
The company conducts its own R&D efforts and especially considers product formulation to suit even the most sensitive and problematic skin types and conditions.
The company uses aloe, known for its skin healing properties, but it may cause dryness or rash sometimes.
Nia Gold Night Cream — Does It Really Work?
Based on claims made by the manufacturer, this product has been formulated to deliver for you the following benefits:
Improve your skin's texture and structure to make skin appear fuller, younger, and more volumized.
Enhance your skin's protection from factors that age and damage your skin's matrix.
Calm and sooth skin inflammations to even out your skin tone and avert permanent skin damage and the appearance of wrinkles and other signs of skin aging.
Smoothen out wrinkles and fine lines to give you a more youthful appearance.
What are the Ingredients in Nia Gold Night Cream?
24KT Colloidal Gold: Delivers this product'e beneficial ingredients deep into your skin, enhancing their efficiency in repairing your skin.
Vegan Okinawa Green Caviar: Detoxifies your skin to enhance your skin's moisture content and promote elasticity.
Encapsulated Retinol: Burst deep into your skin to deliver age-defying ingredients that help fade the appearance of wrinkles and fine lline.
Hyaluronic Acid: Improves skin hydration[1], relieving chronically dry skin and keeps it comfortably hydrated for hours.However sometimes it causes bruising, redness and itching on skin.
Licorice Extract: Relaxes and calms your skin to promote a more even skin tone.
How To Apply Nia Gold Night Cream
Nia Gold Retinol Night Cream must be included as part of your evening skin care routine.
Thoroughly cleanse and tone your skin before applying this product. Due to this product's retinol content, it needs to be gradually worked into your routine to allow your skin to adjust its tolerance for retinol.
Start applying on alternate nights until your skin can tolerate nightly use.
Observe skin for irritation. If irritation persists, reduce frequency of use or discontinue product use completely.
Benefits of Nia Gold Night Cream
Nia Gold Retinol Night Cream does not contain parabens and drying alcohols that jeopardize your health and permanently damages your skin, respectively but it contains Hyaluronic acid which causes redness or itching on skin.
This product has never been tested on animals.
Disadvantages of Nia Gold Night Cream
This product appears to have a limited distribution network that does not make it easily accessible.
Nia Gold Retinol Night Cream reviews are severely limited which likewise limits the information available about users' firsthand experience with this product and collective perception about this product's performance versus claims made by its makers.
This product causes bruising, redness, and itching on skin.
Does Nia Gold Night Cream Have Any Side Effects?
Based on the ingredients and reviews, the following side effects may be experienced when using Nia Gold Retinol Night Cream:
Skin irritation and allergic reactions due to several ingredients, including fragrance ingredients and silicones.
Increased risk for nerve damage and brain dysfunctions due to phenoxyethanol, a neurotoxin added as a product preservative.
Final Verdict : Nia Gold Night Cream
Nia Gold Retinol Night Cream, ultimately is an intensive moisturizing product that brings skin ultimate comfort from dryness.
However, there are several ingredients in the formula that are more experimental rather than established components that bring age-defying benefits. This formula causes skin allergic reactions like itching or redness. Also, this product does not offer a money back guarantee.