What Is Vichy Mineral?
Vichy Mineral 89 serum is infused with the significantly hydrating power of hyaluronic acid to attract moisture and keep it locked in over considerably long periods of time.
As mentioned on its website L'Oreal Group of Companies, one of the biggest names in global skincare manages the Vichy brand as part of its Active Cosmetics Division. The brand derives its name from the Vichy Thermal Waters of France which serves as the base ingredient of all products sold under its name. Vichy has since expanded to create products that include skincare, cosmetics, and even personal care products made specially to cater to men.
Pros and Cons of Vichy Mineral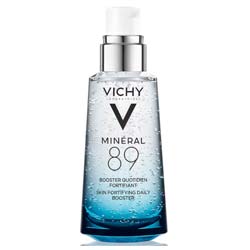 Form:Serum
Skin Type:Sensitive Skin
Benefit:Hydrating Face Serum Provides Your Skin's Daily Dose Of Strength While Revealing A Luminous, Healthy Looking Glow
Ingredients:Hyaluronic Acid, Vichy Thermal Water Spa
Brand:Vichy
Weight:1.7 Fl Oz / 50 ml
Pros
This product dramatically restores your skin's ideal moisture levels while also supporting your skin's healing and treatment so that its natural ability to capture moisture and keep it in can be restored sooner.
The formula glides onto your skin and can be easily incorporated into your existing beauty regimen. However, no substantial evidence is available to prove it is effective.
Vichy Mineral 89 reviews undertaken by professionals have ascertained that this product is safe for use even on sensitive skin, non-comedogenic, and will not cause allergies.
Cons
There is hardly any ingredient in the formula that will redound to longer-term, lasting benefits that can make this formula go beyond its basic moisturizer functions.
This product is relatively more expensive when compared to its competitors.
The formula does not fold in a wide variety of antioxidants to protect and shield skin from stress and other free radical-induced damage which makes it doubtful that this product can deliver on that anti-stress, anti-fatigue claim.
Vichy Mineral – Does It Really Work?
According to the manufacturer this product works by infusing high levels of hyaluronic acid in your skin[1]. These then act as moisture magnets that dramatically increase your skin's moisture levels. Minerals present in the product's water base restore your skin's healthy nutrient levels that support your skin's recovery from damage and eventual rejuvenation.
What Are The Ingredients In Vichy Mineral?
Hyaluronic Acid: Act as moisture magnets, this ingredient makes up for the hyaluronic acid naturally produced by your skin which naturally and gradually decreases in the product as you age or, as you experience stressors that make your skin appear tired and lifeless. However, if you are allergic to hyaluronic acid, your face and throat areas will become swollen after exposure to this ingredient [3].
Vichy Thermal Water Spa: Contains at least 15 minerals which this product's manufacturer claims are exactly what your skin needs to become better nourished and for its healthy levels to be restored, allowing your skin to churn out more energy to power up various cellular level mechanisms that work together to help improve your skin health.
Does Vichy Mineral Have Any Side Effects?
This product contains a lean list of ingredients that include butylene glycol and menthol ingredients, both of which have been reported to cause skin irritations. This product also uses phenoxyethanol[2], a well-known neurotoxin, as a preservative ingredient.
How To Apply Vichy Mineral?
As suggested by the manufacturer
Two to three drops of Vichy MINÉRAL 89 must be applied on your skin, day and night ideally or, once daily, as a stand-alone moisturizer or, as part of your skin treatment series.
Always apply this product on freshly cleansed and toned skin on the face, neck, and chest only.
FAQ's:
Que: Where To Buy Vichy Mineral 89?
Ans: You can buy the product from its official website and online retailers.
Que: Can Vichy mineral 89 be used as a moisturizer?
Ans: Yes, it is used as a moisturizer.
Que: Is Vichy mineral 89 worth buying?
Ans: Yes, it is worth buying.
Final Verdict: Vichy Mineral 89
Vichy Mineral 89 is formulated with all the basic ingredients necessary for it to function as, well, a basic moisturizer.
If you want a straightforward skin conditioner, you need this but, if you're not layering with other skin moisturizing and healing products, this may not be a good fit for your routine. Take a note – there is no Return policy mentioned on its official website.