During the wintertime, your skin needs a little bit more attention.
The cold weather and dry air can really damage your complexion. But wintertime is also a time of year that you'll spend more time indoors which is perfect because you'll have plenty of time on those chilly winter nights to give yourself a pamper session.
If you don't have much experience with pampering your skin there's no need to worry, we are about to let you in on all of the pro tips for giving your skin the royal treatment.
1. Start Exfoliating On A Regular Basis
Exfoliating is very important.
Your skin will be more prone to becoming dry and flaky during the winter.
When dead skin cells accumulate on the surface of your skin it's not only unattractive, it's also very bad for your skin.
Dead skin cells can clog your pores and cause breakouts.
Exfoliating your skin on a weekly basis can keep your complexion clear and make a huge difference in how smooth your skin looks and feels.
You can exfoliate in a variety of ways.
One method is to use a scrub which you can purchase or make on your own if you're feeling crafty.
You can also use a battery-operated oscillating tool, which is a more expensive method. If you want a budget-friendly method you can use a clean warm cloth.
2. Add A Thicker Moisturizer To Your Routine
As we have already discussed, your skin needs more moisture during this time of year.
The type of moisturizer that you use on your skin should be appropriate for your skin type but you may want to switch it up during the winter.
If you are someone who already has dry skin then you should think about adding an even richer moisturizer to your routine.
People who have dry skin aren't the only ones who need a good moisturizer (like Jouliage Age Defying Moisturizer).
If you have oily or combination skin you still need a proper moisturizer.
You may have assumed otherwise, but if your skin is not being replenished then it will make up for the deficiency of moisture by producing even more oil.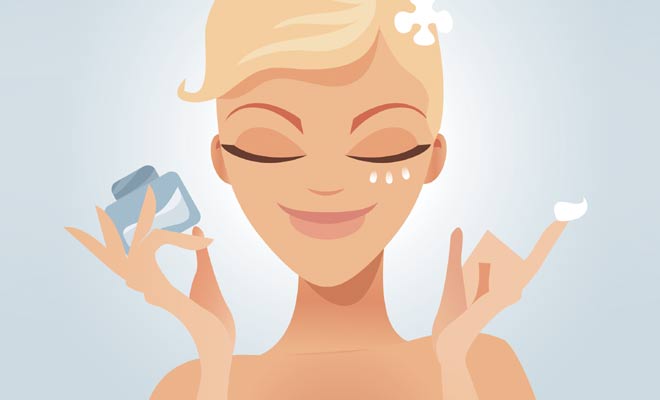 This is a step that many people skip out on but it's very important.
The skin on and around your eyes is the most sensitive and fragile skin on your body.
This is why you need to purchase a moisturizer that is crafted especially for this delicate area of skin, like Solvaderm's Eyevage.
It is formulated with a combination of hyaluronic acid [1], jojoba seed oil [2], apricot kernel oil, and squalane [3].
A good eye cream (like ReLuma)will also help prevent wrinkles from forming around your eyes from excess dryness.
4. Wear A Nourishing Primar Underneath Your Foundation
One sneaky way to add a bit of extra moisture to your daily routine is by using a nourishing foundation primer.
It will help your foundation go on smoother and stay on longer and it will also improve the state of your skin.
This will be a great step for those who use a matte foundation.
By applying a nourishing primer before your matte foundation you will have a matte, oil-free finish all day long without having to worry about pesky dry patches on your skin.
5. Make Sure You Are Getting Enough Water
Sometimes we forget about drinking water during the winter, but that is a dire mistake.
During the hot summer, water is a must for staying hydrated and staying cool.
The cold weather can make us forget about staying hydrated, but your skin needs moisture inside and out to stay healthy.
Make sure you are drinking multiple glasses of water per day.
A great tip is to start the day with a glass of water and to drink a glass of water before every meal that you eat throughout the day.
6. Have A Spa Night At Home
The last tip for pampering your skin during the winter is to have an at-home spa day.
You can do this once a week or just a couple of times per month depending on the amount of time that you have.
You can start your spa day by changing into comfortable clothing and creating a calm environment in your room.
Next, cleanse and exfoliate the skin on your face and body.
Afterward, apply a mask and let it settle on your skin while you do something that you enjoy like watching a film or reading a book. Lastly, apply your moisturizer to your entire body.
There are many promising skin brightening products (Such as Skinception Illuminatural 6i)available today that can be used to make skin appear brighter and more youthful.
At the same time, it is important to carefully consider the promised benefits of any skin brightener in the light of that product's specific ingredients.
A quality skin brightener should be formulated from compounds that show promise in lightening skin tone (like Idole Skin Lightening), a function that may also include reducing the prominence of freckles and other sunspots.
Optimally, a skin brightener will also offer anti-wrinkle benefits to further promote the youthful appearance of facial skin.
Of course, skin brighteners should also be able to help skin appear brighter and more radiant, just as their names suggest.
To aid your search for the ideal skin brightening product, we've listed and evaluated each top skin brightener below on its ability to deliver these desired results.
Like this post? There's more. Get tons of beauty tips, tutorials, and news on the thebeautyinsiders Facebook and Twitter page. Like us on Facebook – we'll see you there!
FAQ's:
Que: How do you pamper your skin in the winter?
Ans: During winter, due to lack of humidity, the skin suffers from lack of moisture and dryness. For dry skin, moisturizing and nourishing packs should be used.
Que: How can I care my face in winter?
Ans: Winter skincare:
Keep the moisture you have
Add moisture to your home
Add moisture from the inside out
Don't forget sunscreen (like Bare Republic Tinted)
Moisturize your skin thoroughly
Switch your cleanser
Take extra care
Que: How can I moisturize my skin in the winter?
Ans: Here are some common kitchen ingredients you can use to moisturize your skin during winters:
Milk and Cream
Olive Oil
Ghee