Seeing your photos after a good night out filled with confidence, you might have gotten a mini-heart attack if you see how badly done your makeup is!
That super visible contouring or that orangey shade of blush that made your cheeks look about four times, tanner than the rest of your face – these mistakes are just too horrifying to fathom.
However, at that exact moment, rest assured you will be much more mindful.
The Most Common Makeup Mistakes to Avoid:
Unfortunately, there are certain makeup mistakes that you may not be aware you are not actually aware you are making.
Sometimes, you can be so used to your routine that you did not know you are actually making it.
Some of the most common makeup mistakes are:
Applying too much powder.
Using an eyebrow color with the same shade as your eyebrow.(Tip: use one shade lighter)
Using a liner style that does not agree with your eye shape.
Curling the lashes after applying mascara. (Tip: Curl your lashes first to avoid clumping)
However, the most easily committed makeup mistake is: using the wrong shade of foundation. This is a big deal, of course.
Well, of all the makeup products out there, foundation, bb cream, cc cream, or whatever else, is something you use all over your face.
It is the base of your makeup, hence the term – foundation. If your base is not any good, then everything else will not matter.
So, let's discuss some of the possible common foundation mistakes you're making.
1. Choosing The Wrong Foundation For Your Skin Type:
Since as stated, your foundation will cover up your entire face, you need to consider what your skin needs.
Just because this certain brand or product worked for your friend, does not mean you will also get the same results.
Different types of makeup foundations are made specifically according to your skin type.
For example, the best foundation products for acne-prone skin are those formulated with no irritants and are completely non-comedogenic.
Some even add a bit of salicylic acid[1] to address the blemishes.
For oily skin, mattifying and oil-absorbing formulas are always added.
Sensitive skin should stick to mineral-based formulas.
Check the list of products containing dyes, preservatives, or fragrances, return them to the shelf.
On the other hand, if you often find yourself wondering, "Why does my makeup look dry?"
Your skin probably is of that skin type, and you are better off using a hydrating, creamy, foundation.
2. Applying Foundation Right After Moisturizing Your Skin: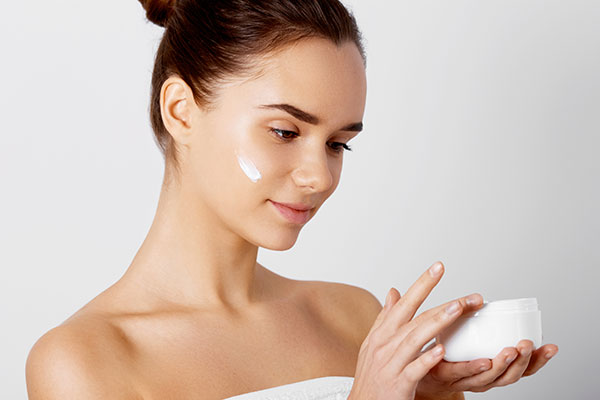 If you know how to apply foundation step by step, you know that it is necessary to give your skin enough time to absorb every product you apply to your face.
Let your moisturizer dry before applying your foundation. If not, it may result in a streaky mess or visible residues.
Not exactly worth the rush, right?
3. Skipping Your Primer:
Most of us are always in a hurry, especially in the morning.
But sorry, that is never an excuse to skip on the primer.
This is probably one of the simplest flawless foundation hacks that you can actually do.
It stops the patchy foundation look and reduces creasing on your skin.
Not only that, it makes your makeup last very long.
4. Using Your Fingers To Apply Makeup Foundation:
Even professionals use a makeup brush or sponge when applying foundation.
A brush or a sponge can easily blend the product on your skin so that it will look more natural.
Brushes are actually preferred to sponges, since sponges can absorb some of the foundations, and a lot of it can be wasted.
5. Spritz On Some Setting Spray:
If you want to know how to keep your makeup on your face for a long time, the best way is to spritz on some setting spray.
It helps prevent foundation patchy on the skin by not making your makeup look runny.
How To Fix Patchy Foundation?
Whatever you skin type is, you may have experienced "My Makeup Looks Cakey No Matter What".
No matter how hard you try, it just gets that way after some time. Here are some things you can do to change that.
How To Avoid Patchy Foundation?
Your skin preparation for make-up directly affects the application of your foundation. Exfoliating your skin is a start.
Removing all the dirt and dead skin cells on your skin can reduce the chances of you getting a smudgy and blotchy foundation on your face.
If these are not removed, any makeup will not be absorbed properly. A lot of people advise exfoliation to be done at least once a week.
This is why moisturizing your skin is important for any skin type.
But if you are wondering what to do if you have dry skin, this is a simple solution you should employ.
When applying makeup, make sure you build enough coverage. Layer it on the skin well.
Make sure that you let it dry before putting on an additional layer of makeup.
Also on that note, always choose quality brands of foundation, one where you can really understand the ingredients.
After applying foundation, quickly use a setting powder to keep the shiny face at bay.
How to Fix Dry Cakey Makeup?
If in case you went to the powder room while out and about and noticed your face is all cakey, there are simple things you can do.
Use blotting paper to reduce oiliness. Your makeup may be getting ruined because of too much oil.
You can try using mist to freshen up your face.
Keeping this in your makeup bag is a real lifesaver.
Simply spray some on your face and blend the makeup using a clean sponge.
Lastly, you can reapply your makeup.
However, make sure you are removing excessive foundation with a make-up wife before applying another layer.
FAQ's:
Que: How can I make my makeup unique?
Ans: Unique Makeup Tips are as follows:
Turn an eyeliner pencil into a liquid liner.
Cover your lid in the white liner.
Shadow your hair parting.
Make a new shade of lipstick.
Que: Why does my foundation look patchy and flaky?
Ans: The appearance of dry flakes on the skin is often exacerbated when you put on foundation.
Que: How do you fix dry patches on foundation?
Ans: A creamy concealer is one of the best ways to treat the dry patches that re-appear after applying the foundation.
Conclusion:
While looking great when wearing makeup is a big thumbs up, taking care of your skin is more important.
It also helps improve how your makeup will look.
Do not forget to use makeup remover and cleanse your face well at the end of every day.