Revlon Touch & Glow Advanced Fairness Cream Review: Ingredients, Side Effects, Detailed Review And More
By
Advertising Disclosure

?
What is Revlon Touch & Glow?
Revlon Touch & Glow Advanced Fairness Cream, is a skin-brightener intended as a day time moisturizer, and comes with dual sunscreen protection[1].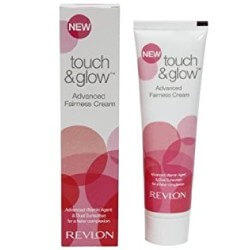 This product is brought to you by Revlon, the company that started out the public hype for nail enamel in the 1930s. Presently, Revlon is one of the world's most recognized beauty and personal care brands with a strong presence in the cosmetics, hair care, and nail care categories.
Revlon Touch & Glow — Does It Really Work?
Based on claims made by the manufacturer, this product has been formulated to deliver for you the following benefits:
Lighten dark marks and promote a fairer overall skin tone.
Rehydrate your skin and help restore optimal hydration functions.
Purify your skin to improve fairness and clarity.
Revive your skin's lively and youthful complexion.
Protect your skin from further damage by giving you ample cover from UVA and UVB.
What Are The Ingredients In Revlon Touch & Glow?
Octyl Methoxycinnamate:[2] Also known as Octinoxate, is a chemical sunscreen active that shields your skin from harmful UVB but not UVA, to protect it from further damage, most notably sunburn.
Titanium Dioxide: A mineral that acts as a physical sunblock that keeps your skin shielded from both UVA and UVB but it may cause redness or irritation on skin.
Honey: Has very strong humectant and antibacterial properties, it helps soothe your skin to promote a more relaxed complexion, rids your skin of blemishes, and boosts your skin's hydration levels.
Magnesium Ascorbyl Phosphate: A more stable derivative of Vitamin C, this ingredient has natural skin lightening and astringent properties, and it also renders antioxidant protection to keep your skin from becoming further damaged and hyper pigmented due to UV and other environmental causes.
How To Apply Revlon Touch & Glow
Revlon Touch & Glow must be used as an integral part of your morning skin care routine.
Always cleanse and tone your skin first before applying this product.
For better sun protection, most especially if you are planning or expecting to be sun exposed for longer than normal, it is best to layer with sunscreen.
Benefits of Revlon Touch & Glow
Revlon Touch & Glow comes with an SPF 15 protection from UVB, the ray that causes sunburn, but also a broad spectrum protection, owing to the presence of Titanium Dioxide in the formula.
This product has been designed to deliver multiple benefits but it may leads to skin rash or irritation.
Disadvantages of Revlon Touch & Glow
This product lists Vitamin C and honey after a long list of additives and preservatives, indicating that these key ingredients are present in very low concentrations likely not to cause any noticeable benefit.
Revlon Touch & Glow is formulated with more preservatives and additives than with ingredients that actually enhance your skin's health and appearance.
No substantial evidence is available to prove it is effective.
Does Revlon Touch & Glow Have Any Side Effects?
Based on the ingredients and reviews, the following side effects may be experienced when using Revlon Touch & Glow Advanced Fairness Cream:
Skin irritation and allergic reactions due to several ingredients, including butylene glycol, octyl methoxycinnamate, and fragrance ingredients.
Increased risk for endocrine disruptions, hormonal irregularities, cell mutation, and cell death due to octyl methoxycinnamate.
Increased risk for irreversible skin damages due to triethanolamine.
Increased risk for various forms of cancers due to Imidazolidynyl Urea which gives off formaldehyde, a carcinogen.
Increased risk for endocrine disruptions due to parabens.
Increased risk for irregularities and dysfunctions associated with the reproductive organs due to EDTA.
Final Verdict: Revlon Touch & Glow Advanced Fairness Cream
Revlon Touch & Glow could be a wild card, given the composition and the order by which ingredients are concentrated in the formula. Who knows? It may work for your skin but, do consider the potential side effects too before making a decision about this cream.
Skin Brighteners aid in reducing post-inflammatory hyperpigmentation revealing even skin tone. Skin brighteners also can help revitalize tired and dull skin resulting in a youthful, healthy glow.
Below you'll find some of the most effective skin brightening products on the market today, in our opinion.
Our Top Skin Lightening Choices
**This is a subjective assessment based on the strength of the available information and our estimation of efficacy.
*Results may vary. The information contained in this website is provided for general informational purposes only. No medical claims are implied in this content, and the information herein is not intended be used for self diagnosis or self trealment of any condition.
Disclosure of Material Connection: Some of the links in the post above are "associate sales links." This means if you click on the link and purchase an item, we will receive a commission Regardless, we only recommend products or services which we use personally and/or believe will add value to our readers. We are disclosing this in accordance with the Federal Trade Commission's 16 CFR, Part 255: "Guides Concerning the Use of Endorsements and Testimonials."