Individual hair braids are ideal during the winter season. Why? Well, it is a great way to protect the hair during the winter.
If you want to make your look super extra this holiday, this is a great way to spice things up.
There are many cute individual hairstyles to choose from.
Box braids are considered one of the most well-known protective styling choices that African American women have been doing to their hair.
It is also worth noting that during the summer season, the heat and activities can cause an increase in sweating.
To secure the hair and make sure it does not dry out, putting your hair up in braids is also a great option.
How To Style Individual Braids?
African American Individual Braid Hairstyle is a form of art. these styles are considered as some of the Best Afro Hairstyles For Ladies.
1. Long Blonde Individual Braids
Change your look this winter season and get blonde braids.
Of all the long Individual Braids Hairstyles, this one is a definite eye-catcher.
For an instant dramatic flair, part on one side.
This particular style looks better if your hair is longer. For those with shorter hair, do not worry! What are extensions for?
2. Corn Rows
This hairstyle is a good way to protect the hair from potential external damages.
Cornrow braids are one of the best Hairstyles For Short Individual Braids.
The style is always sleek and neat. If you want to be bolder, try to go for a different shade.
3. Boho Braids
For an instant boho style, part your hair and do individual braids.
Use some hair accessories, as a hairband, to go all bohemian all the way.
4. Medium-Length Individual Braids
Box braids are perfect for any type of hair.
Long or short, there are specific ways that this can be styled accordingly.
With medium-length braids, it is a lot better if you have a smaller face. It will emphasize one's features well.
5. Braided Top Knot Hairstyle
Top Knots are easy to do. These are great when you are just not feeling it.
Most women experience lazy days, where you just do not want to do anything to your hair.
Spare only a few seconds and grab a ponytail for a quick braided top knot.
Just because you are not feeling up to it, does not mean you should compromise your style. This is perfect for any hair texture.
6. Half Pulled Box Braids
For a neat way to showcase your huge box braids and unveil your beautiful face, pull your braids on the side of the face and tie them at the back for a miniature ponytail.
With that, you are set to conquer the day.
7. Cool Half Updo Style:
Another way how to style your big box braids is to add some hair cuffs into your hair. This look is perfect for summer.
8. Voluminous Braids
Having a small face with delicate features will make big braids look really great.
Look natural and embrace your inner beauty by letting your hair do the talking.
Ditch the makeup and let your big individual braids be the star.
Have your hair bounce loose and use a DIY hairspray that works to keep hair in place.
9. Messy Bun
Yes, you can still tie your hair in a loose, carefree manner with your big braids.
Tie your hair into a bun. Do not be too conscious of the shape.
Let some of the braids fall in front of the face to frame it. This is perfect for free-spirited and cheerful ladies.
10. Corn Rows and Mohawk Braids
From the usual cornrows, try to level up your style by making it more modern.
Try a middle mohawk for a bolder move. Do not put a limit on the length of the hair.
Instead, let it loose on the back.
11. Braided Ponytails and Undercuts
If you are already tired of your braid hairstyle but are not quite ready to move on from it yet, this is the look for you.
Try exposing your side undercuts by putting up your hair in a high ponytail. This look is very modern and hip.
12. Curly Individual Braids Hairstyles
Level up your hair game by curling the tips of your classic black braids.
This is pretty simple to achieve, but you will definitely look oh-so-gorgeous after. The only things you will need are curling iron and a hair spray.
Simply curl the ends and add a bit of a spray to have it stay in place.
13. Twisted Individual Braids Topknot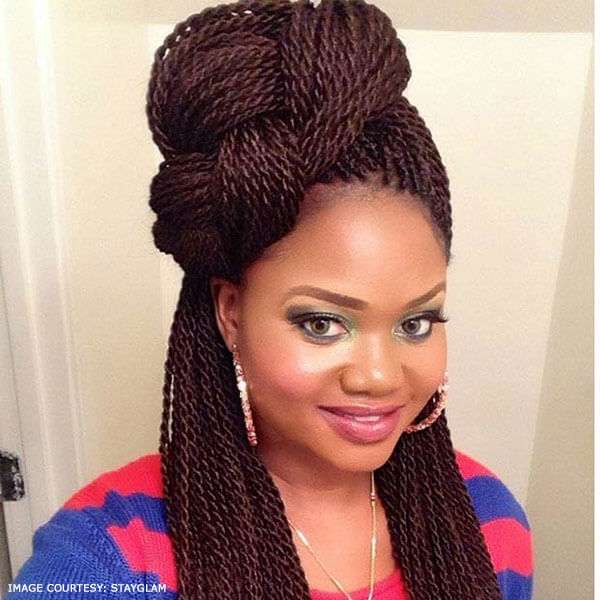 If you are wondering for more ways how to style long box braids, this one is quite the work. But, you will look extra bomb anyways, making it an ideal way to style your hair for fancy occasions.
Twisted braids are the more refined version of classic braided hair.
Simply tie your hair in a topknot. Before starting, however, bear in mind that the bigger bun is more eye-catching.
14. Braided Beehive with Shaved Sides
Shaved heads are now in style. This makes shaving the head a bit easier, right? Once you see other women shaving their heads, you will feel more encouraged to try.
Braid your hair individually, tie it in an oversized bun and then let the remaining bottom half get shaved.
15. Game of Thrones Braids
Surely, if you are a fan of the series, you may have spotted a braided hairstyle or two that you just have to try.
Beauty Gurus on Youtube offer different versions of Braids Hairstyles Tutorials to help viewers lusting over Cersei's hair (or other female characters, for that matter) achieve the same effect.
How To Make Game Of Thrones Braids?
First, grab the following:
a spray for hair protection
a pomade to tame unruly hair
hair elastics
a brush
Below are some Easy Braid Hairstyles Step By Step tutorials you can try for the holidays.
The Dutch Braid:
First, select a part of your hair you want to braid.
You can do individual dutch braids, as well.
Beginning at the crown of the head, divide it into three strands.
Place the right stand across and below the center strand.
Do the same with the left strand.
From the right side, get some new strands and include them with the left side.
Bring the hair across and under the center strand.
Now that side is considered a part of the left strand already.
Continue until you reach the end.
The Fishtail Braid:
Choose the part of the hair you want to braid. You can do individual Fishtail Braids, as well.
Divide the section into two. Hold a section in each hand.
Place a small section of your hair from the outside of the top section and into the middle.
Let it go across the bottom section. Make sure that after completing this step, you still have two sections.
Next, place another small piece on the outside of the bottom part and into the middle, letting it cross into the top section.
When you have completed this step, the letter x should be formed in the middle.
Continue until you reach the end of your hair.
How to Style Individual Braids With Accessories?
Be creative, but also consider the event you are going to. Here are some tips you can try:
As mentioned above, complete your boho look by using a hairband or hair jewelry that can accommodate your hairstyle.
If you are going to chic short-length individual braids, throw in a fedora for that much-needed oomph.
Look like Princess Jasmine by putting on some hair clips on some sections of your hair.
Express yourself through colors. You can try some temporary hair colors if you are not willing to commit to one yet.
You May Also Like – Top 9 Party Hairstyles That Would Last All Night Long
FAQ's:
Que: Which braids are trending?
Ans: Hottest Braid Styles Trending in 2022:
Mambo Twist Braids
Twist Braids and Cornrows
Red Hair with Twist Braids and Curly Ends
Havana Twist Braids
Twist Senegalese Braids
Twist Out Mohawk
Blonde Twist Braids for Black Women
Bob Twist Braids
Que: How long do braids last?
Ans: Braids can last a maximum of 10 weeks if the hairline and nape are redone at the six-week mark.
Que: Do braids make hair grow?
Ans: No, braiding hair does not speed up growth rate.
Conclusion
As a final note, to come up with the individual braid hairstyle that will work for you, you should know how to make a hairstyle according to your face shape.
Sure, the hair is the crowning glory, but it should always compliment your face shape and features.