Exfoliation is a must no matter how sensitive your skin may be. There are various best face exfoliators, in the same way that there are specific types of exfoliators best suited to enhance the youthful appearance of mature and aging skin.
Exfoliates purge the skin of debris but provide an escalation factor in mimicking what the skin does naturally in stripping the skin of residue, dead cells and gland oil build-up that aging skin can no longer accomplish efficiently with regular cleansing alone.
---
How To Choose The Best Face Exfoliators?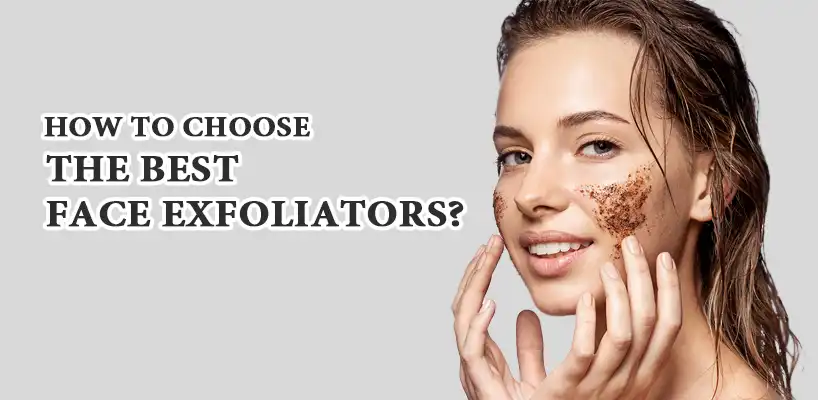 Choosing the best face exfoliator is crucial for achieving a smooth and radiant complexion. Here are some key factors to consider:
Ingredients
Check the ingredient list for potential irritants or allergens. Avoid exfoliators with harsh chemicals, synthetic fragrances, or microbeads that can harm the environment. Look for natural or organic ingredients that nourish the skin, such as jojoba beads, fruit extracts, or botanical oils.
Know your skin type
Know how to exfoliate your skin based on your skin type because the best exfoliator is the one best suited for you. Here is a quick guide on the most suitable exfoliation techniques best suited for every skin type:
Normal: Scrub or enzyme-based.
Oily: Scrub, BHA or, manual exfoliator device.
Dry: Scrub, AHA combined with emollients and moisturizers.
Combination: AHAs and BHAs.
Sensitive Skin: Exfoliating brush or muslin cloth.
Acne prone skin: Salicylic acid or benzoyl peroxide.
Mature and aging skin: AHAs and BHAs, professional chemical peels, microdermabrasion, laser skin resurfacing.
Read through the labels
Check out the the guide on exfoliation provided by the manufacturer. Make sure to follow exfoliation instructions exactly as stated to avoid permanently damaging your skin.
Exfoliation method
Decide whether you prefer physical or chemical exfoliators. Physical exfoliators use granules or brushes to manually remove dead skin cells. They can be effective but may be harsh on sensitive skin. On the other hand, chemical exfoliators utilize ingredients like AHAs or BHAs to dissolve dead skin cells. They provide a gentler approach and are suitable for most skin types.
Frequency of use
Consider how often you want to exfoliate. Some exfoliators are gentle enough for daily use, while others should be used once or twice a week. Over-exfoliating can damage the skin's protective barrier, so it's important to follow the recommended usage guidelines.
Reviews and recommendations
Research and read reviews from reliable sources or seek recommendations from skincare professionals or trusted friends. Their experiences can provide valuable insights and help you make an informed decision.
Our Methodology: How We Choose The Best Exfoliators For Your Face?
We consulted numbers of dermatologists to share the best exfoliators they generally recommend to their patients along with the most compelling reasons to refer them. Secondly, we mined some highly rated and best selling exfoliators in the market on the basis of research conducted by our own R & D Team.

Further, we tested a few of the face exfoliators among the top one's shortlisted and revealed the specifications in this best guide. Also, this article has been reviewed by the renowned dermatologists & beauty experts, so you can trust your reliable source completely.
Take a quick look at our top 12 best exfoliators we rounded up for you!
Quick View of Best Exfoliators That Dermatologists Recommend!
Explore The Best Face Exfoliators Recommended by Dermatologists
The 3 Most Compelling Reasons Why You Should Exfoliate:
There is really no best time to exfoliate. The benefits of exfoliation for all skin type has already been established. Keep in mind to choose the right exfoliator for your face based on your skin type.

Below are 3 of the best reasons why you should keep exfoliating no matter how sensitive your skin may be:
1. Exfoliation speeds up skin healing
It also helps facilitate skin restructuring and renewal, according to a study involving pig skin which demonstrated how a chemical peel smoothened the pig skin, suggesting the same benefits of exfoliation, chemical peeling specifically, in improving signs of skin aging.
2. Exfoliation promotes skin restructuring
Any form of exfoliation will help stimulate faster skin regeneration and renewal mechanisms. Some forms are preferred over others in addressing very specific needs for exfoliation. According to a review of chemical peels, the best exfoliator for acne scars involves superficial and medium peeling using a chemical peel agent.
3. Exfoliation improves the absorption of beneficial ingredients of other products in your regimen
When the corneal stratum, consisting of layer after layer of dead skin cells sitting on the surface of your skin, is broken down, your products can penetrate your skin more easily and deeply.
Is It Good to Exfoliate Your Face?
In an industry that originated with a few simple steps to proper skincare, cleansing was the purest way possible to properly care for the skin.
As perceptions about appearance and aging changed so did the number of skincare products sitting on the bathroom counter.
In a society where the streamlining of processes is common and the need for multi-functioning products is the norm, the skincare industry's product lines had to conform.
This change has also complicated the selection of a basic facial cleanser, in that cleansers can no longer just clean the skin. They must perform other functions to compete for the attention of the multi-tasking mindset.
What Do Exfoliators Do?
Beyond the surface, more abrasive exfoliation bolsters what the skin does naturally, a process in decline as the skin ages (source).
The clearing of trapped oil in the skin's pores, the layering of dead skin cells, and the stimulating of cell turnover all work to maintain optimum skin health.
However, selecting an exfoliate that doesn't damage the skin in the process can be the challenge.
Often, exfoliates such as crush nutshells, synthetic plastic beads, and rough clothes can perform the task but lead to scaring and increased irritation.
Is Chemical Exfoliation Better Than Physical?
Chemical alternatives in beta and alpha hydroxides such as glycolic, lactic, salicylic acids often derived from plants and other organic materials tackle cell regeneration from below skin's surface.
According to Lisa VanBockern, licensed Aesthetician and owner of Tempe, Arizona-based Skin Script Products, "Crushed nut shells can be too aggressive and create microscopic tears in the skin which causes irritation. Chemicals are working their way into the skin and actually doing something at the surface and below the surface of the skin."
Combining the benefits of a simple cleanser with the enhanced stimulation of an exfoliate provides the gentle detergents the face needs to rid it of oil and debris on the surface while incorporating the more deep-penetrating action essential for pore-reshaping, dead cell-purging and clogged oil gland-pumping. However, aside from deciding tolerance for crushed shell or bead scraping or acid stripping, the frequency must also be considered.
Why Should You Choose An Exfoliating Cleanser?
Exfoliating cleansers provide the best opportunity for consistent use in that it is a major component in a product designed for daily use–the cleanser (source).
Also exfoliates alone can bring more harm than benefit if used improperly for optimum results, Orange County plastic surgeon and director of OCBody.com, Dr. John Di Saia MD warns, "Exfoliants using mechanical means (beads, shells) should be mixed conservatively if at all with chemical exfoliants. The combination in inexperienced hands can lead to scarring that can be hard to correct."
The gentle nature of cleansers can counteract the potential harm exfoliates can cause if used alone.
As a result, selecting the most effective exfoliating cleanser is based on the appropriate skin type for the cleansing component and the condition of the skin for the exfoliating component to achieve a more cleansed skin across all of its layers.
FAQ's
Q.How Do You Exfoliate Correctly?
A. When using a scrub or chemical exfoliant, use tiny, circular motions to apply it softly. Rinse with lukewarm water after about 30 seconds of this. Avoid using hot water for rinsing. Also, if you use a brush or sponge for exfoliating, choose ones that have short, soft strokes. Exfoliating should be avoided if you have open wounds or sores, or if your skin is burned.
Q.Does Exfoliating Reduce Acne?
A. Whether your acne is minimal or severe, exfoliating on a regular basis will smooth and soften your skin while also brightening your complexion.
Q.How Often Should You Exfoliate If You Have Acne?
A. If your skin is prone to acne, experts recommend exfoliating 2-3 times each week. You may need to lower it to 1-2 times per week depending on the severity of your acne.
Q.Can Over Exfoliating Make Acne Worse?
A. Skin that has been over-exfoliated can become so sensitive and damaged that it becomes readily irritated. This irritation might lead to an acne breakout. Using too much exfoliant also eliminates too much of the skin's surface layer, removing all of the stored moisture.
Bottom Line: Best Face Exfoliator 2024
When it comes to great-looking skin, prevention and maintenance are of premium importance. Exfoliation is an effective means by which you can keep your skin healthy and youthful looking so be sure to take advantage.
Why Should You Trust Us?
Our experts have thoroughly investigated every detail of each product for a week or more and have determined that they pass safety checks. This ensures that the products we recommend are the best for addressing your skincare concerns.
WE'D LOVE TO HEAR FROM YOU
Get the latest in skincare, makeup, wellness, and more!