"The right hairstyle can make a plain woman beautiful and a beautiful woman unforgettable," — Aww!
That was a gorgeous take on tresses by no other than one of the most unforgettable faces of all time, Sophia Loren.
Whereas old Hollywood loved the full 'do, at this day and age, carefully curled up hair is just not the way to exude that cool, carefree, beach girl attitude that matches the fast-paced life that you are living right now.
A Description On Tousled Hair Trend
What you must already know by now is that you don't wake up to an enviable "I woke up like this" mane without really staging how you want your waves to happen — well, at least to some extent, use some beach waves products.
So, before getting down on how to get tousled hair, here are 5 top facts you need to know about this "I couldn't care less look":
Fact No. 1: The Tousled Beach Hair Look Is The Hottest 'Do of All Season
Hardly is it ever about your hair, it's about your personality naturally shining through whether you're covered in layer after layer of coat or, clad in your two-piece bikini.
Fact No. 2: This Hairstyle Is Low Maintenance
Just think about it. If you went for preppy, ironed-out hair, you need to keep your strands together whether you got them curled, tied, or hanging down your shoulders.
If the wind is blowing, you need your bobby pins to keep them down or, you probably can't even hang loose outdoors when you want to well, not the way you could with tousled hair.
Fact No. 3: Tousled Hair Adds Body To Your Body
It brings contour to your face and, if you have long hair, even to your body. Your hair is at its most natural state when styled up this way.
Since it seems so naturally you, it brings out your best facial features too, and even frames your smile, and that's what people notice.
Fact No. 4: Messy, Tousled Hair Is For Everybody
Long hair or short hair, naturally straight hair or, kinky hair, there is no excuse not to be wearing your crown in tousled-up glory.
All you really need is a beach waves hairstyle tutorial to help you in your transformation.
Fact No. 5: You Can Get This Look Too
Don't doubt it. There is a tousled waves tutorial to match your hair's naturally peculiar ways.
Add 4 Easy Steps For Preparation of Tousled Hair
Here are 4 basic steps on how to get tousled hair:
1.Prep And Clean
There are many ways to prep your hair and scalp for a nice, tousled-up debut, among which is just going through your regular hair washing routine.
However, if you want to spoil your strands just a little, now is not the time for a hot oil treatment that will straighten out and wear down your hair, making it rather tacky treating it for a volumizing effect.
For perfect tousled hair, you should instead go for a clarifying routine. Use a clarifying shampoo that will help scrape off the product buildup on each of your strands and your scalp.
That will also make it better respond to the volumizing products that you are about to apply to your hair.
2.Treat
If you have naturally thin hair, use a leave-in conditioner that is non-greasy and that will take care of every strand, from roots to the tips.
Use a product that will prop up your hair from the shaft to give the illusion of being longer and thicker.
Apply heat protectant spray to avoid damaging your hair. Blow dry and spray on salt spray to achieve a messy look.
3.Add Volume
Tips on how to get tousled hair talk about how to work up your hair to that extra volume, and there are many ways, some of which are listed below:
Use a broad roller brush when blow-drying your hair.
Comb up and away from your face using either a sculpting brush or a boar bristle round brush which simultaneously shapes, volumizes, and removes frizz from your hair.
Give your roots a little tease using a fine comb.
Part your hair the other way, where you usually don't part it.
Ask your hairstylist to give you a haircut that will make your hair appear fuller, not flat.
Curl using heating tools, rollers, or, just your own fingers.
Add random waves.
4.Keep Your Disheveled Hair In Place
Always finish your routine with a lightweight hairspray that will keep your styling in place but not exactly stiffen up your hair like "Hello, Madonna of the '80s!"
As for how to maintain wavy hair, you just got to keep to your routine all the time, Honey.
Trust us when we tell you that you will think it was easier than you thought the first time, and that it just keeps getting easier (and faster) to do it every time you repeat it.
And, keep that beach waves salt spray in your purse all the time.
Swell Tips To Easy Tousle Your Hair At Any Length
Ready to work it?
Here are the top tips for getting styled up beach-ready style:
How to Get Tousled Hair for short hair
1. Blow dry.
2. While still damp, tease the roots of your hair with a fine-toothed comb.
3. Use a cushion brush to pull the tips away from your face, avoiding the teased roots as much as possible and brushing from where the teasing ends, all the way to the roots.
4. Put on salt spray and tease some more on strategic parts of your roots only.
5. Keep in place with a light-hold spray.
How to Get Tousled Hair for Medium Hair
1. Blow dry.
2. Part your hair on the side where you don't usually part it.
3. Use a small to medium radius hot barrel to curl your hair, section by section. Wrap each section around the barrel. You can either curl only the front part to frame your face or, your full head, as desired.
4. Spray on salt spray before gently running your fingers from the roots to the tips, shaking each time to create volume rather than straighten your curls.
5. End with a light-hold hairspray.
How to Get Tousled Hair for Long Hair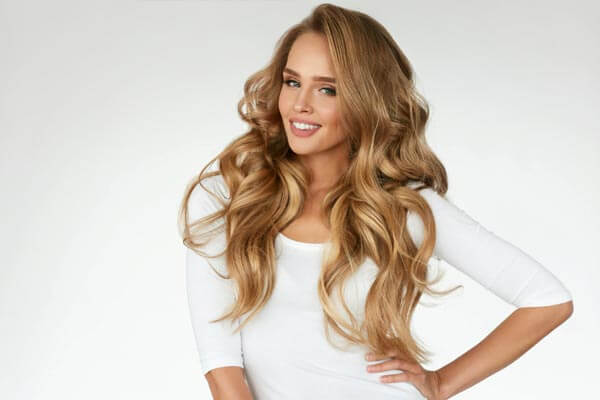 Step 1: Blow-dry until hair is a little damp.
Step 2: Use a hair iron to create zigzags on your strands. Work in section-by-section of your hair, either full head or, just the front part that frames your face.
Step 3: Use salt spray to roughen up your curls.
Step 4: Tease the roots if you have naturally thin hair before running your fingers through the curls to remove the sectioning.
Step 5: End with a light-hold hairspray.
Styling Without Heat
What if you have naturally dry hair and would want to stay free from heat-styling gadgets and products?
Worry not because there are ways to get your 'do all tousled up without blow-drying, ironing, or rod curling.
Here are the top 5 ways how to get tousled hair without heat:
1. Braid Your Hair
How fine depends on how loose or, how fine you want your waves. Plus, you have to mind the timing too, that is, when you braid and for how long you should keep your hair braided.
2.Rollers
Those good 'ole batteries are not dead, even supermodel Gigi Hadid has been spotted several times working fashion week in them.
Again, where you put those rollers will matter but, so too will how long you have them on.
3.Pull The Top Sections of Your Head Into Tiny Cornrows
If you have the time, sure, you can do it on your full head but, for practicality's sake, curl and volumize by pulling off a wavy frame for your face.
4. Go On a No Wash Day
Going through the day without washing your hair is one of the best, and not to mention the most effortless, ways to get the messy hair look.
If you want more volume, use a dry shampoo and spray with sea salt spray.
5. Flip Back
This is a great technique to get that undone look done in under 10 minutes. Fan dry your hair.
While there's a little bit of dampness remaining, flip over and use a cushion brush to volumize. Flip back up. Run your fingers down your length and end with a light hold spray.
FAQ's:
Que: How do you get tousled hair long?
Ans: When you are curling you do one turn and overdress everything towards your face.
Que: How can I get tousled hair naturally?
Ans: Get tousled hair using a curling wand.
Wash your hair. Tousled hair calls for volume, so begin this look by washing your hair with your favorite shampoo and conditioner.
Apply heat protection spray.
Dry your hair. And apply a sea salt spray.
Curl your hair.
Brush through your curls.
Apply oil. Then final look.
Que: How to get tousled hair for short hair?
Ans: Step 1: Start off by washing your hair clean and voluminous base before you create your style.
Step 2: Prep your hair by applying Spray, then use your blowdryer to dry and style your strands.
Step 3: As you're blowdrying the hair, use a round brush to flip the hair outward to create the tousled effect.
Conclusion
It would be so much less of a hassle if you could indeed wake up to a wonderful mess on your head, curls, and a little bit of frizz just right where you want them to be.
Unfortunately, you can't have sweet dreams and wake up like a runway-ready supermodel.
At least now, with all of these tips, you don't have any excuse left not to get that hair all tousled up.
Like this post? There's more. Get tons of beauty tips, tutorials, and news on the thebeautyinsiders Facebook & Twitter page. Like us on Facebook – we'll see you there!