Rosacea Skin Problem is a lot more common than you think. It affects numerous individuals worldwide. It leaves damage and irritation to the skin.
How Rosacea Develops?
The causes of this autoimmune disease are not verified. Several theories have been formulated, but the cause remains undetermined.
Some attribute it to how people suffering from it have facial blood vessels that dilate easily than the norm.
The increased blood flow can be apparent on the skin surface, creating a red and flushing appearance.
Trigger factors that cause rosacea are numerous. Lifestyle and environmental issues can lead to increased redness.
Other people experience acne bumps on the central region of the face.
If you are wondering what does rosacea looks like on the face, the redness can be seen in different locations, namely nose, cheeks, chin, forehead, and ears.
What Are The Different Types Of Rosacea?
Rosacea comes in four different types.
These are:
1. Subtype One- Erythematotelangiectatic Rosacea (ETR):
This is the most common and is usually associated with facial redness, flushing, and visible blood vessels.
2. Subtype Two- Papulopustular (or acne) Rosacea:
Middle-aged women commonly experience this type.
It presents with acne-like breakout on the skin.
3. Subtype Three- Rhinophyma:
Possibly rarest of all the rosacea skin problems.
It thickens the skin of the nose and commonly presents with another subtype of rosacea.
The condition is more common in men than women.
4. Subtype Four- Ocular Rosacea:
As the name implies, the symptoms are apparent in the eye area.
Unfortunately, rosacea is incurable.
There is no known way how to get rid of rosacea permanently.
Prevention and proper management of symptoms are your best bet.
Thankfully, something as simple as the application of essential oil for rosacea is known to reduce its symptoms.
It is one of the few natural remedies that can alleviate the discomfort and pain that go with rosacea.
What Are The Best Oils For Rosacea?
1. German Chamomile Oil
The oil comes from the flowerhead through steam distillation.
oil has strong moisturizing abilities and has antiseptic and antifungal properties, as well.
When applied, the oil can reduce the redness and itching brought about by inflammation.
2. Lavender Oil
This oil is a classic for a reason. Aromatherapy and beauty products have lavender oil as their primary ingredient for centuries now.
The oil is very mild that it can actually be applied directly to the skin without any dilution of all the known essential oils that can help the condition, Lavender should always be included in the best skincare for rosacea skin.
3. Jojoba Oil[1]
Most dermatologists when asked what is the best oil for skin and hair for them, often recommend the use of jojoba oil.
The structure of this oil is quite similar to that of the sebum, the nature found in the skin and the scalp.
Fortunately, unlike sebum, it is non-comedogenic.
4. Tea Tree Oil
Tea tree oil is always included as an ingredient in different skincare programs. Tea tree oil has strong anti-inflammatory and antiseptic properties.
One of the best ways to get rid of rosacea is by using tea tree oil in any medium such as lotion, cream, mask, or mist.
5. Geranium Oil[2]
If you are experiencing rosacea subtype 2, you do not have to look further for acne treatment that works fast.
Geranium oil is a good way to heal a lot of skin disorders such as rosacea, dermatitis, and eczema.
A mixture of 6 drops of Geranium oil and one teaspoon of coconut oil. Put it in a bottle and use it as a facial wash. You can use it every day when necessary.
6. Coconut Oil
Coconut oil has various health benefits.
The food and cosmetic industry have a lot to say about the contributions coconut oil has.
It moisturizes the skin and speeds up wound healing while reducing inflammation.
Coconut oil can be used as-is. Just take the right amount and massage gently on the face at night. With a cotton pad, remove the excess oil.
7. Borage Essential Oil
Anti-inflammatory with anti-aging properties?
Yes, please! In the event of a deficiency of skin lipids, borage essential oil can help fix the problem and keep the epidermis healthy and moisturized.
8. Oregano Essential Oil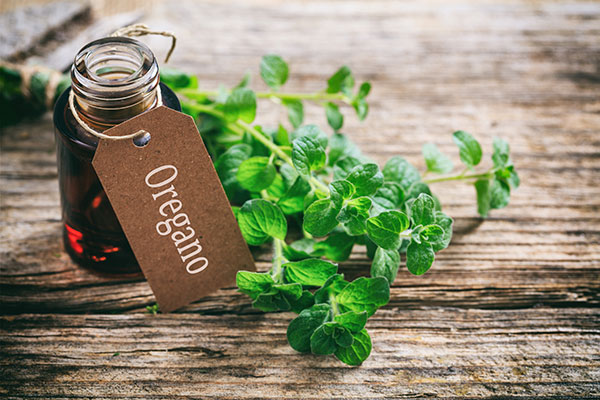 Oregano is a great substitute for antibiotics and steroids.
This is why the oil is an answer to the question "What are the best moisturizers for sensitive skin?".
Oregano Oil can keep rosacea symptoms at bay without aggravating them.
9. Rosehip Essential Oil
Fight external factors that cause uneven texture, tone, and pigmented skin.
Sunlight is considered a possible culprit in rosacea development and can cause skin discoloration and unsightly age spots.
In just a few drops of rosehip oil, you can kiss these skin problems goodbye.
10. Primrose Oil
If rosacea is caused by eczema or other complicated illnesses, primrose essential oils to reduce redness on the face and inflammation.
11. Neroli Essential Oil
This is one of the few natural oils that can address swelling of the skin tissue located at the nose, cheeks, and eyes. It is also a well-known bactericidal.
12. Sea Buckthorn Oil
Not only does this oil provides a remedy to inflammation, but it also stimulates cellular re-growth.
Essential Oil Blends for Rosacea:
Here are some mixtures you can try to relieve your Rosacea symptoms with essential oils:
Skin Mist:

Simply mix the following on a spray bottle: 2 drops of German Chamomile oil, 2 drops of Lavender oil, 2 drops of Rose oil, 4 ounces of purified water.

Et voila! You got a skin mist to spray on your face, effective treatment for rosacea. This can be used day and night.

Masque:

Mix one jar of 2 teaspoons of Jojoba oil, 1 drop of German Chamomile, and one-fourth teaspoon of Aloe vera in a jar.

This can be applied three times a day to reduce redness.

Toner:

Mix 5 drops of Lavender essential oil, 5 drops of Tea tree oil, 8 drops of Oregano oil.

An ounce of Apple cider vinegar, and two ounces of Aloe vera gel in a bowl. Place on a bottle. Always shake before use.

Facial Lotion:

Mix ½ cup of Aloe Vera gel, 1 tbsp of lavender hydrosol, and 1 tbsp of German chamomile hydrosol ins the bowl.

Add in 3 drops of lavender essential oil, 2 drops of German chamomile essential oil, 1 drop of vetiver essential oil, one tbsp of rosehip seed oil, and stir.

Place in a container and keep in a refrigerator. Shake well before using twice a day on affected areas.
Related: 9 Foods That Cause Skin Inflammation
Other Ways To Prevent Rosacea:
Here are other natural measures to take to stop rosacea from presenting itself:
Wear sunscreen every day.
Eat right. Avoid yeast, dairy products, sweet food, and fried foods as much as you can. Identify trigger factors in your diet.
Relax. Managing your stress levels is important to avoid rosacea.
Remember, prevention is better than cure. It is a lot easier to stay clear of an attack than to manage the symptoms. This is true of any diseases or conditions.
FAQ's:
Que: Are essential oils bad for rosacea?
Ans: Some essential oils can cause dryness and irritation, especially for people with sensitive skin.
Que: Is lavender oil bad for rosacea?
Ans: Lavender essential oil is one of the most powerful oils for rosacea. Its anti-inflammatory properties gently calm down the irritation of rosacea.
Que: How do you calm down rosacea?
Ans: Just a few minutes of sunlight on rosacea-prone skin can lead to uncontrollable flushing and redness.
Que: Can jojoba help rosacea?
Ans: Jojoba Oil is an extremely gentle oil that has antibacterial and anti-fungal properties; making it optimal for cleansing skin affected by rosacea.
Que: How do you dilute tea tree oil for rosacea?
Ans: For every 1 to 2 drops of tea tree oil, add 12 drops of a carrier oil.
Conclusion:
So, there you have it—everything you need to know on how to use essentials in treating and managing rosacea. Hope this information helps!