During the holidays, the cold season is upon us.
With the change in temperature, surely there are expected physical changes in our bodies. Dry lips in winter time should not come as a total surprise since drying of the skin is very commonly experienced.
Although this is not only an occurrence during the winter season, the warm temperature tends to cause the same effect on the skin.
That being said any change in weather can cause the lips to chap and appear flaky.
Apart from that, the build-up from dead skin cells tends to accumulate over time.
There is no natural way to remove dead skin cells, which is why exfoliation is really important for different parts of the body. Doing it a few times a week can get new skin cells to resurface.
Why Do You Need To Exfoliate Your Lips?
Some of these Exfoliating Lips Benefits will seriously get you started on the practice:
1. Exfoliating Your Lips Can Improve The Texture Of Your Lips
If you want to make your lips look more desirable, plump, and soft, you need to find a way to remove all the dead skin cells and other impurities from your lips.
Our bodies automatically shed skin to reveal new ones underneath, the problem will be how to dispose of these dead skin cells. That is where exfoliation comes in.
2. Exfoliating Your Lips Can Help Reveal Its Natural Glow
Notice a drastic change when the old skin cells are removed.
Your lips appear dull and lifeless without exfoliation, but as soon as the new cells are unleashed, they can show glowing and radiant skin.
3. Exfoliating Your Lips Can Make Lip Products Look Amazing
Chapped lips are not attractive, even if you swipe an attractive shade to cover them.
Make your gloss, balm, or lipstick look perfect by exfoliating your lips regularly.
Aside from the benefit of improved appearance, it can make any lip product last longer.
4. Exfoliating Your Lips Can lighten Dark Lips
Some lips tend to appear uneven in color or have some dark spots.
Regular exfoliation can change that gradually. Lip exfoliation is your one-way ticket to know how to get fuller pink lips?
How Many Times Should You Exfoliate Your Lips?
Intense exfoliation should be done every other week. However, if you prefer mild exfoliation, this can be done on a daily.
You can do it after brushing your teeth to get rid of accumulated dead skin cells right away. Apply a lip balm for softer lips.
Related: Essentials on How to Plump Lips?
How To Exfoliate Lips Naturally?
Below are 12 DIY Lip Exfoliators/Scrubs Recipes you can try.
Most ingredients are probably already present at your home.
1. Honey-Sugar Lip Scrub
Mix a teaspoon of honey with two teaspoons of sugar.
Massage well into your skin and leave for 10 minutes or more.
Wash off with a wet face washer.
Why does it work?
Sugar is a natural exfoliant. Honey works as a moisturizer to soften the skin and hydrate it.
2. Mint Lip Scrub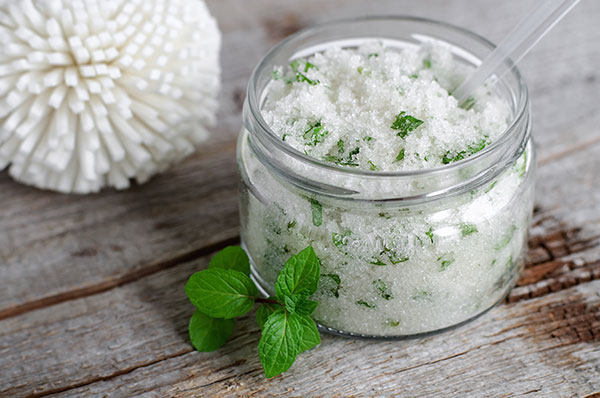 Mix sugar, honey, olive oil[2], and a drop of peppermint oil[1] in a small bowl until it forms a paste.
Keep on a lid or tight jar for other uses.
Soften lips first by steaming them.
Hold a warm washcloth and let it sit for 5 minutes.
Get the mixture and swipe across the lips gently and leave on for a few minutes.
Wash off with a cloth and apply balm.
Why does it work?
The added minty freshness invigorates the skin.
Mix granulated sugar, olive oil, cocoa powder, vanilla, and honey in a small tub until a gritty chocolate forms.
This can be used for up to three weeks.
Apply the masque and leave it on for no more than five minutes.
Wash off well with warm water.
Pat dry and end with a light coating of balm or petroleum jelly.
Why does it work?
Chocolate is a good antioxidant[3], and the granules also help exfoliate the skin on the lips.
Mash your favorite lip balm with the back of a spoon in a small
bowl.
Add sugar and mix well to form a paste.
Add some coconut oil.
Smear the mixture and massage on lips.
Rinse well with warm water.
This can be used three to four times a week.
Why does it work?
The sugar exfoliates while your lip balm moisturizes and softens your lips.
5. Olive Oil and Sugar To Exfoliate Lips
Another simple version is a mixture of olive oil and sugar.
Take sugar and just add a few drops of olive oil until you form a paste.
Massage well into the skin with an exfoliator.
Do so in less than two minutes.
Wash with water.
Why does it work?
Sugar exfoliates, and olive oil is a good base to keep your lips moisturized after scrubbing.
6. Petroleum Jelly and Toothbrush
Take an old toothbrush after wiping a layer of petroleum jelly on the lips.
Choose one with soft bristles.
Rub the brush with a toothbrush for two minutes.
Why does it work?
The soft bristles will serve as an exfoliant while the petroleum jelly helps it glide smoothly.
This is also a perfect way how to treat windburn lips.
7. Baking Soda and Toothbrush
<
Take some baking soda in a pan and put on a few drops of water.
Mix well together.
Scrub with a brush or a washcloth.
Cleanse your lips with warm water afterward.
Why does it work?
This is better than any top lip plumper product.
It not only removes impurities but will leave your lips looking fuller.
8. Rose Water And Glycerin
This is definitely a celebrity secret.
Simply tale rose water and mix together.
Pat your lips with your fingertips for three minutes.
Wash your lips with clean water.
Why does it work?
If you are looking for ways how to cure itchy burning lips? Rosewater is very soothing and sets a pink tint on the lips.
9. Lemon Juice
Cut a lemon and rub it on your lips gently.
For a more exfoliating effect, add some salt.
Why does it work?
Some of the best exfoliating products are the ones mother nature made. Lemon juice bleaches the lips.
It does not only exfoliates, but it also lightens the color of the lips.
10. Oatmeal Exfoliant
Mix oatmeal with milk or warm water with a 1:3 ratio.
Apply on lips and rub gently for one to two minutes.
Rinse well afterward.
Why does it work?
The oatmeal can exfoliate because of its grainy nature.
11. Vanilla and Brown Sugar Scrub
Just mix vanilla and brown sugar.
Slather on lips and scrub for a few minutes.
Wash off.
Why does it work?
Brown sugar is a good alternative to the common table sugar. If not, a lot better.
12. Bubblegum Lip Scrub
This mixture should be sold in the market.
Get sugar, coconut oil, and bubblegum flavoring.
Mix well.
Why does it work?
Coconut oil is also a good ingredient to soothe the lips as the sugar works its way through your lips.
FAQ's:
Que: Does exfoliating lips make them bigger?
Ans: Yes, the process of exfoliation will also help plump up your lips and give them a fuller appearance.
Que: Should I exfoliate my lips everyday?
Ans: No, don't exfoliate more than twice a week.
Que: Can I scrub my lips daily?
Ans: Yes, gently scrub your lips every alternate day to keep them soft, plump and supple.
Que: What is the best homemade exfoliating scrub?
Ans: There are many ways to exfoliate skin naturally. Coffee grounds, sugar, finely ground sea salt, cinnamon, and oats are some of the best ingredients to use in a homemade exfoliating scrub.
Que: Is sugar good for lips?
Ans: Yes, sugar can help remove dead skin.
Que: Is honey good for lips?
Ans: Yes, honey can help moisturize your lips and protect cracked lips from infection.
Conclusion
When you exfoliate lips, it benefits you on so many levels. So why not try these DIY scrubs? What are you waiting for? Create your own now!