Most of us believe that some facial features are far more attractive than others, such as light and clear skin, a sharp nose, full lips, and an attractive set of large eyes.
These are standards set in the past, and it does not mean that other physical attributes cannot be deemed appealing.
Unfortunately, since this glorification of certain physicalities has been going on and on for quite some time, it can be really hard to correct.
A lot of people have resorted to surgery just to conform to these impossible standards.
Celebrities With Small Eyes
Many people in society are raised to believe that certain features are more desirable than others.
Lighter skin, fuller lips, and in most cases, larger eyes.
While having those features can be extremely beautiful, so can the opposite. Unfortunately, many are caught up in the fallacies of this world. Some actually have surgery to correct what is naturally breath-taking. Culturally, most people identify beauty as having similar attributes.
However, by pure definition of beauty, if a person really sat down to think about it they would probably conclude that "different" is beautiful.
This does not only include physical appearances but attitude as well.
Below are 10 beautiful celebrities who are stunningly gorgeous, but they do not have one of the primary features that most people identify as beautiful. Very large eyes. Instead their eyes, regardless of their size, still manage to stand out.
As proof that beauty should not be defined with specifics, here is a list of well-known celebrities that look super beautiful and stunning despite having small eyes- definitely going against what is expected:
1. Taylor Swift.
2. Lucy Liu.
3. Jessica Alba.
4. Megan Fox.
5. Jessica Biel.
6. Scarlett Johansson.
7. Kristin Kreuk.
8. Catherine Zeta-Jones.
You see, all these beauties do not have large eyes, but they still look extra gorgeous.
Some of them are even considered to be the most beautiful celebrities.
Suffice it to say, these women are in a league of their own and do not need to conform to regular beauty standards to stand out.
The Easy Solution To Small Eyes – Eye Enlarging Makeup!
Of course, there is nothing wrong with enhancing your looks.
Give the first person who invented makeup some credit for that.
There is something about makeup that really gives a woman that much-needed confidence.
Eye enlarging makeup is all the rage these days. And, why not? It can complement any eye shape.
Many Youtube stars have created their own version of an eye enlarging makeup tutorial since a lot of women are always looking for tips on this beauty matter.
Related: Cranberry Eyeshadow Look: Perfect Smoky Eye Look For Fall Weather
How To Do Eye Enlarging Makeup?
If you have been keying in Google Search Box, "How do I make my eyes look huge?". Look no further. This article contains all the tips and tricks you will ever need.
Tips On How To Make Eyes Bigger With Makeup
Here are some tips on how to do that:
Know How To Define The Crease Of Your Eyebrows
This tried and tested method is always effective in adding depth to the eyes. Choose a matte shade. Avoid glittery ones.
Consider Your Color Choices
Liners are a good way to reshape the eye.
Try a different shade than the usual black and brown. Navy-colored eyeliners also create the same effect but with a different twist.
When it comes to eyeshadow, light and natural shades like pink is ideal.
Lavender[1] is the best eye-enhancing eyeshadow shade due to its universal appeal.
It can blend well with any skin tone. The outer corners, however, should be darker to provide contrast.
Add In A Good Amount Of Mascara To Open Up Your Eyes
The best eye-enhancing mascara is a lengthening mascara.
Applying it to both the upper and lower lashes can create that wide doe-eyed look you are aiming for.
Experts recommend one of the best mascara hacks, which is to put on another layer to serve as a thickening coat for the final touch.
Apply Light Eyeliner On The Waterline
Adding a bit of light eyeliner on the waterline is one of the best makeup tips to make the eyes look bigger.
Invest in a good white eyeliner pencil for this. For a sultry look, pair with smokey makeup.
Highlight To Save The Day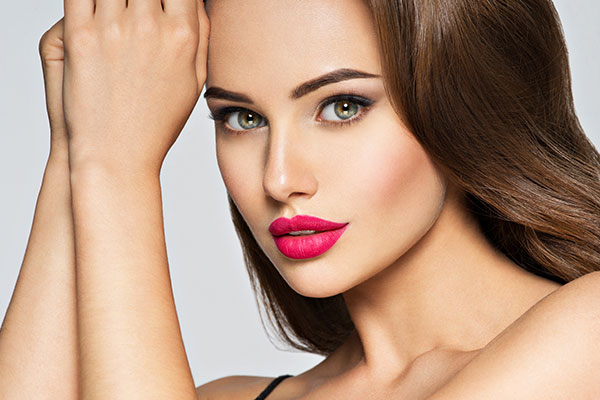 If you can't find the right light for your selfie, create your own. Dab a few pearly shades on the center of the lid, below the brow bones, and the inner corners of the eyes.
The eyes will instantaneously look more open and alive.
How To Put Makeup On Small Eyes?
Use white eye shadow as base. Place it only on the bottom half of the upper eyelid.
Select a neutral brown shade in medium and apply on the entire crease of the lid.
Dab an angle brush on a dark brown shade and swipe across to form a cat's eye.
Use the same shade to bring the eyeshadow down and around. Place a lining on the outer edge of the lower lid.
Choose a shimmery pinkish shade and place it on the inner corner of the eyes.
Swipe a black eyeliner on your eyelid.
Finish off with a few coats of mascara on your lashes.
Simple Step-by-Step Guide on Enlarging Eye Makeup
If complex makeup is not your thing, here is another simple eye enlarging makeup step by step guide.
Give definition on the crease by dabbing on a dark matte shade.
Choose a pale (skin tone or lighter) eyeshadow shade to line the eyelid.
Line the pencil as close as possible to your eyelashes. Do not go above the lashline.
Curl your lashes, if you can still spare a few minutes.
Layer on some sheen in the center of the eyelids. You can use a shade that is best for your skin and your outfit.
There are other tutorials that discuss other issues such as how to apply makeup on downturned eyes, but basically, the concepts are the same.
The important thing is that you need to know how to apply eye makeup according to eye shape.
From there, you can be more creative and experiment with different shades so long as you adhere to the basic tips.
Read Also – Eyelash Extension Aftercare: Important Tips To Protect Your False Eyelashes
FAQ's:
Que: What eye makeup makes your eyes look bigger?
Ans: Using pastels, light shimmer shades, and light brown eyeshadows on the lid to create the illusion of bigger eyes.
Que: How do I make my eyes look bigger naturally?
Ans: 7 Easy ways to make your eyes look bigger:
Tweeze those brows
Conceal those dark circles
Add volume to your lashes
Kohl it out
Inner corner highlight
Create your own crease
A thin eyeliner instead of thick
Que: Can you tightline with gel eyeliner?
Ans: Gel liner and liquid liner are not safe for tightlining because they are likely to run into the eye.
Que: How do you do smokey eyes?
Ans: Taking the same color just place that on the outer half of your bottom lash line just to tie the eye together.
Conclusion
Of course, taking care of your eyes is more important than knowing how to apply makeup.
To avoid making your eye look tired, proper measures should be taken.
This is why eye cream is important. The skin around the eyes easily reflects aging and dryness.
Eye creams serve as a way to reinvigorate that area. No amount of eye makeup can counter the appearance of lines, fluids, and wrinkles that fatigued eyes have.
Application of eye creams or other similar products should be practiced. This should not be an issue, since you only have to do it once a day at bedtime.
Here are 18 best eye creams recommended by dermatologists you need to checkout now.