Introduction On Sagging Cheeks
Sagging cheeks is one of the most obvious signs of aging skin.
According to an anatomical study, it was observed how the structure of the cheeks, which mostly consists of subcutaneous fats, are arranged in a way that makes it vulnerable to sagging.
According to the researchers, gravity, repeated movements, environmental factors, and time itself all add up to the damage and eventually cause your cheeks to appear loose.
Cheek plumping exercises are one of the most recommended alternatives to rejuvenate your facial muscles and help them retain and restore their contour without the pains and risks associated with surgery.
Do Cheek Exercises Really Work?
Popular literature on print and online entertainment magazines will often recommend cheek plumping exercises in a list of ways on how to remove facial fat naturally or, as one more of natural cheek plumping.
These exercises, along with facial massage, are said to deliver for you the following benefits:
Improve local circulation
Improve nutrient uptake
Enhance the rate of collagen[1] production
Enhance skin regeneration and renewal
Help revive your skin's energetic look
Strengthen facial muscles
Lift saggy skin
Give your skin a tighter appearance and a contoured look
Prevent wrinkling and sagging
Nevertheless, studies as to the effectiveness of these natural skin tightening secrets remain inconclusive.
The two studies below suggest differing opinions and made contradicting observations about the effectiveness of fat cheek exercises in keeping skin firm as well as potential ways to improve skin elasticity.
A study published in 2014 in the Journal of Clinical and Diagnostic Research recommended that any dental rehabilitation therapy should be accompanied by facial exercises to correct the dental problems while also making sure that it sits in seamlessly with the rest of the patient's facial contour.
A study published in 2014 in the Aesthetic Surgery Journal set out to study the results of 9 studies to determine the effectiveness of facial exercises in firming and rejuvenating aging facial skin.
The researchers noted how all 9 studies found facial exercises to be beneficial.
However, this systemic review also highlighted study limitations which could have biased the results.
11 Cheek Plumping Exercises To Try
While evidence on the effectiveness of facial exercises remains inconclusive, it shouldn't stop you from reaping the potential rewards of cheek plumping exercises.
Besides, it's common knowledge that exercise can slow down the aging process so, exercising your facial muscles should lead to anti-aging rewards as well.
Listed below are 11 cheek plumping exercises that you can try. Take a few minutes each day or night to give stretch your cheeks to lose face fat.
1. Cheek Lift Exercise
This facial exercise helps strengthen the muscles of your upper cheeks.
Simply close your lips (not tightly) and wear an expressionless face.
Pull up from the bottom of your cheeks using your hands, as if forcing a smile. Hold for 10 seconds.
2. Fish Lips Facial Exercise
This exercise strengthens the entire lower portion of your face.
Start by positioning your lips together.
Suck in your cheeks as you fold your lips in the middle to give it a fish face.
Hold the pose for 10 seconds.
3. Puppet Face Exercise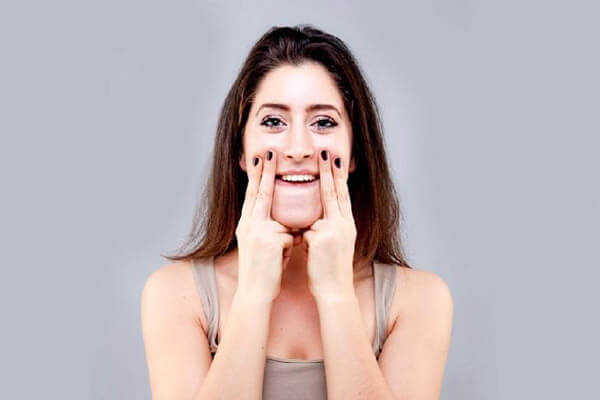 This is one way to reduce cheeks fast.
Start with a smiling face.
Using your hands, exaggerate that smile like a puppet by pushing up your skin from the underside of your cheekbone and toward the upper part of your ears.
Hold the pose for 10 seconds.
4. Smiley Face Exercise
Whoever said that smiling too much can cause your skin to wrinkle and sag failed to note how frequent smiling can make you ageless after all.
Smile back at your reflection and hold for a few seconds before releasing the look.
Keep smiling throughout the day to give your face a good dose of workout.
5. Puffy Cheek Exercise
One of your favorite funny faces, when you were a kid, turns out to be a great way to keep your facial muscles lean and firm!
Close your lips tightly.
Blow air enough to fill one side of your cheek.
Bounce that air inside from left cheek to right cheek then back again.
Move the air gradually from side to side, not too fast, not too slow so that your cheeks can feel the weight of that air as you move it around 10 times.
6. Plump Cheeks Exercises
Unlike the previous exercise, this one only involves blowing air into your mouth, enough to fill and plump both cheeks.
Hold the pose for a minute before opening your lips to release the air.
7. Facial Massage Cheek Lift
This exercise gives your skin a lift and enhances fluid circulation in your face.
Start with an expressionless face.
Using your knuckles, start massaging from your lower cheekbones, all the way to your temples.
First, press your knuckles against your skin.
Then, with upward rolling strokes, work your way to your temples.
Then, start again from the bottom, going up.
Repeat 10 times to revive the energy of your facial skin.
8. Make X and O Expressions
Say "X" and "O" loudly as you exaggerate your lip positioning as you do.
Say these letters in an alternating fashion up to 30 times each session.
Heck, you can even do this while you're driving your way out of traffic!
9. Chewing Lift
Since your dentist wouldn't approve a gum, might as well just imitate the movement.
While this face exercise has also been highly recommended for alleviating migraine, it's also a great way to strengthen the muscles of your lower cheeks and jawline.
Close your lips and start chewing for a good 30 seconds.
10. Cheek Press
This is a top recommendation on how to make face slim exercise.
It promotes higher cheekbones and better cheek contour.
Work on the right side of your face first.
Use the fingers on your right hand to push up your cheeks from under the cheekbone.
With your left arm across your head, use the fingers of your left hand to pull up your skin as you rest your fingers on your temples.
Hold the pose for 10 seconds.
Do the same for your left cheek.
11. Hummingbird
This cheek plumping exercise will help awaken sluggish cells and muscles on your face.
With your lips pressed, make a humming sound for as long as you can, holding your breath for as long as possible.
FAQ's:
Que: Can facial exercises change face shape?
Ans: Yes, it can actually change the shape of your face.
Que: What exercises increase cheekbones?
Ans:
Place your fingers over each cheekbone.
Gently lift the skin until taut.
Open your mouth to form an elongated "O"; you should feel resistance in your cheek muscles.
Hold for 5 seconds.
Complete 10-15 sets.
Que: How can I plump my face?
Ans: Here are 5 ways to plump up your face:
Exfoliate your skin.
Massage your face and try facial exercises for facial volume.
Choose anti-aging active ingredients for plump skin.
Establish a volumizing anti-aging routine.
Eat a nutrient-rich diet and drink enough water.
Conclusion
Facial exercises are best complemented with facial massages, a firming facial routine, and a healthier lifestyle.
That's why other than knowing how to get rid of chubby cheeks or how to make face slim exercises, you should also learn practical diet tips for the slim face as well as the proper ways on how to dry brush your skin.
See, if you want to maintain your high cheekbones longer and even enhance their contour, it is best that you get on a more comprehensive strategy that helps your body better able to resist the damaging effects of intrinsic and extrinsic factors that eventually age and sag your skin.
In the end, it's not so much how you religiously followed this routine only but, how well you took care of your body.