If you are one of the unfortunate ones who has suffered from acne, you might be left with different types of acne scars on the face.
The marks can be a huge cause of insecurity and stress.
Thankfully, pitted acne scars such as icepick, boxcar, rolling[1], or other deep acne scars are pretty responsive to dermatological procedures.
What Are The Causes Of Pitted Acne Scars?
Cystic Acne
The cysts from the acne can leave a gap, especially since it is formed under layers of skin.
If you have had chickenpox, this is related.
Thin and Sensitive Skin:
Having acne when your skin is thin and sensitive can make you more susceptible to scarring.
If you are not prone to acne, though, thin skin can still experience pitted scarring due to over-exfoliation.
The Best Way To Cover Pitted Acne Scars
Fractional lasers and microdermabrasion techniques have been all the rage since the effects are really positive.
For a temporary fix, however, you can count on using some makeup for pitted acne scars.
Done the right way it will give you your best look yet.
Many people have been wondering how to fill pitted acne scars with makeup.
Numerous online stars have come up with tutorials via different social media platforms as a way to help women achieve this.
Related: Types of Acne scars: Best ways to Fade and Heal Scars
What Are The Best Makeup Tips To Cover Acne Scars?
1. Prep Your Skin
Taking care of your skin is important, especially if you have pitted acne scars on your face.
Moisturizing your face should be made a priority.
Identify your skin type and look for the best facial moisturizer for acne before makeup.
2. Use A Primer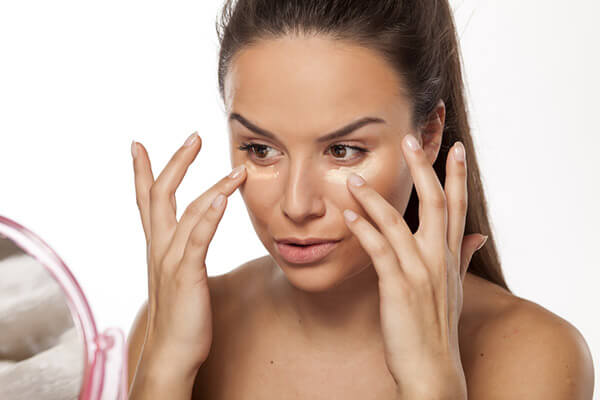 If you have acne-prone skin, there is a huge chance that you have oily skin.
Using a primer make sure that your face does not end up looking run down.
When applying a primer for pitted acne scars, use your fingertips.
Upon application, wait a while before putting on any liquid foundation to cover pitted acne scars.
3. Use a Special Way Of Applying Concealer
When using a concealer to cover up acne scars, there should be enough coverage.
Concealers in the pot are dependable.
This is actually the most cost-effective and cleanest option when putting on concealer on your face.
You can easily use a cotton swab to steer clear of possible contaminations.
The secret in how to cover acne with makeup is to apply concealer on a blemish to simply put an x pattern on it.
Remember X marks the spot.
4. Properly Blend the Concealer
Blend the concealer by using a beauty sponge.
Carefully press the concealer by blending it well with your blemishes[2].
Do not rub on your skin to avoid risking spreading any bacteria.
To have a more made-up appearance, try covering your eyebags.
Get rid of any possible darkness in your eyes while waiting for your makeup to cook by correcting any under-eye discoloration.
5. Use a Nice Brush to Apply a Liquid Foundation
When using a foundation, use a brush to cover and achieve an airbrushed finish.
Foundation is the best makeup to hide pitted acne scars.
Use a round brush in stippling motions to get great coverage.
This method also helps to avoid wiping off the concealer you previously applied.
Do not go overboard.
Start with a small product application.
If you allow it to build up, it can lead to acne caused by makeup.
6. Use a Tissue to Get Rid of Excess Oil
Remove the oil and excess makeup by pressing a tissue in the skin.
This will help you get a natural glow as much as possible.
7. Use a Powder to Set Your Makeup
For a final touch of makeup to hide pitted acne scars, apply a pressed powder or loose powder to make sure that your makeup stays in place.
To apply, use a large fluffy brush. Use in a stippling motion.
8. Seal in Your Makeup by Using a Setting Spray
Use of makeup setting spray for acne-prone skin is better if it comes to sunscreen characteristics.
Not only will it make your makeup last longer, but it also protects your skin all throughout.
You also do not have to worry about the cakey feel of heavy makeup.
After this, you can apply the rest of your eye makeup and lipstick.
This is a great finish on how to fill pitted acne scars[3] with makeup.
9. Clean Your Makeup Tools
Cleaning whatever makeup you put on your face is an important step to clear yourself from oil and acne-causing bacteria.
Pitted Acne Scar Makeup can only help you so much, but if you do not address the main issue, things will only worsen.
Also, makeup application will be a lot easier with a clean set of tools.
Not cleaning your makeup tools is one of the worst makeup mistakes you can do.
So, how do choose the right makeup products? Well, knowing your skin type is the first step to finding the right makeup for you.
Most makeup for ice pick acne scars or other types of pitted scars is those that are suitable for acne-prone skin.
Choosing the right makeup for your face might take time.
But, be patient. It will eventually pay off.
Makeup Mistakes to Avoid
On that note, here are some of the best makeup mistakes to avoid if you have pitted acne-prone skin:
Using concealer before foundation:
When using makeup to hide pitted acne scars, overlaying is not acceptable. This weird layering can emphasize the zits that you are trying to hide.
Picking your pimple, especially before applying makeup:
One of the worst possible times to pick your blemish is before makeup application. Why? The makeup you apply can irritate a pimple and will get easily absorbed through the opening causing it to be more inflamed.
Using too much powder
Putting on too much can lead to cracks and cakiness of the face.
Related: Acne – Treatment, Prevention & Care
FAQ's:
Que: How To Get Rid Of Pitted Acne Scars?
Ans: To prevent them from forming in the first place. If active acne is not treated, then new scars will continue to form.
Que: How To Reduce Pitted Acne Scars?
Ans: The most effective way to prevent or reduce acne scarring is to treat inflammatory acne as early as possible and avoid picking at spots and pimples.
Conclusion
Again, prevention is always better than cure. Addressing the cause should be the first on the agenda.
Knowing how to control acne through diet and using the best products like Praventac Acne, Neutrogena On The Spot Acne Treatment and Murad Acne Clearing Solution for acne-prone skin will help lessen potential future skin issues or problems.