Best Anti-Aging Products, According to Dermatologists
Are you ready to see your most youthful skin ever? Then believe in the best anti-aging product of this universe!
These top anti-wrinkle creams in the market have a lot to offer to your aging skin.
Let's check out what you should consider adding to your daily anti-aging regimen:
#1 Product
How does it work?: This Dermelect wrinkle cream substitutes for the amount of collagen and peptide-stimulating peptides that depletes with age, making the skin tighter, more elastic, and smoother.
Ingredients: Argireline, Matrixyl 3000, Hyaluronic Acid
Directions: Use morning and evening on freshly cleansed and patted dry skin. Use it all over your face with fingers.
Price: $75 for 1 fl. oz. (Buy on Official Website)
---
#2 Product
How does it work?: Dermal Repair Complex, a dietary supplement for anti-aging, fights the main factors that contribute to skin aging over time. It acts to firm up skin, lift it, and smooth out wrinkles, giving you radiant, younger-looking skin.
Ingredients: Saw Palmetto, Hydrolyzed Collagen, Hyaluronic Acid, Vitamin B
Directions: Take 2 capsules of Beverly Hills MD Dermal Repair Complex with 8 fl.oz. of water daily with a meal, or as directed.
Price: $39.95 for 60 Capsules (Buy on Official Website)
---
#3 Product
How does it work?: DRMTLGY Needle-Less Serum is a twice-a-day serum that safely targets the appearance of fine lines around the mouth, eyes, and forehead. This advanced formula strengthens the skin's moisture barrier while improving the look of skin fullness and pore appearance.
Ingredients: Niacinamide, Panthenol, Hyaluronic Acid, Copper
Directions: Apply twice daily for best results. Use only on cleansed and toned skin.
Price: $69 for 1 Fl. oz. (Buy on Official Website)
---
#4 Product
How does it work?: A medical-grade, diamond-infused polymer blend known as Deep Wrinkle Filler is used to fill, smooth, and obscure the appearance of wrinkles, even deep ones that are difficult to treat. With each usage, the skin becomes smoother, tighter, and more youthful-looking owing to the potent active ingredient Tightenyl's ability to remove wrinkles at their root.
Ingredients: Fruit Extract, Glycerin, Diamond Powder, Sodium Hyaluronate
Directions:  Dispense the product on affected areas & after that, gently pat the product with a clean finger until it vanishes.
Price: $49 (Buy on Official Website)
---
#5 Product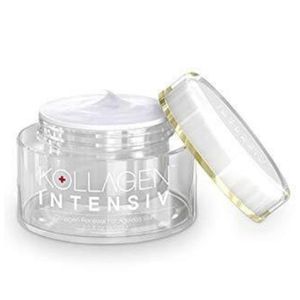 How does it work?: It significantly drives up collagen production with the aid of the proprietary ingredient, SYN-COLL. It also boosts your skin's moisture content with rehydrating ingredients led by hyaluronic acid and glycerin.
Ingredients: SYN-COLL, hyaluronic acid, Cyclopentasiloxane, glycerin, shea butter, vitamins, antioxidants
Directions: Use morning and night on freshly cleansed skin.
Price: $59.95, 1 fl. oz. (Buy on Official Website)
---
#6 Product
How does it work?: XYZ Smart Collagen boosts the production of collagen in fibroblast cells in the skin by stimulating them with active components. This anti-aging formula is clinically proven to lift, firm, and tone the skin as well as smoothing out fine lines and wrinkles.
Ingredients: Acetylated Polymannose, Knipholone, bulbine frutescens.
Directions: Use twice daily on freshly cleansed skin in the morning and night.
Price: $49.99, 5.5 fl. Oz (Buy on Official Website)
---
How Does Anti-Aging Wrinkle Cream Work?
The top rated anti-aging cream will deliver the following functionalities which are meant to support mature and aging skin:
Deliver repair and regeneration mechanisms

The best anti-aging products recommended by dermatologists will address the compromised functionality of aging skin in regenerating and renewing damaged skin. To help speed up these essential processes in attaining youthful-looking skin, wrinkle creams that work will deliver exfoliation using ingredients like Vitamin A and retinol, alpha hydroxy acids, and peptides.

Improve collagen production

The best anti-aging products for sensitive skin will not use Vitamin A or any of its derivatives which are known to be highly irritating to more sensitive skin types. These types of anti-aging creams will, instead, rely on peptides to improve skin quality and hasten mechanisms that speed up skin renewal, that includes producing collagen at higher volumes and at faster rates.

Protect your skin from further damage

The top anti-aging products in the world shield already damaged skin from further degradation. This function is important because it allows your skin to cope with existing damage. Ceramides are also essential for older skin types, helping to thin out skin regain strength and thickness to improve resilience from damage.

It strengthens skin synthesis

The top anti-aging products will inhibit premature degradation of skin fibers and the death of skin cells, both natural processes that are part of the skin cycle. By prolonging their integrity, it also promotes healthier skin appearance.

It replenishes lost hydration and nutrients

Wrinkle creams that work will act like real skin food to your skin, particularly focusing on restoring ideal moisture and hydration levels to plump your skin and keep it from drying. Chronic skin dryness is one of the top causes of skin aging.
Anti-Aging Product Ingredients – What To Look For
When it comes to anti-wrinkle creams, it is important for you to have a proper orientation on what you should be looking for in the labels. The skin, after all, is a complicated organ — not to mention, also a temperamental one. Other than knowing what to look for in a wrinkle cream, you must also be wary of products that are laden with toxic and highly irritating ingredients which do not only harm your skin but also puts your overall health and well-being at risk.
The anti-aging product contains more than one ingredient that targets fine lines and wrinkles. When used properly, the products help fill those lines and give your skin more elasticity.
One of the first ingredients you should look for when choosing the best anti-aging product is peptides. Peptides force the body to increase its production of collagen. When your skin has more collagen, it naturally looks better and the appearance of wrinkles is significantly reduced. The anti-aging product should contain peptides as the main ingredient. The top products also contain antioxidants.
When shopping for the best anti-aging product, including bath soap, you might that manufacturers now use antioxidants or ingredients rich in antioxidants. Foods like pomegranate and fish are rich in antioxidants.
Antioxidants are an important part of the anti-aging product because it helps improve skin. The ingredient helps improve the levels of energy found on your skin. As the antioxidants increase your energy, it helps skin look younger. The anti-aging product should also contain anti-inflammatory ingredients.
Anti-inflammatory products reduce swelling and inflammation, which is helpful in regards to the anti-aging product.
Things To Know About The Best Anti Aging Products
The human body is designed to withstand pressure from different forces. The problem is that some tout natural products as the anti-aging product and those products lack any preservatives or additives that other products contain. The natural ingredients might cause swelling of your skin, which can feel uncomfortable and painful.
The anti-aging product should contain anti-inflammatory ingredients because your skin can become inflamed in other ways.
Stress, allergies to certain items, and environmental elements can cause swelling of the skin and the anti-aging product helps combat that swelling.
Know more about best natural ingredients to reduce wrinkles
The best anti-aging product helps reduce stress and the effects of other dangers on your skin. Many products contain some form of UV protection, which protects your skin from sun damage. The anti-aging product essentially forms an invisible barrier on your skin that keeps irritants from damaging your skin.
Before choosing the best anti-aging product for your skin, take into account your skin type. If you have dry skin, use a product designed for dry skin.
Using the wrong type of product for your skin type might cause certain types of problems, including dryness. Comparing different products and trying different types on your skin is a surefire way to find the best one.
FAQ's
Que: Which anti-aging cream is best for 30's?
Ans: According to customer reviews, Beverly Hills MD Dermal Repair Complex has been the top choice for boosting the youthful texture & glow in your 30's. Though Kollagen Intensiv & Dermelect Wrinkle Cream are more popular among those who prefer anti-aging creams over a dietary supplements.