After Halloween, it's now time to start planning your Thanksgiving Day preparations.
Aside from the food, decorations, and activities, probably the single hardest task to complete every Holiday season is buying presents for everyone.
What makes it so difficult is not just about the cost or the time it takes to finish all that shopping.
It's finding something that your loved ones can actually use and not want to regift, like effective skincare products!
If you like the idea of giving your friends and family a skincare treat, this article has you covered!
The following Thanksgiving gifts for your loved ones will surely have them love and thank you all year round!
10 Thanksgiving Gifts Ideas Your Loved Ones Will Love
If you ask me, the best Thanksgiving recipes are not only those for the tummy but for the skin as well! I mean, who doesn't want to have healthy, beautiful, radiant skin every season, right?
So, here are some Thanksgiving beauty gifts for the hostess of the next party you'll be attending or any aunt, friend, or cousin who loves to take care of their skin.
Thanksgiving Gift No. 1. Cleansers
The first and probably most important component of any skincare routine for healthy skin is a good, gentle cleanser.
This makes cleansers a nice present for anyone, young or old because we all need a way to cleanse our face thoroughly to face the day and before our beauty rest at night which, by the way, is also the best time to exfoliate.
Here Are A Couple Of Nice Cleansers You Could Choose From
1. Dermpura
This is a skin-balancing repair cleanser that repairs nourish and rejuvenates the skin.
The formula contains vitamins and is infused with natural botanical oils that are known to improve skin structure and firmness while also relieving irritation and inflammation.
The pH-balanced cleanser helps effectively removes makeup, dirt, oil, and impurities from the skin and protects it from environmental damage.
It leaves the skin soft, smooth, and supple.
It is especially great for someone who has frequently irritated, sensitive, and dry skin.
2. Boscia Tsubaki Cleansing Oil-Gel
This cleansing oil gel is also designed to remove makeup and impurities while also providing a natural moisture barrier for baby-soft, smooth skin.
It hydrates, replenishes, and deeply cleanses the skin with its lightweight blend of botanicals.
The formula also contains antibacterial ingredients and antioxidants[1].
It is alcohol, color, gluten, artificial fragrance, and preservative-free.
The only downside to it is that it's too gentle to completely remove the usual Thanksgiving eye makeup especially water-resistant eyeliner and mascara.
This is one of the reasons why you need to start using a Toner.
It is also on the expensive side, so may not be the most ideal if you plan to give several friends and relatives the same gift.
Thanksgiving Gift No. 2. Toners
Is toner an essential part of our daily skincare routine? If it is (as it should), you'll know why your mom, aunt, or friend could use a bottle or two. Like these:
Obagi Nu-Derm Toner
Another toner that gently removes oil, dirt, and impurities without leaving your skin parched is Obagi Nu-Derm Toner.
It has sage and witch hazel extracts with astringent properties that purify and tone the skin.
Aloe vera also soothes and calms redness and irritation, ideal for people with dry, oily, acne-prone skin.
However, though this toner leaves the skin clean and tight, what it lacks is a hydrating or moisturizing component, which most people look for.
Thanksgiving Gift No. 3. Serums
Serums are among the most effective treatment that can also help fight aging signs and skin damage.
These are perfect gifts for those who could use a little skin-firming and face-lifting action.
1. Murad Rapid Age Spot And Pigment Lightening Serum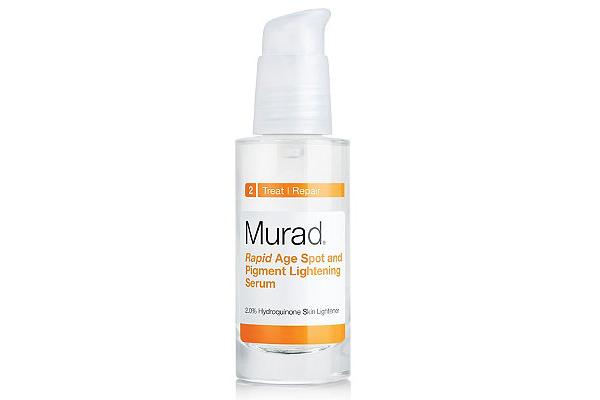 This fast-acting treatment is said to reduce age spots, dark spots, and freckles.
It is intended to even out and lighten the skin tone for a clearer, brighter, flawless complexion.
It is recommended for people who like to remove hyperpigmentation, imperfections, and blemishes for lighter and younger-looking skin.
It can also help diminish fine lines and wrinkles and remove dead skin cells.
However, it might take a long time before any effects become noticeable and the skin could get used to the product after a few months of use.
2. Burt's Bees Naturally Ageless Intensive Repairing Serum
This is another anti-aging serum advertised to reduce fine lines and wrinkles through abundant antioxidants.
It contains natural ingredients like pomegranate, primrose, and borage oils known to prevent collagen and elastin breakdown.
What this product lacks is the ability to deliver significant changes to fine lines and wrinkles.
It has also been said to cause breakouts on dry skin.
Thanksgiving Gift No. 4. Moisturizers
Easy ways to pamper and nourish your skin this winter also include moisturizing like crazy, since the cold, dry weather can really take a toll on your skin and make it age faster. These moisturizers can help your loved ones avoid this:
1. Neutrogena Healthy Defense
This formula not only keeps the skin moisturized all day but also protects it from the harmful effects of the sun.
It also blends powerful antioxidants and pure vitamin E to prevent free radical damage.
However, although it is said to be lightweight, non-greasy, non-comedogenic, and allergy tested, some people want a creamier consistency for a moisturizer.
Also, unlike most Neutrogena products, this one uses a fragrance that can cause irritation or breakouts on sensitive skin.
2. Kinerase Cream
This moisturizer can improve skin texture and reduce signs of aging like dark spots, wrinkles, and fine lines.
It can be used to hydrate the skin after chemical peels or to treat dermatitis, eczema, or rosacea.
However, this is not for people who have allergies, are under medication, or are pregnant or breastfeeding as it can interact with other substances and cause adverse reactions.
Thanksgiving Gift No. 5. Skin Brighteners
Last but not least, skin brighteners will also level up the best Thanksgiving outfits. These are great for people who like natural, healthy, beautiful glowing skin.
a. Revitol Skin Brightener Cream
This cream also targets skin pigmentation and dark spots caused by sun damage.
It also moisturizes and nourishes all types of skin with its natural ingredients.
However, it is not suitable for pregnant and nursing women or those taking prescribed medications.
Note also that it takes quite some time to actually see a visible reduction of spots and discoloration and the results may vary depending on the skin type.
Conclusion
These Thanksgiving gifts for your loved ones are sure to delight anyone who will be on the receiving end of your presents.
However, since some of these products have specific effects on certain people, you may want to do a little research on the product or your relatives to ensure that no harm will be done.
Once you all start incorporating these in your beauty regimens, you can then explore Thanksgiving and Fall nail art ideas for an absolutely fab Holiday season!
Like this post? There's more. Get tons of beauty tips, tutorials, and news on the thebeautyinsiders Facebook & Twitter page. Like us on Facebook – we'll see you there!