What Causes Batwing Arms?
The flabbiness in your arms is caused by:
1. Age
This is an inevitable cause. As people age, the skin gets saggy. The skin is known to lose its elasticity once we reach a certain age.
Does exercise slow down aging process?
While we hate to be the bearer of bad news, you probably already know that there is no fountain of youth.
Thankfully, exercising is one of the best ways to improve skin elasticity and fight off sagging. Most seniors who have been keen on working out manage to look younger than their peers.
Toned muscles and tight skin really take off plenty of years from your real age.
Exercising can also lessen the chances of contracting diseases or disabilities.
2. Body Fat
Doing overall body exercises can help eliminate batwing arms.
Targeting fat loss in a certain region of your body is an impossible feat.
When working out a specific area such as the arms, you will only be able to tone the muscles there, but not really remove body fat.
Cardio will be your best bet for that.
Exercises for flabby batwing arms can only improve muscle tone in the upper body. Flabby arms workout ideas will help you showcase your tank top arms.
Pair it up with a proper diet, and you will see drastic improvements in no time.
How To Tone Batwing Arms?
Here are some exercises to try:
1. Wall Push-ups
Push-ups are not easy. It may require a bit more training before you can perform it right.
The best way to start is by doing wall push-ups.
This exercise for batwing arms gives you the control in adjusting what difficulty level you can work on.
No need for equipment, you can definitely do this at home.
How to do wall push-ups?
Stand up straight and face the wall. You should be as far as about six inches from the wall.
Shoulder width apart, place your hands on the wall.
Put your feet behind as far as you can, while maintaining the distance between your face and the wall.
Inhale and do your first part of the push-up, drawing your chest closer to the wall, Tighten your glutes.
Exhale as you push back to your starting position.
Repeat a few times.
2. Tricep Dips
Another exercise you can do without needing weights.
This batwing arms workout, as the name obviously implies, targets the triceps.
Untoned triceps is the main culprit for having batwing arms.
How to do triceps dips?
Get a stable chair.
Lay your hands on the chair shoulder width apart. Your butt should be directly in front of the front most part of the chair.
Bend your legs on the floor, hip-width apart.
Arms should be straight. This is your starting position.
Bend your elbows at a 90-degree angle.
Push back up to straighten. This is one rep.
Repeat up to 15 times per set.
3. Arm Circles
Arm circles increase upper body strength.
Half circle rotations work up deep arm muscles and are a great start to your journey on how to reduce flabby arms.
Just remember to practice good form.
While it seems to be a fairly easy exercise, it can be hard to keep track if you are doing quality circles due to its repetitive nature.
How to do arm circles?
Stand feet hip-width apart.
Hold your arms out in a parallel manner to the floor.
Cup both hands, with the palm facing in front.
Rotate your whole arm in half circles clockwise.
After doing a few rotations, switch to counter clockwise.
4. One Arm Pushup
Another easy version of doing push-ups.
This is ideal for beginners who are looking for ways to slim arm fat.
How to do one arm push-ups?
Lie on one side with slightly bent knees.
Put your one arm on the opposite shoulder.
Press the palm (of the opposite shoulder) into the floor until it's straight and lift your upper body. Repeat 10 times.
Switch to the other side.
5. Triceps Extensions
Most of the exercises for jiggly arms target the triceps area. For triceps extensions, you will need weights.
This exercise is highly recommended by most social media fitness gurus and influencers and can be seen on plenty of Female Celebrity Workouts.
This can either be done standing up or lying on a mat.
How to do triceps extension?
Lie on your back or remain upright.
If lying down, raise your arms above your chest. If standing up, raise it up over your head.
Bend the elbows to a 90-degree angle. Elbows should be a little bent and not stiff, welcoming range of motions. Maintain on either side of your head.
Go back to starting position. Repeat for 15 times per set.
6. Bent Over Row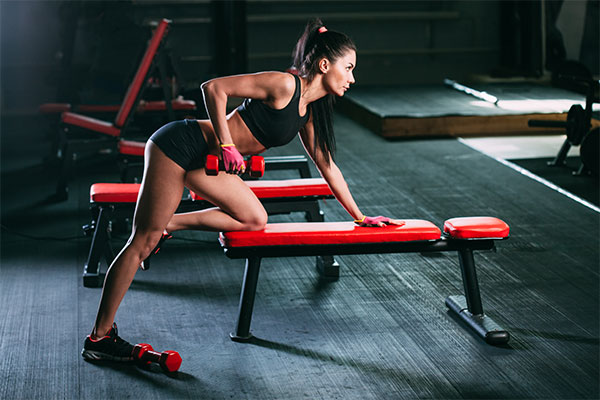 Bent-over rows are one of the Saggy Upper Arms[1] Exercises highly recommended by fitness trainers.
Use weights on both arms.
How to do bent-over rows?
Feet should be shoulder-width apart.
Bend your knees a little.
Bend your upper body forward beginning from the hips up.
Keep your spine straight. Avoid arching your lower back.
Hands should be directly under your shoulders.
Bend the elbows back, placing your arms on the sides of your chest, with your shoulder blades pulled together.
Lower the weights in a controlled movement. Repeat 15 times for one set.
7. Pulley Triceps Extensions
An exercise you can do at the gym, pulley triceps[2] extensions are one of the most effective Exercises For Jiggly Arms.
How to do pulley triceps extensions?
Place the rope attachment on an overhead pulley then stand in front of it.
Hold the rope end tightly with the palms facing one another.
Stand. Your feet should be hip-width apart. Slightly bend your knees and engage your core.
Place your elbows beside the hips and bend them at 90 degrees.
Swiftly extend the arms downwards, as close to the floor as you can get.
Squeeze at the back of your arms.
Repeat each set for 10 to 15 times.
8. Lat Pulldown
Lat pull-downs are designed to strengthen your upper body including the back and upper arms.
Because of its ability to target multiple muscle areas, you may see a lot of people hitting this machine when at the gym.
How to do lat pull-downs?
Sit on overhead lat pull-down machine that has a wide bar attachment. Face the weight stack.
Use a wide grip to grab the bar with your palms facing away the body.
Lean towards your back at a 30 to 45 degrees angle.
Pull the bar downward to your chest.
Keep your neck and shoulders relaxed, as you release you muscle engagement.
Repeat this for 10 to 15 times.
You May Also Like – Know How To Regain Skin Elasticity
A lot of women worry about getting bulky if they do weightlifting. This should not be a cause for concern. There are many benefits of weight training for females.
Since women do not produce as much testosterone as men, looking like the Hulk is never going to happen.
Surprisingly, one of the best tips to tone arms quickly is not exactly exercise-related.
Diet and exercise go hand in hand. But, like abs, toned muscles are also made in the kitchen.
What to eat to reduce arm fat?
A balanced breakfast of lean protein, high-fiber carbs, and healthy fat can shed those unwanted fats on your arms and keep them far away.
Drinking sufficient water is also an answer to how to get rid of bingo wings.
Having enough water in your system revs up the metabolism and also burns some fat. Not only that, once you have achieved the arms you have long been seeking, the appearance of cellulite may ensue.
Experts say that drinking water provides moisture to the skin, keeping it supple and elastic. Pre and post-workout skincare should always be applied when doing weight loss programs.
If you have concerns about how to remove cellulite on arms, don't fret. Simple and achievable steps can be taken.
Taking vitamins such as ascorbic acid, which helps build more collagen in your body and exfoliation for circulation and skin growth can fight off the appearance of cellulite.
FAQ's:
Que: How do you lose arm fat batwing?
Ans: Cardiovascular exercise like brisk walking or high-intensity training to help decrease fat around the muscles.
Que: What is the best exercise for bat wings?
Ans: Pushups or planks are the old and best exercises to get rid of bat wings.
Que: What to eat to get rid of flabby arms?
Ans: Meat, poultry, seafood, legumes, eggs, and dairy products are all high-protein ingredients that can help you lose arm fat fast.